Unlike many of our dividend stocks articles, this is not a "forecast" piece about a high dividend stock, but rather, it's a look back at what's happened so far in 2013 - which sectors upped their dividend ante; which stocks raised their dividend the most; and which dividend stocks performed the best.
Surprises: In researching this article, we encountered a few surprises along the way. Namely, that S&P 500 non-dividend paying stocks have seriously outperformed dividend payers over the past 12 months, year-to-date, and monthly: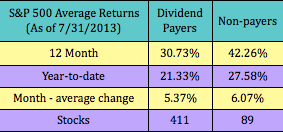 (Data source: Standard & Poors)
Our initial reaction was one of disbelief, but looking at the numbers revealed, for example, that, of the top 10 performing stocks in the S&P 500, (which gained anywhere from over 100% to well over 300%), only two pay dividends - GameStop, (NYSE:GME), which pays around 2%, and Lincoln National Corp., (NYSE:LNC), which pays around 1%.
Year-to-date, as of 7/31/13, the top 10 performance group includes just 3 dividend payers - Best Buy, (NYSE:BBY), GameStop , and Hewlett-Packard, (NYSE:HPQ). Before you jump out of a window because you didn't buy any of these high fliers, consider this- only 5 of these companies were even profitable in their most recent fiscal year.
So, should you throw out all of your dividend stocks, and start buying non-payers? Hardly. On a long term basis, it's been proven that dividend paying stocks outperform non dividend paying stocks - from 1927 - 2011, dividend paying stocks returned a range of 8.8% to 11.2%, vs. only 8.3% for non dividend paying stocks. (Source: Forbes)
Guess which sector contributed the most $ to S&P 500 total dividends so far in 2013? You probably would have guessed Telecoms or Utilities, sectors which are known for paying high dividends. However, it was neither of these: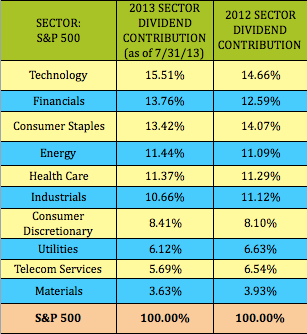 (Data source: S&P)
That's right, Tech, a sector once disdained as including the stingiest dividend payers and non-payers, was the leading sector for dividend payments so far in 2013, helped, no doubt by Tech giants like Apple, Oracle, Cisco, increasing their payouts.
Sector Dividend Yield: Not many surprises here - Telecoms and Utilities were the top sectors for dividend yield so far in 2013, same as 2012: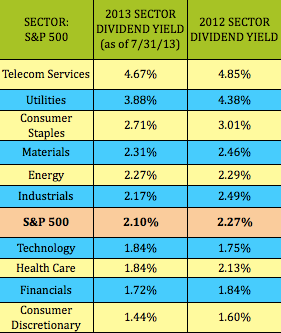 (Data source: S&P)
Which stocks increased their dividends the most so far in 2013? The Financials sector had 7 of the top 20 biggest dividend increases, helped by some banks who were finally able or allowed to increase their rates, 5 years after the crisis. Capitol One Financial, (NYSE:COF), and First Horizon National, (NYSE:FHN), topped the list. Even an airline got into the mix, Southwest Airlines, (NYSE:LUV), raised its dividend by 300%. Ford, (NYSE:F), which we wrote about in a recent article, was able to double its dividend, thanks to its resurgent earnings. There were also quite a few Tech firms which had hefty increases: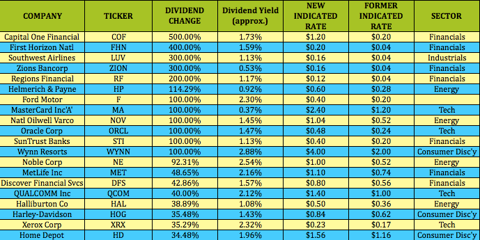 (Data source: S&P)
Top Performing S&P 500 Dividend Stocks: Here's a list of the Top 10 performers, as of 7/31/13. Again, Financial firms dominated, many of which bounced back in 2013, after being beaten up in the Fall 2012 pullback. (This list was screened for positive earnings, and a short float below 5%):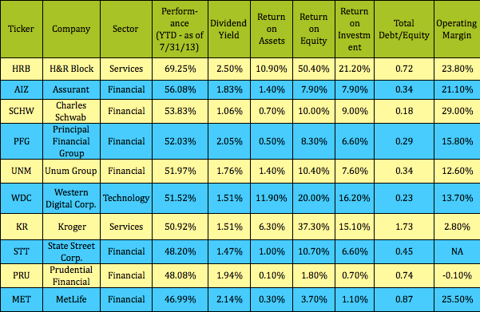 (Data source: S&P)
Top 10 Performing Dow Dividend Stocks: This group was more varied, coming from more different sectors. Boeing, (NYSE:BA), whom we were beating our drum for back in 2012, finally got credit for its undervalued growth, as its Dreamliner took off, and took BA's stock price with it, soaring from $75.36 on 12/31/13, to $105.10, as of 7/31/13.
Cisco, (NASDAQ:CSCO), whose price had been depressed since 2010, also finally turned around, climbing from below $20 at the start of 2013, to over $25.59 as of 7/31/13. ((This list was also screened for positive earnings, and a short float below 5%):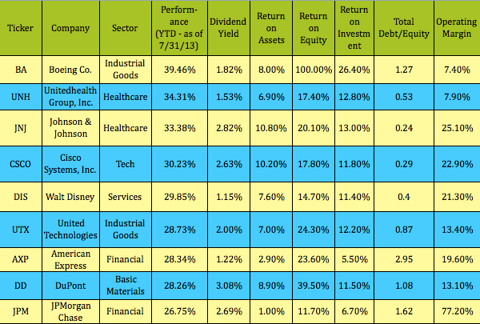 Disclaimer: This article was written for informational purposes only. Author not responsible for any errors, omissions, or actions taken by third parties as a result of reading this article.
Disclosure: I am long CSCO, BA. I wrote this article myself, and it expresses my own opinions. I am not receiving compensation for it (other than from Seeking Alpha). I have no business relationship with any company whose stock is mentioned in this article.
Additional disclosure: I'm long BA via being short BA put options.