Note: This article covers a micro-cap stock. Please be aware of the risks associated with these stocks.
A few things that always need to be on an investors mind is how many analyst are covering a company. Simply put, if too many analyst are covering it, it's likely on everyone else's radar and the perfect opportunity to invest may have passed. The key is to find a hidden gem in a sea of stocks and invest with confidence.
Let me introduce you to Venaxis (NASDAQ:APPY), a company with a bright future and a "feel good" investment opportunity. Venaxis is focused on developing and commercializing a much needed and unique multiplex biomarker diagnostic test for appendicitis. There are approximately 22.2 million emergency visits for abdominal pain in the U.S. and Europe annually1. Appendicitis, the inflammation of the appendix, if left untreated will burst, spilling infectious agents into the abdominal cavity. This will often lead to a serious inflammation of the abdominal cavity and ultimately death if not treated with strong antibiotics. Needless to say, appendicitis is a serious problem and can occur in all age groups, but is more common between the ages of 11 and 20 years.
Venaxis APPY1 test is a rapid blood test that can help physicians manage the large number of children and adolescents who visit emergency rooms due to abdominal pain. Identifying accurately whether a patient requires emergency surgery to remove the inflamed appendix is critical. Currently, expensive and invasive diagnostic CT imaging scans are ordered by Physicians to identify accurately if the patient suffers from appendicitis. CT scans pose long-term health hazards associated with exposure to ionizing radiation, especially in children and adolescent patients. Recent studies, which were published in some of the world's highest ranking scientific journals, showed that CT scans drastically increase the chances of cancer and that up to 2% of U.S. related cancers will result from this invasive procedure234. Unfortunately, regulatory bodies often require solid scientific evidence prior to passing regulations that protect patients.
This brings me to a very important point, which has a lot to do with the future success of Venaxis. Fundamentally, the U.S. and Europe are governed by different laws and regulations. European regulations are driven by something called the "scientific principle", whereas "scientific proof" is the governing principle in the U.S. Without going into too much detail, the difference is that the scientific principle relies on "the principle of preventing harm before it happens, even in the face of imperfect scientific certainty" (e.g. CT scans may cause cancer, thus limit its use). In contrast, scientific proof is governed by "solid scientific proof needs to be shown before preventing harm" (e.g. CT scans cause cancer, therefore limit use). To get more details on these two principles and how they are shaping the future world economy, I recommend reading "Exposed: The Toxic Chemistry of Everyday Products and What's at Stake for American Power".
Venaxis has recently secured ongoing contracts within Europe, and is looking to get FDA approval in the U.S. in 2014. The APPY1 Test runs on a proprietary APPY reader instrument (*the reader is important, I will get to this later in the article), which received CE Mark (e.g. approval for use in Europe) in January 2013 and is being launched across the European market currently. The most recent pivotal pilot study, which involved 500 patients, showed promising results with the APPY1 test.
Remember the principles I mentioned earlier? The initial data was satisfactory for the European market, but not yet here in the U.S. The test is 97% sensitive with a negative predictive value of 97%, meaning that 97/100 patients will be correctly diagnosed as being at low risk for appendicitis--allowing physicians to avoid unnecessarily ordering expensive CT scans that are associated with increased cancer risks in children.
Venaxis is in the process of completing a second pivotal study with 2000 patients by the end of this year, which will be followed by seeking FDA approval in 2014. Important to point out, the FDA has initiated a program to reduce unnecessary radiation exposure from Medical Imagining in 20105. Once approved, physicians not only in Europe, but within the U.S. and eventually across the globe, will have a fast, easy, and inexpensive test available to them for accurate diagnosis of appendicitis. Even more importantly, this will reduce CT scan associated cancers in patients and hopefully save lives. Thus, the reason I said this particular stock is a "feel good" investment opportunity.
Now, for the technical analysis. After all, it is equally as important to analyze technicals as it is to know your company and their mission. Important to point out, Venaxis will not likely see profits for a few quarters (they are a biotech company that is just now gaining traction, under the radar of most investors). Let me direct your attention to the YTD chart below: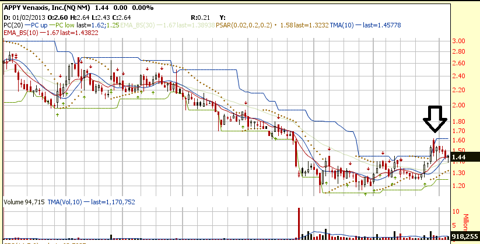 Venaxis recently, on 7/29, penetrated its previous resistance at $1.40 by more than 8% and established new support at $1.40 (Volume was 270% higher at 3.0M than the average 1.1M for the day). The stock has steadily traded sideways for the past week testing its new support at $1.40. Currently the stock is trading towards its lower 52-wk range ($1.15-3.18). This security is setting up nicely to take off, once the last pivotal study is concluded at the end of 2013 and initial profits from Europe are reported. Remember, Venaxis has just signed contracts in Europe and solid profits from that market won't show up until mid to late 2014. The company has now for 2 years (2011-2012) beaten consensus earning estimates of two analysts covering the company. For 2011 and 2012, analyst consensus estimate was beaten by -$1.44 (Acutal: -$7.62, Est: -$9.06) and -$0.39 (Actual: -$1.84, Est: -$2.23), respectively. Furthermore, institutional holding in the company has increased over the past months, suggesting Venaxis is beginning to show up on investors radars. Arguably, it is a stock with high reward potential and low risk due to its low stock price.
Even if, hypothetically, the FDA does not approve the APPY1 test, Venaxis has tremendous long potential due to its traction in the European market and the proprietary APPY1 reader instrument (a florescence detection instrument).
Instruments like the APPY1 reader are in high demand and put Venaxis in a position to be the leader in the healthcare space. The explosion of digitalized biological data, the rapidly deflating cost of generating such data, has opened up unique opportunities for cost-effective biomolecular diagnostic tools for healthcare and research markets. The proprietary APPY1 reader enables laboratories to rapidly and efficiently deliver complex molecular test results in a meaningful and readily accessible format to scientists, laboratory practitioners, and physicians. Current tests are laborious and it takes days to get results. The APPY1 test is a rapid, multi-marker blood test consisting a White Blood Cell count and its patented MRP 8/14, known as S100A8/A9 or calprotectin and C-reactive protein. Thus, instead of waiting for days to get the results, the APPY reader can do it in a matter of minutes. Venaxis APPY1 reader not only is accurate in diagnosing patients at low risk for appendicitis, but also has the potential in the future for the diagnosis of infectious diseases.
At the current stock price, Venaxis is a bargain with tremendous upside potential. It is only a matter of time before Venaxis, the hidden gem with that "feel good" investment opportunity is discovered.
Cited sources:
1CDC data from National Hospital Ambulatory Medical Care Survey, 2010
2 Brenner et al., Rev on Enviromental Health, 2010; 25(1):63-67
3 Brenner et al., New England Journal of Medicine, 2007; 357:2277-84
4 Larson et al., Radiology, 2011; 259(3):793-801: 793-801
Disclosure: I have no positions in any stocks mentioned, but may initiate a long position in APPY over the next 72 hours. I wrote this article myself, and it expresses my own opinions. I am not receiving compensation for it (other than from Seeking Alpha). I have no business relationship with any company whose stock is mentioned in this article.