Green Mountain Coffee Roasters (NASDAQ:GMCR) reported earnings after the closing bell yesterday that did little to reassure investors of its revenue growth. While beating bottom line expectations handily with GAAP earnings of $.76 a share and Non-GAAP earnings of $.84 cents a share, revenues came in light of expectations at just over $967 million. The revenues just barely managed to come in between the 11-15 percent revenue range the company had guided to for the full year, but at the very bottom of that range with revenues up some 11 percent year-over-year. Gross margin improvement and share count dilution continue to be the driving force of earnings beats for the company, but the revenues may be pointing to some problems for the stock in the near term. Shares of GMCR fell by roughly 7 percent in the after-hours trading session on Wednesday.
During Q3 2013, GMCR benefited greatly from gross margin improvements which served to flow through to the bottom line beat on earnings. The bullet points below outline exactly how the company managed to deliver gross margins of 42.1 percent versus 34.9 percent a year ago:
| | |
| --- | --- |
| Favorable green coffee costs : | +370 bps |
| Lower labor and overhead manufacturing costs : | +130 bps |
| Net price realization primarily associated with single serve packs : | -120 bps |
| Lower sales returns primarily related to Keurig® Single Cup Brewers : | +100 bps |
| Shift in sales mix between Keurig® Single Cup Brewers and single serve packs : | +90 bps |
| Change in estimate for a charge related to a non-coffee purchase commitment: | +80 bps |
| Other items : | +70 bps |
Unfortunately, gross margin improvement and continued earnings outperformance were not enough to drive shares higher and stretch the multiple beyond its current 25 times forward looking earnings. What resonated more loudly than it had during the last earnings call was the continued slowdown in earnings growth. Keep in mind that at the onset of FY13, GMCR guided revenues to grow between 15 and 20 percent for the year. Under the current trend analysis concluding in Q3 2013, GMCR revenues bare a second look as the company may have further challenges ahead in achieving the current 11-15 percent revenue growth guidance. If one is to take the high end of revenue guidance from the beginning of the year and the revenue growth recognized in the quarter ended June 31, 2013, the company has borne out a deviation of 9 percentage points of revenue forecasting. Investors may consider problems with forecasting demand as still occurring within management's methodology for forecasting.
So what is causing the deceleration in the revenue growth? Well according to GMCR's management team, this is in part related to a few retailers ordering less product in the Canadian region and a major partner ordering less during the quarter. If we look closer at the breakdown of where sales deteriorated during the quarter here is what we come to understand: Keurig brewer unit shipment volumes increased 1% year-over-year while brewer and accessory revenues decreased 4% impacted by product mix. Net sales in the aptly named other category, which includes traditional package coffee formats, declined 11% driven by the continued conversion to single serve. Lastly, revenues from portion packs slowed sequentially from 21 percent in Q2 2013 to 18% in Q3 2013. If we look at GMCR on a regional basis, the U.S. business grew 14% in the quarter offset by a 3% decline in the Canadian business.
As noted in Capital Ladder Advisory Group's GMCR Q3 2013 Earnings Preview, Green Mountain would have to show stabilization of K-cup growth rates. Let's take a look back at what we outlined in our quarterly preview briefly: "Since Q3 of 2012, some 26 new private label offerings have entered the K-cup category. In less than a 12 month period of time, GMCR portion pack growth has deteriorated from 31% growth in Q3 2012 to 21% growth at the end of Q2 2013. Investors will need to play close attention to portion pack growth moving forward in order to identify any potential market share erosion GMCR could incur."
It is clear to see that GMCR has not been able to effectively stabilize the slowing of growth in portion packs based on the YOY growth in K-cup sales now slowing from the mid 20 percent range to the high teens range. What is also more clearly evidenced by GMCR's recent results is that private label competition has a major role to play in this slowing of K-cup sales. Below is just one example of a private label competitor now accumulating shelf space and sales at one of GMCR's famed retailers.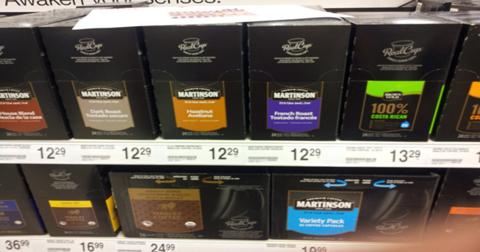 Click to enlarge
RealCups are now being offered in a wide variety of flavors at Office Depot. Most of the packages contain 24 K-cups fully compatible with your Keurig brewer at a significant cost savings. What will be most important in determining the success or failure of Martinson RealCup products at Office Depot, however, will be the taste as noted in some of the product reviews. Regardless of taste, what sell-in data clearly defines by Office Depot's data is that the company ordered fewer Keurig brewers and fewer Keurig portion packs during the period than it had in the year-ago period. This is just one example of a retailer dedicating selling space to private label competition, however, many more examples exist and the trend is accelerating with regards to adopting additional single-serve brand products. What we have here is a factual representation that fits directly with what management recently outlined in its conference call with investors and analysts regarding the threat from private label competition.
When it comes to the addressable market, it is no more clearly presented that GMCR's North American market is nearing its peak saturation point by the company indicating that soft orders from a few key retailers curtailed the company's sales growth during the period. To put this factor into greater perspective, what the company officially stated was the following:
"Portion pack volume growth in the quarter was adversely affected primarily by shipments to a partner although this partner's point of sale growth continues to be strong in the 25% to 30% range. I caution not to read too much into this as shipments to partners have and will likely continue to fluctuate quarter-to-quarter as they manage inventories that they sell to customers."
One distributor or retail partner should not be able to adversely affect sales so dramatically year-over-year. If that is the case, then there is clearly an underlying problem within the active user base. One thing which GMCR does not discuss or hasn't pin-pointed for investors and analysts over the recent years is the detachment or attrition rate of Keurig users. In other words, how many Keurig brewer owners have discontinued buying K-cups branded and/or licensed by Keurig after one full year? How active is the user base exactly and what defines an active user in the eyes of Green Mountain? Even if we don't have a definition of an active user, what is evident is that revenue growth is slowing for at least three reasons: 1. Private label market share accumulation. 2. Market saturation. 3. Pricing pressure. Fortunately for GMCR, pricing pressures are being offset through greater efficiencies in the manufacturing and production process, which are further evidenced in the company's gross margin expansion year-over-year.
So now that we have a more clear picture of what is adversely affecting sales growth, we can move on to what the company is facing in the current quarter. GMCR experienced a strong Q4 last year and we have to recognize that the strength in the quarter was largely due to advanced orders for Keurig products ahead of a "pull forward" campaign. In October of 2012, GMCR embarked on a campaign that would effectively grab consumer dollars ahead of the all-important holiday shopping season. The company reduced its average selling price on machines and portion packs alongside offering rebate incentives on a wide variety of brewer products. In order for the retailers to have enough supply of Keurig products to support this campaign by GMCR, large orders were placed during the months of July and August (the current quarter) by its retail partners. What investors will now be faced with in the current quarter is the adverse effect of this "pull forward" marketing campaign last year. One might say that GMCR has baked this marketing event into the current guidance and since we are halfway through the current quarter the company must have some indication of sales for the quarter, but hitting the bottom end of previous guidance in the latest quarter might suggest otherwise. This is just something investors should be aware of when considering the current quarter. In the coming weeks, Capital Ladder will deliver some sell-in (orders) results from retailers as we have done in the past.
Unfortunately, what NPD Group, Neilsen or IRI can't divulge are sell-in data points, only sell-out or point-of-sale (POS) data points. Investors should understand that GMCR only reports earnings and sales in terms of sell-in data as required by SEC filing and accounting guidelines. This is why GMCR dedicates itself to clearly outlining what the true end-demand is for investors when discussing POS data on quarterly conference calls with investors and analysts.
Turning our attention to brewer sales, the company continues to see weakness in the division with overall brewer shipments rising just 1 percent year-over-year. This is better than the previous quarter's decline in brewer shipments of 9 percent, but still cause for concern and further evidence of market saturation regarding retail partners in North America. In spite of retail market saturation nearing, the company has acknowledged that regional demographic sales opportunities still exist and the company has initiated efforts to tackle the regional sell-out opportunities it has long since failed to address. Sales in the Northeast and Midwest have always been strong for GMCR, but in the western and southern portions of the United States there remain an abundance of consumer sales opportunities for GMCR if the company can offer the right product, with the right message and with the right price tag.
Now let us take a look at Green Mountain's increased guidance for Q4 2013 and for the full year. Net sales are expected to increase in the range of 11% to 15% from the year ago period driven by continued single serve pack growth. The company expects non-GAAP earnings per diluted share in the range of $0.69 to $0.74 excluding the non-GAAP items as noted in today's press release. This represents a growth rate of 21% to 30% over last year on a comparable 13-week basis.
GMCR's fourth-quarter guidance implies that for the full fiscal year, the company expects total net sales growth in the range of 13% to 14% over fiscal 2012. For the remainder of the year, GMCR expects continued favorable green coffee cost, lower warranty expense, and lower labor and overhead manufacturing costs to contribute to better gross margins compared to 2013. The company increased non-GAAP EPS estimates to a range of $3.19 to $3.24 per share representing growth of 37% to 39% over the prior year's $2.33 per share. For the year, GMCR reaffirmed guidance that anticipates brewer unit shipment and POS growth to be in the mid-single-digits. GMCR maintained estimated capital investment in the range of $275 million to $325 million, down from $400 million last year. Lastly, GMCR increased its free cash flow estimates to a range of 350 million to 425 million.
In spite of some present and near-term headwinds for GMCR, investors should not overlook the potential for the future. The company has stated that it has several growth drivers for the future. Plans are currently taking form to develop the away from home channel with the fall launch of the Bolt. With only 1 percent of the away-from home channel market share in North America, there is tremendous opportunity within this channel for Keurig to drive revenue growth. Keurig BOLT and a Keurig single cup brewer has very high appeal for offices, so much so that the company believes the Keurig BOLT system could actually drive increased Keurig single cup penetration as well. In addition, BOLT has appeal for convenience stores, for food service outlets and in the hospitality channel. BOLT is already an office test ahead of the full commercial system launch slated for this fall. In addition to the away-from home channel, the at-home channel may see further product introductions and innovations through enhanced water, carbonated and sports drink beverage formats. Green Mountain will showcase many of these innovations at GMCR's First Investor Day to be held on Tuesday, September 10, in Boston, where the company will talk in more detail about its vision and how it expects to drive its strategy for future growth expectations. When quantifying and qualifying these new opportunities, investors should take into consideration that the company has offered future product launches and product innovations not to be expected in the marketplace before late 2014 and therefore the opportunity for growth drivers in the near term remain consistent with the existing product line.
Another positive point of analysis when considering GMCR's potential for the future lies within its measured improvements to operations and extreme controllable cost leverage. This cannot or should not be ignored by investors. The company's SG&A has already shown improvement year-over-year. With SG&A currently at 20 percent of revenue, this can significantly improve as a percent of sales over time. Also, the company has a number of productivity opportunities beyond SG&A in manufacturing plants, procurement, logistics and product quality that can be mined for the next several years as is currently evidenced in YOY results. Nearly 86 percent of coffee costs have already been capped for 2014 and even if prices should begin to rise next year in front of 2015 procurement, leveraging SG&A down to 19 percent of revenue will likely offset rising prices. This is a nice luxury to have as a manufacturer of finished goods and is most likely why management has offered investors gross margin guidance around 40 percent for the foreseeable future.
Aside from these noticeable benefits for the future prospectus of GMCR, continued adoption of its Keurig brand and Vue brand formats will drive ever-increasing partnership opportunities. The company has stated it is currently in talks with a host of potential partners and even some private label single-serve market participants. On the conference call, management was questioned about the potential to begin acquiring some of these private label competitors. This does bring up one question or point of speculative analysis. With GMCR as big and recognizable as it is in North America, would such potential acquisitions be met with regulatory road blocks regarding a monopoly situation? Just something to think about…
All-in-all, quarterly results were mixed for GMCR with dramatic earnings and gross margin outperformance, but maligned with some revenue underperformance and a continuation of revenue growth slowing performance. To put things into a more complete and long-term perspective and with consideration of the company's revised guidance, a company growing revenues in the low to mid-teens, gross margins expanding, product innovation coming to market within a 12-15 month period of time, new revenue channels being developed, earnings growth potential continuing to remain in-tact and the potential of international expansions implies investors might take advantage of any near-term weakness in the share performance of GMCR
Disclosure: I have no positions in any stocks mentioned, and no plans to initiate any positions within the next 72 hours. I wrote this article myself, and it expresses my own opinions. I am not receiving compensation for it (other than from Seeking Alpha). I have no business relationship with any company whose stock is mentioned in this article.