Compugen's (NASDAQ:CGEN) stock is up almost 40% since announcing a new deal it has inked with Bayer.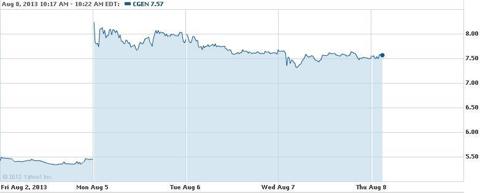 What exactly are the terms of the deal?
Compugen will receive $10 million upfront and has the potential to receive up to $500 million for meeting certain milestones. Not bad for a company whose market cap is under $300 million, right?
Well here is the issue with this. Nobody truly knows what the milestone payments are. I was so excited after they announced this deal that I jumped on the earnings call to get more information. Unfortunately, management pretty much beat around the bush and kept telling us to refer to the press release.
The only piece I was able to extract from the call was during the Q&A session when someone asked about the timing of milestone payments. Management basically said that the milestones are based on preclinical trials and are maxed at $30 million. So even if we assume that each milestone is a $30 million payment that's still about 17 targets that the company needs to hit.
The fact that such a large deal doesn't have enough information is surprising. The issue with Compugen is that it has never earned a profit since it became public in 2000.
Management is basically asking us to blindly trust this deal even when there is simply not enough information. Compugen lost $13.5 million last year, which means the current valuation is clearly revolving around the deal.
There are way too many concerns. Is it possible that Compugen will burn through the $10 million royalty payment? Possibly. Bulls may also be touting that Compugen will receive royalties from sales of new products under this agreement. Well the problem with this is that if the company doesn't hit the milestones there will be no new products.
Based on this deal, it seems that Bayer is only putting up the $10 million and taking a chance on Compugen. So even if Compugen doesn't meet any of the milestones, the $10 million is really what Bayer stands to lose. However, the biggest losers will be Compugen's shareholders in this case.
As I mentioned earlier, the current price is based on hope rather than earnings. In order for management to convince investors to buy stock on hope, there needs to be more information. During the call, management stated that the milestones for this deal would be similar to milestones for other pharmaceutical deals. Well I am not exactly sure what this means because not every pharmaceutical deal has the same terms.
The stock fell almost 5% during the course of the call. This is likely due to the lack of transparency on this deal. Investors have enjoyed a near 40% gain and should consider taking profits on the announcement of this deal. Remember that this is a company that hasn't made a profit yet. I believe there is a risk of not enough milestones being met to justify the current price.
Disclosure: I have no positions in any stocks mentioned, and no plans to initiate any positions within the next 72 hours. I wrote this article myself, and it expresses my own opinions. I am not receiving compensation for it (other than from Seeking Alpha). I have no business relationship with any company whose stock is mentioned in this article.