I recently wrote an article: "Dividend Growth Investing and Beating The SP 500 Index."
Here is a link to that article.

The comment stream was very good and as usual, better than the actual article. The premise of the article was that DG investors don't always measure their performance against the SP 500 Index, but instead have different metrics for looking at their success or failure.
For my investment strategy, I believe in purchasing individual stocks that are priced at a value to what the company is actually worth; that have at least a 5-year history of paying dividends and increasing those dividends on an annual basis. I also like that Dividend Growth Rate (DGR) to be at least 6% for the 1, 3, 5, and where applicable the 10-year history of dividend payments.
Pretty simple. The goal is to create a growing income stream to fund my retirement years and with that in mind, I tend to be an accumulator of stocks as opposed to someone who trades on a regular basis.
How you chose to invest is your business. Most DG investors have different nuances to their investment strategy and frankly, I have no problem with that. Unfortunately, there are some that seem to have a problem with individual investment strategy "twists."
In the article, I made the point that measuring my portfolio performance against the SP 500 was something that I chose not to do. Now, if an individual investor wants to use the SP 500 as a benchmark, then I'm fine with that.
Here's my only concern. Beating the SP 500 Index is not as easy as one might think. Currently, there are 500 stocks in the SP 500 and they cover a gamut of stock categories. Some pay dividends, some do not. Some pay a yield of 3% or more and others yield less. Regardless of the many differences in the stocks that make up the index, to beat the index consistently requires, as Bill Miller said "a measure of luck."
Well, after reading all of the different comments and seeing all the different points of view, I decided to dig a little deeper into the portfolio that I showcased in the article. Last night, I went to a favorite web site called "Low Risk Investing" where there are a number of interesting stock calculators for you to use.
I decided to use the calculator "Low Risk Investments Discovery Tool" and see how my stocks have done relative to the SP 500 Index. Now, this tool allows you to input 12 different companies. In the portfolio of stocks that were discussed in the previous article, nine stocks have been in the portfolio since the beginning in 2006.
What I like about this calculator is that it includes dividends reinvested in both your own model portfolio as well as the SP 500 Index. The calculator measures "total return," which can be defined as price appreciation + dividends reinvested.
The stocks that we have held since the portfolio was created are: Colgate Palmolive (NYSE:CL), Johnson & Johnson (NYSE:JNJ), Kimberly Clark (NYSE:KMB), McDonald's (NYSE:MCD), Procter & Gamble (NYSE:PG), AT&T (NYSE:T), Wal-Mart (NYSE:WMT), and Exxon Mobil (NYSE:XOM). That's only nine stocks, but since we've owned these from the beginning, I am showcasing these nine.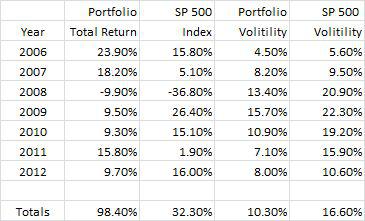 Since 2013 is still operational (that is it's not done yet), I did not run the numbers for a point of comparison. However, YTD for 2013 looks like this. The portfolio is up 16.8%, SP 500 up 19.6%. At the end of the year, to keep things consistent, I will report the numbers and include full-year 2013 just as the table above is through full-year 2012.
While these nine stocks did not beat the index every year, we did beat it in 2006, 2007 and 2008. The index outperformed the portfolio in 2009 and 2010. The portfolio "won" in 2011, but "lost" in 2012.
Beating the index annually for many DG investors is not the goal, however. Whether it should be or not is up to each individual investor. But, when we look at performance over time, which is a metric that, in my opinion, most DG investors do use, the results for these nine stocks vs. the SP 500 is proof in the pudding.
The portfolio is up 98.4% and the SP is up 32.30%. And these nine stocks have performed at a volatility level that is "safer" than the SP 500.
Summing it all up, for me, the income stream that I get from my portfolio is my primary metric of success. While I can accept that a benchmark against my portfolio performance has its uses, the fact is that as a DG investor, my focus is on dividend growth. Don't get me wrong, I love the fact that these nine stocks have grown in value, but since I don't plan on selling these holdings the capital gains are going to remain unrealized. The income stream over the next 20, 30 or 40 years is going to continue to grow and will be the catalyst to a comfortable retirement experience.
Disclosure: I am long CL, JNJ, KMB, MCD, PG, KO, T, WMT, XOM. I wrote this article myself, and it expresses my own opinions. I am not receiving compensation for it (other than from Seeking Alpha). I have no business relationship with any company whose stock is mentioned in this article.