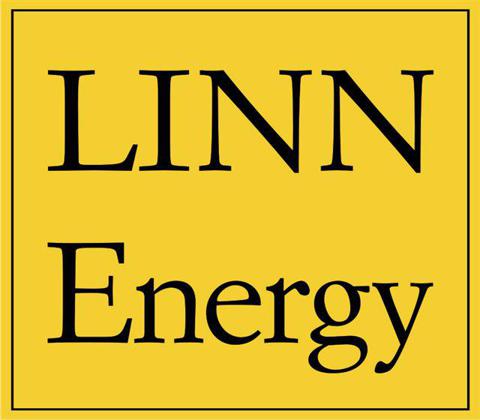 Shares of Linn Energy (LINE) (LNCO) skidded downward today on quarterly results and continued uncertainty on an informal SEC inquiry and merger with Berry Petroleum (BRY). Wall Street seemed disappointed by some aspects of production results, persistent ethane rejection and also Distributable Cash Flow (DCF) coverage now expected to fall just short of distributions.
A target of short-sellers such as Hedgeye, recipient of negative articles by Barron's magazine and now under investigation from the SEC, Linn has become a true battleground stock between short-sellers and those who are bullish. This article will focus on Linn's quarterly results as well as updated prospects. Finally, this article will attempt to look at valuations with special attention paid to distributions.
Linn Energy is an independent oil and natural gas limited liability company structured like a Master Limited Partnership (NYSE:MLP). The Company's properties are in the United States, primarily in The Granite Wash: the Texas Panhandle, Oklahoma and Kansas. They also have properties in the Permian Basin, Michigan, California and the Williston Basin of North Dakota. Linn is currently working on a merger with Berry Petroleum which will add significant acreage in California, the Permian and a few other places. This transaction will be a centerpiece of Linn's growth strategy.
A Verboten Subject
There are two issues which Linn investors are dying to hear about right now: The informal SEC inquiry and the uncertain Berry Petroleum merger. Right off the bat, management said they would not be making comments or taking questions on either one of them on this morning's call. Management is, however, still including Berry's contribution in their EBITDA and DCF estimates. Some analysts seem to believe the Berry acquisition will not go through until the SEC gives Linn's accounting practices its blessing.
Personally, I am becoming less concerned over this informal inquiry. Linn's hedging practices, while slightly unorthodox, are entirely within the rules. Furthermore, those who have done their homework on Linn are very doubtful the SEC will find misrepresentation. Perhaps management is just as fatigued by this whole debate as many of us are. We'll just have to wait and see.
Mr. Market Not Amused
On the surface, Linn's quarter looked pretty good. Volume was up quite a bit and the company is seeing 8-10% production growth year on year. Unfortunately, capital expenditures are up much more than that. At this rate Linn will have spent about $5 billion on capex, for both growth and maintenence, versus $3.6 billion last year.
The discrepancy is due to Hogshooter, drilling acreage on both the Texas and Oklahoma panhandle. Since its acquisition, the Texas side of the Hogshooter has continued to disappoint. Management has allocated a lot of capex, but has not gotten much result. Last year Linn drilled 28 wells on the Texas side and half of them didn't meet expectations. And while the Oklahoma side has been better, Linn does not have as much working interest there.
In addition to Hogshooter difficulty, ethane rejection continues to be an issue. Ethane rejection occurs when ethane prices are so low that it is more lucretive burned as a fuel than it is as a petrochemical feedstock. Already this year ethane rejection has negatively affected Linn's production by 11 million cubic feet equivalent (MMCFE) per day. By the end of the year it could knock off another 36. Including the Berry merger but not accounting for further ethane rejection, management no longer expects Distributable Cash Flow to fully cover its distributions this year. The expected coverage ratio for the full fiscal year 2013 is now 0.96.
Here's the bottom line: To return to efficient growth and be able to maintain and grow distributions, Linn will have to work through this ethane rejection, move past the Hogshooter disappointment and hope there are no further production issues anywhere else for the rest of this year and next. Linn has increased distributions so much in preceding years that there just isn't much margin for error.
Some Points Of Strength
It's not all gloom for Linn, though. There are a few reasons for investors to take heart, here. First, management has reduced well costs on the Oklahoma Hogshooter side by 11%.
Second, it looks like the infrastructure bottleneck in the Permian Basin is starting to open. Pipeline infrastructure is coming online soon. This will be a boon for Linn's Permian production in 2014, not least of which is because they will be comparing it to such a low base from this year.
I was most encouraged by management's willingness to try their hand at horizontal, unconventional drilling in their legacy Permian acreage; something they surely did not expect to do when this land was first acquired. Due to successful exploratory drilling in the Wolfcamp shale by some well-known unconventional operators, Linn now believes its portion of the Wolfcamp will yield similar shale results. They expect the first horizontal wells there to spud before 2013 is out. They will not likely see benefits from this until 2014, and management is not yet providing guidance on next year.
Valuation

While hard to value at this time, LINE shares of Linn Energy are cheap by historical measures. The distribution yield here is near an all-time high. Even at a 20% distribution cut Linn will still yield well over 8%. I'd only expect a cut like that as a worst-case scenario. At this point, perhaps the market is expecting the worst.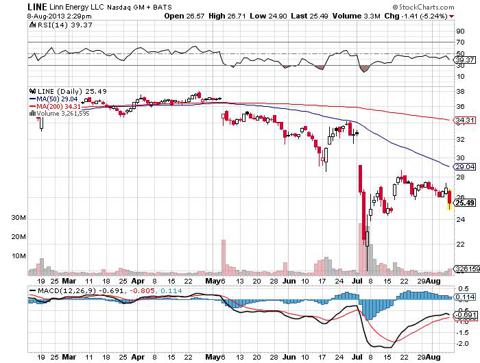 Looking at LINE from a technicals perspective, we can see that it has bounced hugely from its low in early July. That cascading crash was in the wake of Linn's announcement that the SEC was informally investigating it. While that bounce was a good one for shareholders, we have been in a patter of lower highs and lower lows since late July.
Conclusion
Linn will have to grow its production in order to regain sustainable footing in regards to its distribution payout ratio. Thankfully, that is precisely what it is doing. But, Linn cannot afford additional production disappointments at this time.
The SEC inquiry is still uncertain, as is the Berry merger. But we do know that both parties are committed, at least on the surface level. Linn's all-stock offer to Berry shareholders puts Berry at a discount at this time, albeit less of a discount than it was a month ago. Regarding these two important items, I would say no news is now good news, but uncertainty still lingers.
Disclosure: I am long LINE. I wrote this article myself, and it expresses my own opinions. I am not receiving compensation for it (other than from Seeking Alpha). I have no business relationship with any company whose stock is mentioned in this article.