The purpose of this article is to examine Disney (NYSE:DIS) as the value play that it was and the potential growth play that it is. In terms of disclosures, I have written about Disney several times in the past; generally saying it was a buy in February 2011 at $41, May 2012 at $45, and last November at just under $50. I pulled the trigger and purchased more shares between the first two when the price had dipped down to the low $30s and it has not looked back since. With that being said, much of the analysis that was utilized in the past is no longer applicable because the stock has been sitting in the low-to-mid $60s since May. Disney is no longer a value play because it is not priced significantly lower than it should be but the stock can make for a strong growth play in most portfolios.
General Misconceptions About Movies
To put it frankly, predicting and evaluating the success of big box office movies can be entertaining, but it not nearly as important to Disney's bottom line as the media makes it out to be. Was "The Lone Ranger" a huge failure? Yes. Was "John Carter" equally unsuccessful? Yes. But films like "Monsters University" and "Iron Man 3" both outperformed expectations. And making the bombs even less significant, studio films account for less than 15% of Disney's revenues.
Okay, with that out of the way, movies should not be written off totally. You should bear in mind that many of these movies generate revenue in other segments. Case in point, "Planes" comes to theaters on August 9, and like its predecessor, "Cars," it is expected to rake in merchandising revenue. Walking through most retail stores you could find "Cars" apparel in nearly every department. This is important because consumer products make up half the revenue that studio films do. I can honestly say that I have no idea if Disney had plans of marketing "The Lone Ranger" in segments such as backpacks, children's bed sheets, and Band-Aids; but I can assure you that "Cars," "Planes," "Iron Man," and "Monsters University" can more than make up for this. It is also worthy of note that there will be a new Star Wars in 2015; and it could be the worst one yet and still generate huge merchandising revenue.
Television and Parks
While it has been determined where less substantial sources of revenue are generated, the stock price can really move based on other segments. The first and most important of which is television. As you know, Disney owns ABC, ESPN and half of A&E Television Networks. This accounts for basically half of the channels available under my cable subscription, not including movies and music.
Here are some interesting and noteworthy takeaways from Disney's earnings call in this regard. First was that ESPN is doing fine with revenue growing. I do not personally watch any of ESPN's original programming but a lot of other people do, apparently. For the first time essentially ever, ESPN has some blooming competition in NBC Sports and Fox Sports 1. I watch NBC Sports because I predominately only watch hockey, and luckily for ESPN, no one else does. Fox Sports 1 bought the rights to show English Premier League matches, which begin next week. Major games had been on ESPN early on Saturday mornings while other games were already on Fox Soccer. I cannot speak for the rest of America, because I do watch the EPL each week, but I don't think this is too big a threat to ESPN.
Next up on interesting television notes is A&E Television Networks. Disney recently increased its stake from 42% to 50% and the title channel boasts the number one show on cable, "Duck Dynasty." I have watched the show and it is both entertaining and satisfying when I feel like having my brain shut off for half an hour. Just like kids' movies, Disney likely sees some revenue from all of the merchandising involved with this show, which are pretty substantial since Phil's book has been on the top of the non-fiction best-sellers list for several months now, and Si's sold out on Amazon before its first round of publishing.
My last remark on television revenues is not really stock relevant and it is on the decline of revenues for ABC Family. Disney claims that this is the result of higher costs for more hours of original scripted programming. This is bad news for television fans in general because it is now so much easier to produce reality shows and re-air old movies than it is to make original dramas. There is an exception to this, Marvel's Agents of S.H.I.E.L.D., for Disney's sake; hopefully that's a hit. That's enough said about that.
Disney also reported that parks and resorts revenue was up 7%. There's not much I can say about the parks that hasn't already been said. They are a market leader, produce the best product available, and their cruise ships don't get abandoned at sea (knock on wood).
Financials, Technicals, and Predictions
Now comes the fun part. Is Disney really worth $65 per share at a time when the Dow has been on a roll and could be due for a retreat? First off, Disney as a whole is in a very financially sound place right now. Basically every financial metric (revenue, income, margins) was up in this last report, but what's more important than past numbers is forward guidance.
E-Trade predicts that Disney is expected to grow earnings about 15% per year for the next few years. Disney's current price-to-earnings is around 20. This is unreasonably high and it would take two years of 15% earnings growth and no price growth to bring it back to a realistic range. The converse side of the argument is that the overall market is growing strongly so there should be a P/E expansion.
Next, some people boast about Disney's dividend history. These articles are sort of misleading because Disney pays a dividend below 1.5% and it only pays once a year. Alone, it is not large enough to validate owning the stock, while it is a nice treat when it pays at the start of each year.
The following is a 1 year chart: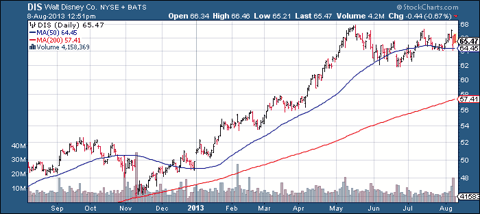 You can see that the price has been up and down over the last quarter and has not resisted against the 50-day moving average when challenged. However, the chart does not really give us much else. If the stock was going to plunge following the earnings report, it would have done so already, so we'll need more news before there is major movement. Using the technicals for short-term purposes, the price looks to be in the lower half of an upward-trending channel and could probably bounce to $68 without too much effort. Goldman Sachs currently has a $69 price target, which would yield about 6% over the next year. I believe that is a little conservative given the growing segments discussed above; 10% over the next 12 months would be at a price of around $72. In closing, while I would certainly take 10% in a year plus a dividend, over the past 2 years, Disney has doubled off its lows. So there is a strong possibility that Disney could shatter these expectations.
Disclosure: I am long DIS. I wrote this article myself, and it expresses my own opinions. I am not receiving compensation for it (other than from Seeking Alpha). I have no business relationship with any company whose stock is mentioned in this article.