By Julian Murdoch
The recession wasn't kind to alternative energy -- and none felt the pinch as much as the beleaguered solar power industry. The credit crunch really hit the industry hard, killing installation projects around the world and shrinking demand for solar panels. Solar companies watched their stock prices bottom out with the rest of the market -- only to keep on falling.
Just look at the recent performance of the S&P 500 vs. the two solar ETFs, the Claymore/MAC Global Solar Energy Index ETF (NYSEARCA:TAN) and the Market Vectors Solar ETF (NYSEARCA:KWT):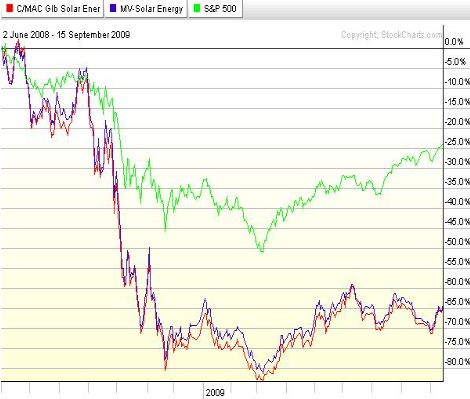 Yikes.
Funding issues, in part, kept solar low, even as the market started to recover. Projects rely on financing and, in many countries, government incentives, but as the recession hit, that easy financing and generous incentives dried up. (It didn't help that oil prices also plummeted, bottoming out below $35/barrel, which caused solar to lose much of its competitive allure.)
Take Spain, for example. Prior to 2009, Spain offered such generous subsidies for solar power installations that some analysts estimate almost 40% of the world's solar modules went to Spain. But by the end of 2008, the Spanish government decided it could no longer fund solar power to that level and cut back drastically on the money available. Consequently, demand sunk, and solar panel inventories around the world swelled.
Naturally, prices have dropped, too. Terry Wang, CFO of Trina Solar Limited (NYSE:TSL), told Reuters during last week's Global Climate and Alternative Energy summit:
"Selling prices (for solar panels) have dropped quarter over quarter at a rate of between ten to twenty-five percent for each quarter."
And it's not over yet. As Mr. Wang continued, "We see the trend, and it's going to continue for the second half of this year at least."
It's not all bad news, though. Mr. Wang and others in the industry expect the price decreases to slow during the first half of 2010 and then stabilize in the second half of the year. Adding to the good news, UBS also forecasts that global solar module demand may grow a whopping 76% next year to 10.5 gigawatts, as credit begins to flow again. (To put that number in perspective, roughly 5.4 gigawatts of solar power were installed globally in 2008, before the bottom dropped out of the industry.)
So not only does UBS expect 2010 to be much better than this year, it'll be almost twice as good as 2008. That's a nice recovery story.
Okay, but where will all of that new demand come from? China, of course, and the U.S.
Chinese And American Demand
Right now, China and the U.S. both lag behind Europe in terms of solar use: China prefers coal, and we Americans like both oil and coal.
But as the Chinese and American governments roll out climate change initiatives, both countries will need to look elsewhere for their energy needs in order to cut greenhouse gas emissions. (It doesn't hurt that alternative energy projects played prominently in both countries' economic stimulus packages.)
Already there are signs of increasing capacity. According to Steve Chan, chief strategy officer of Suntech Power Holdings (NYSE:STP), China's solar market is currently around 100 megawatts, but it may rise to 400 megawatts next year. The U.S., on the other hand, will see about 350 megawatts installed this year, and expectations are that figure will triple in 2010.
Companies in the sector have already begun rolling up their sleeves. Chinese company Suntech Power Holdings is currently working on establishing its first manufacturing plant in the U.S. (How's that for a switch?)
Nor is it the only company looking to expand its U.S. presence: Trina Solar Limited (TSL), for example, is reportedly looking for partners for a U.S. project. SunPower Corp. (SPWRA), a Calif.-based manufacturer that makes its panels everywhere but the U.S. (including Mexico, the Philippines and China), plans to bring its new facility a bit closer to home. Even good old GE (NYSE:GE) has launched a solar panel production pilot program in Colorado.
It goes the other way, as well: Last week, U.S. company First Solar (NASDAQ:FSLR) announced it would build a huge 2-gigawatt facility in China. In addition, privately held BrightSource Energy also said it is seeking partners in China. (Just a note: According to Reuters, BrightSource is one clean tech companies that could be headed for an IPO late next year.)
Playing The Sun
So demand is coming, and you want to play -- what are your options?
Since, unlike oil, you can't trade solar energy, investment opportunities must come in the form of equities. Either you can do your research and pick a few companies to invest in, or you can go the ETF route.
For ETFs, there are the aforementioned Claymore/MAC Global Solar Energy Index ETF (TAN) and Market Vectors Solar ETF (KWT). Which you choose depends on your opinion of the fine print and their fees, because on a performance basis they are pretty evenly matched: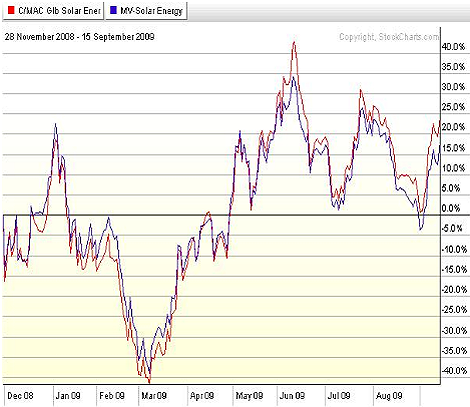 While past performance never guarantees future returns, take a look at how Trina Solar Limited has performed this year: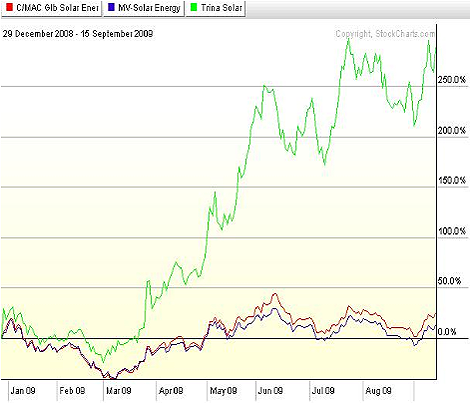 Wouldn't that have been a nice call?
Of course, as this past year has shown, solar companies aren't exactly a low-volatility market. But as the alternative-energy push continues, solar may be where the future's at.