Amarin (NASDAQ:AMRN) reported earnings today, August 8th, after market close.
Amarin had been trading poorly for the past several months, down 26.2% in the last three months alone, as confidence waned over what direction the company was headed in even though Vascepa prescription data continued to look decent.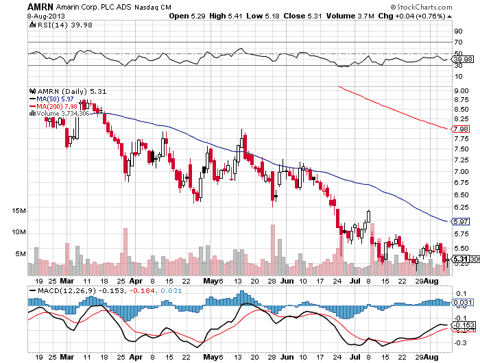 Click to enlarge
Forbes detailed what analysts were looking for coming into this call:
Amarin is expected to book a wider loss than a year ago when it reports second quarter earnings on Thursday, August 8, 2013 with analysts expecting a loss of 41 cents per share, down from a loss of 24 cents per share a year ago.

The consensus estimate has increased over the past month, from a loss of 42 cents, but it's below the estimate of a loss of 39 cents from three months ago. For the fiscal year, analysts are expecting a loss of $1.54 per share. For the year, revenue is projected to come in at $68.9 million.

The majority of analysts (83%) rate Amarin as a buy. This compares favorably to the analyst ratings of seven similar companies, which average 64% buys. Analysts are generally bullish on Amarin, as five analysts rate it as a buy and only one analyst rates it as a hold.
Amarin wound up posting a Q2 EPS of -$0.36 and revenue of $5.5 million versus some estimates that were as high as $8 million. So, you have a little bit of good news coupled with non-earth shattering (however improved) revenues.
Going into this call many investors were looking forward to several upcoming catalysts, like the October FDA Advisory Panel and the Supplemental New Drug Application for Vascepa's ANCHOR indication. We were offered little to no new information on ANCHOR, which I guess will leave the market indifferent in the morning.
In comparison, Q1 showed $2.3 million in revenues and a net loss of $62 million.
Amarin's press release today told us the following:
Amarin recognized $5.5 million in product revenue from Vascepa. This was the first full quarter for Vascepa sales.
Normalized prescriptions rose to 47.335 from 10,484 in Q1.
It was also noted that there are over 9,000 physicians prescribing Vascepa.
5 added patents in Q2, bringing the total to 27.
Net cash outflows hasn't improved greatly at all, posting $52.8 million versus $59.6 million last quarter. Amarin is sticking by its story that Q1 is going to be the highest quarter of cash outflows from here on out.
There was no real update on ANCHOR status, as we are waiting for the October 16th application date.
The company has "aggregate pro forma cash and cash equivalents of $270.5 million as of June 30, 2013."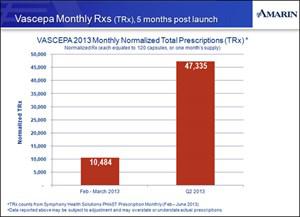 CEO Joseph Zakrzewski stated:
"Since the end of Q1, revenues, prescription levels, prescribing physicians and lives covered under Tier 2 have all more than doubled," said Joseph Zakrzewski, Chairman and Chief Executive Officer of Amarin. "We have witnessed the awareness, knowledge level and utilization of Vascepa strengthen and expand across our group of targeted physicians. The efficacy and safety profile of Vascepa for its approved indication continue to be well received and we plan to continue to drive increased physician awareness and managed care coverage to further grow revenues. In addition, we believe we are well positioned for approval by the U.S. Food and Drug Administration, or FDA, in December to expand Vascepa labeling from our approved MARINE indication to the significantly larger population represented by our proposed ANCHOR indication."
It was nice to see Joe confident about the approval of the ANCHOR indication, but the market seemed apathetic to the results heading into the conference call, with the stock trading down .04 at 3:20pm CST. Continuing through the call, the stock was little changed, trading down a couple of cents on low volume.
During the six months ended June 30, 2013, net cash outflows included approximately $48.2 million paid for sales and marketing related expenses in conjunction with the initial commercial launch of Vascepa, approximately $16.7 million paid in support of the REDUCE-IT cardiovascular outcomes study and approximately $16.3 million for Vascepa API, purchased in conjunction with the buildup of commercial supply and for clinical trial material.
Amarin longs better be hoping that the $48.2 million paid for sales and marketing expenses in conjunction with the initial launch of Vascepa comes down significantly. It is this investor's opinion that some of these should be one time expenses occurred, and that once Vascepa has more traction, less marketing will be necessary.
Amarin also listed its priorities going forward:
Operational priorities in the second half of 2013 are:

Increasing revenues from sales of Vascepa
Continuing managed care migration coverage from Tier 3 to Tier 2
Ensuring a successful ANCHOR advisory committee meeting
Gaining approval of the ANCHOR indication sNDA; PDUFA date of December 20, 2013
Planning for the successful commercialization of the ANCHOR indication
Obtaining additional patent awards from the USPTO
Continuing development of a fixed-dose combination of Vascepa and a leading statin
Submitting an sNDA for a fourth API supplier
Publishing additional data from Amarin's clinical trials
The call itself wasn't anything special; the usual dull tone, as if the executives were just going through the motions. I turned the volume down halfway through and continued about my business.
Basically, my analysis of this situation remains cautiously bullish. I really like the traction with physicians and prescriptions, but the cash burn is going to have to be managed still, in a big way. I don't like the amount that's being spent on marketing and advertising. Costs associated with REDUCE-IT and ANCHOR, I have no issues with. If ANCHOR wasn't coming up and we had less than stellar script data, Amarin wouldn't have much firepower in the cannon.
A lot still hinges on how the ANCHOR indication goes, which again, we won't know until the end of the year. I think the price will take a small dip here on the fact that there was no "blockbuster" news on this call, but will rise on emotion leading up to the end of year catalysts. I'd rate AMRN a cautious buy here.
Best of luck to all investors.
Disclosure: I have no positions in any stocks mentioned, and no plans to initiate any positions within the next 72 hours. I wrote this article myself, and it expresses my own opinions. I am not receiving compensation for it (other than from Seeking Alpha). I have no business relationship with any company whose stock is mentioned in this article.