Click to enlargeConocoPhillips (NYSE:COP) today announced a gain of $450 million on the sale of its Clyden oil sands property to ExxonMobil (NYSE:XOM) and Imperial Oil (NYSEMKT:IMO) for approximately $720 million. COP's Clyden leasehold comprises 226,000 net acres of undeveloped land near the southern edge of the Athabasca oil sands south of Fort McMurray, Alberta. After the sale, Conoco will retain close to 875,000 acres of top-tier oil sands assets in Canada. The Clyden sale highlights the hidden value in COP's oil sands in Western Canada. In addition, growth in oil sands production represents ~25% of Conoco's long-term strategic plan to grow overall production by 400,000 boe/day by 2017.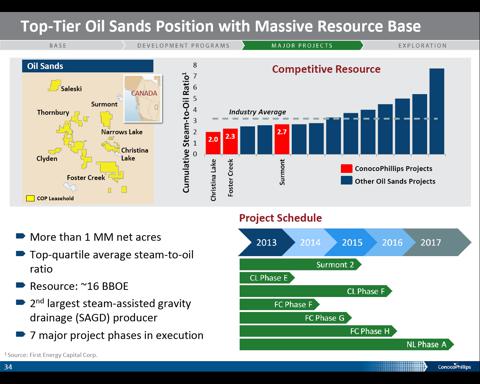 Click to enlarge
Reuters reports the sale, valued at $3,186/acre, is a positive for COP considering Clyden is largely undeveloped and similar deals similar deals have sold for an average price of $2,550/acre.
In last week's Q2 conference call, CEO Ryan Lance said:
As we previously discussed, our portfolio efforts will now shift to improving and rebalancing the asset base. We'll take opportunities to divest the smaller non-strategic assets... And we'll also look for ways to rebalance our interest and assets like the oil sands. These are great assets, but one where we believe we're bit overweighted in our portfolio today.
Prior to the Clyden asset sale, ConocoPhillips held approximately 1.1 million net acres of land in the Athabasca Region of northeastern Alberta. The bitumen deposits on these leaseholds are estimated to contain approximately 16 billion net barrels of resources, making COP one of the largest land and resource holders in the region. Considering its very large oil sands portfolio and the attractive Clyden sales price, this deal could be the first of potentially more oil sands divestitures as COP seeks to rebalance and optimize its asset base.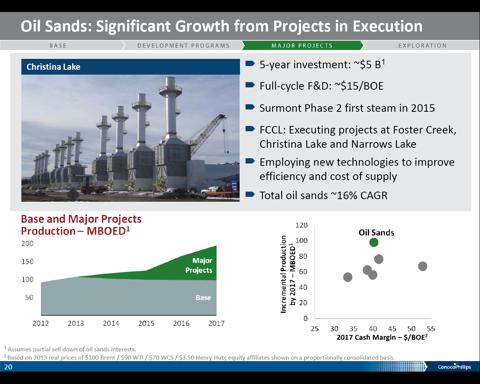 Click to enlarge
Meanwhile, Conoco is expected to double its oil sands production to ~200,000 bbls/day by 2017 with a cash margin estimated in the $40/boe range. The Clyden asset sale to Exxon will not affect COP's oil sands production plans, which are centered on its Surmont, Foster Creek, Christina Lake, and Narrows Lake leaseholds.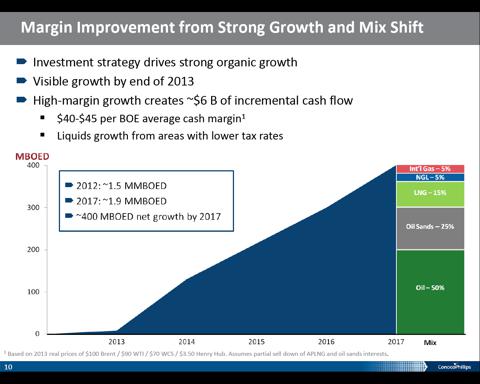 Click to enlarge
Summary and Conclusion
Including this transaction, COP has announced non-strategic asset sales of approximately $13.5 billion as part of its 2012-13 asset disposition program. Conoco continues to superbly execute its multi-year strategic plan to sell non-core assets, reinvest the proceeds in low-risk exploitation programs, and increase shareholder distributions. In July, Conoco announced a 4.5% increase in the quarterly dividend to $0.69/share. The stock is yielding 4.1% -- tops in its peer group. COP is organically growing production, and as my last article on COP highlighted, the company is showing signs of the promised 4-5% growth in margins -- a key part of its strategic plan.
The large $450 million gain COP will record as a result of the Clyden oil sands asset sale highlights the hidden value of COP's top-tier acreage in Western Canada. I reiterate my STRONG BUY rating on COP.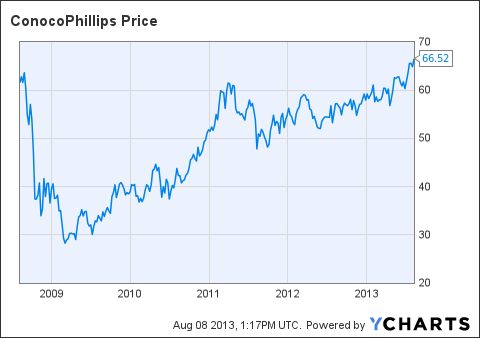 Mkt Cap: $81.3 billion
EPS (ttm) : $6.00
P/E (ttm) : 11
Div (Yield) : $2.76 (4.1%)
Disclosure: I am long COP, XOM. I wrote this article myself, and it expresses my own opinions. I am not receiving compensation for it (other than from Seeking Alpha). I have no business relationship with any company whose stock is mentioned in this article.
Additional disclosure: I am an engineer, not a CFA. The information and data presented in this article were obtained from company documents and/or sources believed to be reliable, but has not been independently verified. Therefore, the author cannot guarantee its accuracy. Please do your own research and contact a qualified investment advisor. I am not responsible for investment decisions you make. Thanks for reading and good luck!