As the Q1 and Q2 2009 financial report cards rolled in, it was clear that there were signs of optimism for the chip industry as companies were starting to guide up their projected performance. I would characterize the current scenario as one of industry stabilization -- the industry has stopped contracting. Has a long term stock price uptrend started? My gut feels says no...not yet, anyway. In the short-term, however, I am going with the trend until it breaks down ... very cautious at this point.
While the supply chain has tightened, excess inventory has been worked off, and capacity utilization has increased, there is still an issue in my mind of the macro-economic situation which now affects the chip industry in a fundamental way since a large part of the industry's revenues are derived from consumer purchases of electronics-related products.
click to enlarge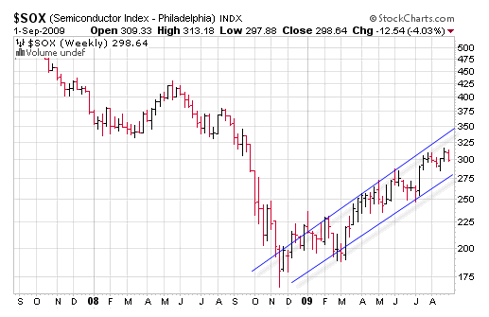 The SOX Philadelphia Semiconductor Index (SOX) chart shows a vibrant and steady recovery since reaching lows of 175 in November 2008. Since then SOX has followed a 75-point channel. If the index moves below the channel in the future, it would signify a period of weakness in semiconductor issues for the short-term at the minimum, in my view.
The semiconductor group along the broader based technology stocks has led the rally which began in March 2009. In the last 12 months, SOX gained 50% while the broad DJIA gained 11% in relative terms.
Another metric which I use as an input to time my exit is InsideChips' Semiconductor Advance-Decline Indicator. This indicator is based on the daily advances and declines of 111 chip stocks (excluding equipment makers). Since early 2007, this indicator showed a steady downward trend. Since the beginning of this year, the tone of this indicator changed with a bottom forming and now showing a moderate uptrend. If the slope of this A/D line is up and the market is trending upward as it is now, then the market is healthy.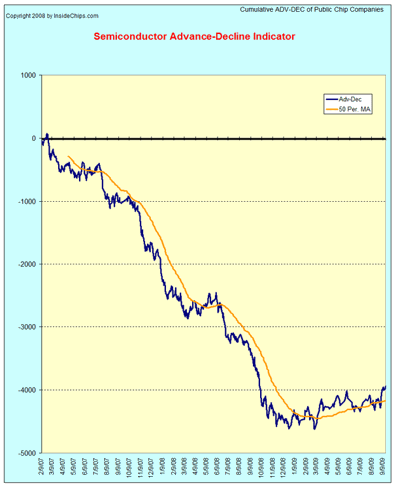 I will update this article when I see a change of direction in the indicator.