I get it. Here's the M.O. if you are a fertilizer CEO facing a bleak future for fertilizer prices, making your highly-touted expansions uneconomic:
1) Buy back your shares to boost EPS and share-based comp, and to hide sagging operating profits
2) Tell shell-shocked investors everything will be fine at some undefined future date and bet they will have forgotten what you said
3) Remind investors 9 billion people will need to eat by the year 2030, and stock losses should be considered a fair redistribution of wealth
4) Remind analysts their firm's investment banking fees are directly correlated with positive research comments
Don't laugh. it works. And shares of major fertilizer companies rallied strongly today, in spite of continuing weakness in the new crop corn price. December corn futures closed at $4.59 3/4/bushel, virtually flat.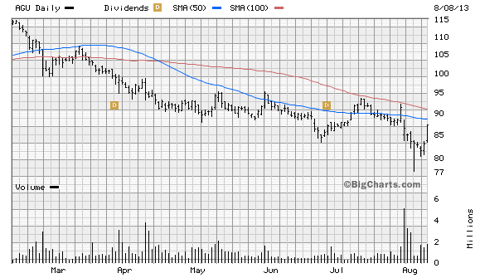 Click to enlarge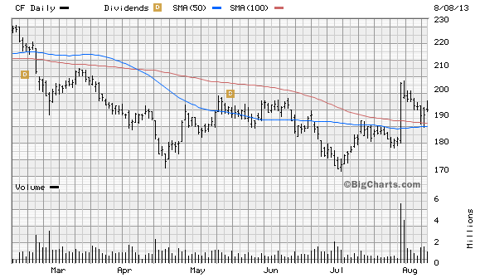 Click to enlarge
Click to enlarge
Having said that, I found Agrium (NYSE:AGU) CEO Mike Wilson the least disingenuous of three CE's during the Agrium Q2 2013 earnings conference call this morning. The other conference calls I attended were CF Industries' (NYSE:CF) Q2 earnings call and PotashCorp's (NYSE:POT) virtual meeting investor webchat with CEO Bill Doyle.
This morning Agrium reported results that were down year-over-year ($4.94 adjusted EPS versus $5.47 Q2 2012 or down 9.7%). Taking away the 9.7 million shares repurchased over the last 12 months, first half EPS would have been down more like 17%.
But the stock went up 5% instead, to $87.26 on the NYSE. So Wilson must be doing something right. That's the way you do it, money for nothing and the chicks for free.
Here are a few salient comments Mr. Wilson made this morning...
"It's almost impossible to project what next year will be" (on the 2014 corn crop).
"I've been visiting and dealing with China for 30 years and I can never figure them out" (on Chinese urea exports).
"We met with them in June. And the good news is, for the first time, we talked about the ag fundamentals (on JANA Partners)."
Here's the closer:
"You're hearing a lot of uncertainty when it comes to the short-term situation...(but) the message I want to give you is the ag fundamentals are very strong..."
Geez, if the ag fundamentals get any stronger, I am going to be lining up for food stamps...
Let's get out the ol' cow manure detector and see how the Agrium earnings were obtained. Because this year's cold wet late spring planting was diametrically different from last year's warm dry early Q1, we have to compare 1H 2012 and 1H 2013 for a fair comparison.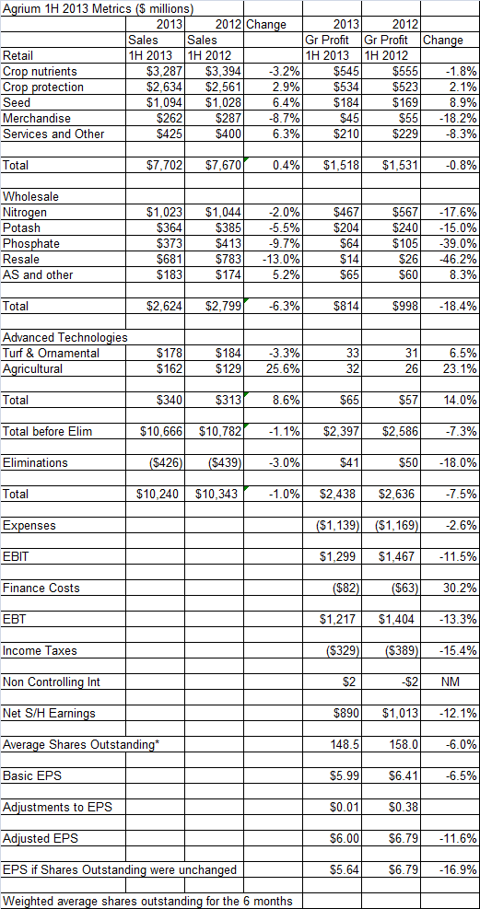 You can see that Agrium's Retail Division did better than Wholesale.
This is why I like the stock. Wholesale fertilizer prices continue to be under pressure, be they nitrogen, phosphate or potash. But the retail business was almost flat, giving some stability to the financial results.
That's before the impact of adjustments and buyback activity. But the market seems to buy in to the soothing comments of the CEO.
So I continue to recommend Agrium of the three fertilizer stocks, even though I don't always buy what they are selling.
Disclosure: I am long AGU. I wrote this article myself, and it expresses my own opinions. I am not receiving compensation for it (other than from Seeking Alpha). I have no business relationship with any company whose stock is mentioned in this article.