Staples (
SPLS
) has a legacy of making the buying of office supplies easy for their customers. But the last couple of years have been anything but easy for the company. On the other hand, compared to their major competitors, they indeed make running an office supply company look easy.
Competition
Over time, shareholders of a public company will be rewarded proportionately to how well the business performs. In the long run, earnings determine market price. This is what Ben Graham meant by his long-term "The market is a weighing machine" metaphor.
In Figure 1 below, we correlate Staples' monthly closing stock price to their rate of change of earnings growth of 23.7% since 1991. Earnings growth is the clear driver of stock price in the long run. Shareholder returns are included under the graph.
Fig. 1. SPLS 20yr EPS and Price Correlation (see short video)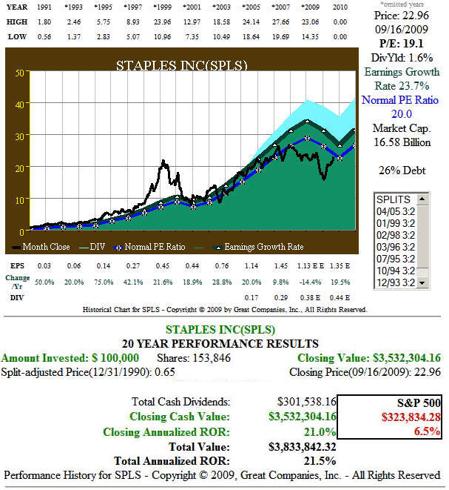 Office Depot (
ODP
) has historically been Staples' most formidable competitor. In Figure 2 below, we correlate Office Depot's monthly closing stock price to its rate of change of earnings growth which has been nil since 1991. However, note that Office Depot's earnings per share growth was very strong through calendar year 2006 (red arrow), before collapsing in 2007-2008 and into 2009. Also note how stock price follows earnings once again. Shareholder returns are included under the graph.
Fig. 2. ODP 20yr EPS and Price Correlation (see short video)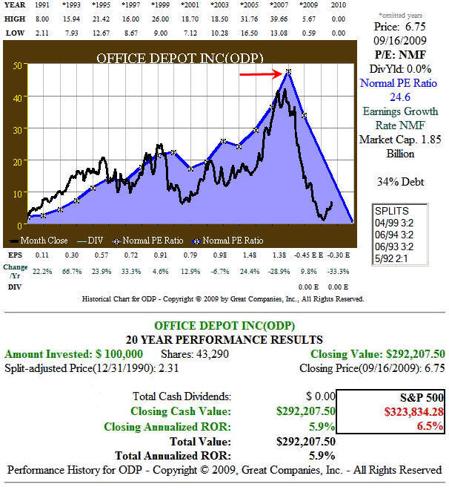 Another archrival of Staples is OfficeMax (
OMX
). In Figure 3 below we correlate OfficeMax's monthly closing stock price to its rate of change of earnings growth which, like Office Depot, has been nil as well. OfficeMax has the worst and most inconsistent earnings record of the three. If you look at the top of the graph, OfficeMax's stock price has been range bound most years. (Only every other year is listed on 20-year graphs due to space constraints.) Once again, shareholder returns are included under the graph.
Fig. 3. OMX 20yr EPS and Price Correlation (see short video)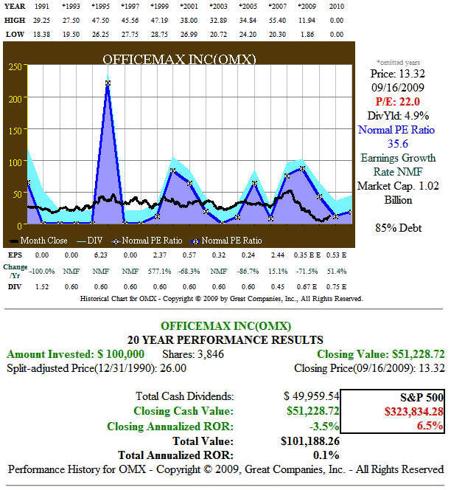 From the three figures above, it is crystal clear that Staples is the best-of-breed company in the office supply superstore format. Both their operating success and the shareholder returns generated have been superior to their competition in the long run. Staples' true competitive superiority is even more evident over the shorter time frame of 2005 to current.
As Figures 4-6 below clearly illustrate, although Staples' earnings growth rate shrank to a mere 3.5% due to the recession, they remained strongly profitable in fiscal 2008 and so far into 2009. Office Depot saw earnings fall to a loss, and OfficeMax remained just barely profitable as earnings collapsed precipitously. As a result, Staples' shareholders eked out a tiny return just above break even, while both Office Depot and OfficeMax shareholders suffered double digit compounded losses per annum. (Note that Office Depot and OfficeMax have calendar fiscal years ending in December. Staples' fiscal year-end is January 31.)
Fig. 4. SPLS 5yr EPS and Price Correlation (see short video)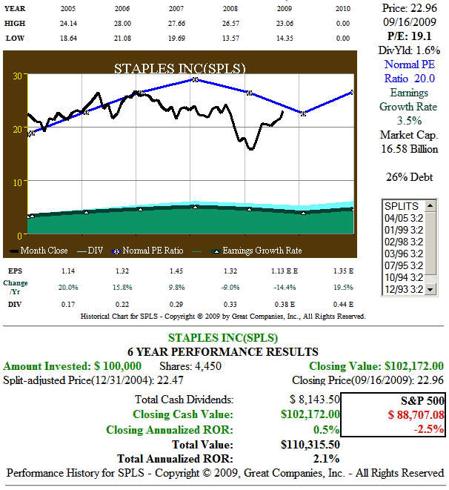 Fig. 5. ODP 5yr EPS and Price Correlation (see short video)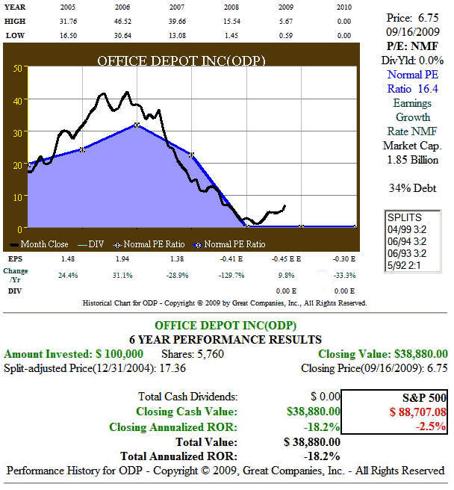 Fig. 6. OMX 5yr EPS and Price Perf. Correlation (see short video)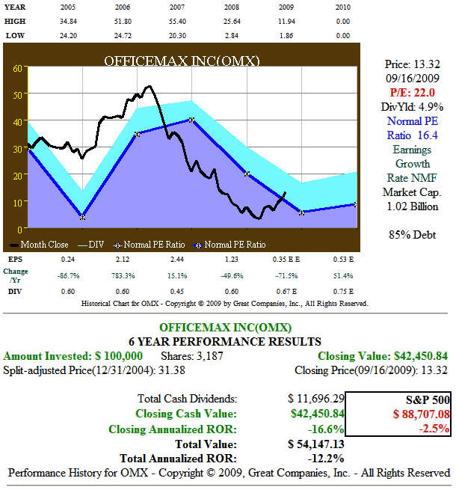 The office supply market is extremely competitive. In addition to the above direct competitors, Staples faces various levels of competition from many retailers. From Walgreens (
WAG
) to Wal-Mart (
WMT
), Vistaprint (
VPRT
) to eBay (
EBAY
) it seems that everyone sells office supplies at some level or another. However, Staples is clearly the best pure play with a strong marketing campaign. The red easy button has become a worldwide recognized icon.
Background
After opening the first office supply superstore in the outskirts of Boston, Massachusetts on May 1, 1986, Staples has grown into a $16.5 billion market cap company. Today, as the world's largest office products company, Staples serves businesses of all sizes and consumers in 27 countries throughout the world. With the acquisition of Corporate Express, one of the world's leading suppliers of office products to businesses and institutions in July of 2008, Staples now generates $27 billion in sales.
Management
We believe that Staples owes most of their success to their highly competent management team led by Ron Sargent, a staple at Staples since 1989. Under his leadership, Staples has navigated the treacherous and highly competitive office supply marketplace by focusing on just three things:
Great customer service.
Carefully managing expenses.
Continuing to invest in growth.
Balance Sheet
Therefore, as competition has struggled in the current environment, Staples has been able to make a major acquisition while remaining strongly profitable. Consequently, we believe they will come out of the recessionary climate in a much improved competitive position. Thanks to strong cash flow generation, their balance sheet is very healthy and management is committed to improving it. At the end of the second quarter (8/01/09) Staples delivered robust operating cash flow of $262 million and record free cash flow of $184 million. Year-to-date they generated $568 million in free cash flow versus $19 million during the same period last year. Since acquiring Corporate Express they have already been able to de-lever their balance sheet by reducing debt by $1.5 billion dollars. See Figure 7 with operating cash flow below.
Fig. 7. SPLS 15yr EPS with OCF (see short video)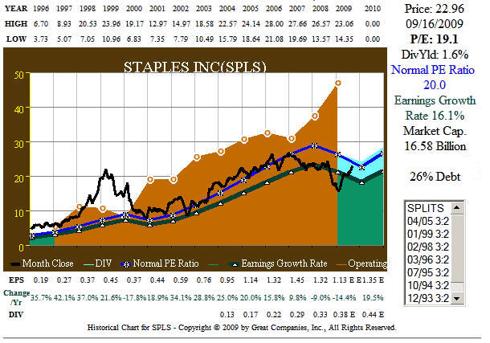 The day before yesterday (9/15/09) Staples announced a regular third quarter dividend providing a dividend yield of 1.6%. Since initiating a dividend in 2004, it has grown by over 25% annually. We are confident that the dividend is well protected. However, management has indicated that they will not repurchase shares to compensate for equity compensation until their debt to equity levels return to pre-Corporate Express acquisition levels.
Business Segments
Staples has three primary business segments:
North American Retail (41% of revenues) – operates over 1,800 retail outlets in U.S. and Canada.
North American Delivery (39% of revenues) – includes Staples contract, Staples Business Delivery® and Quill®.
Staples International (20% of revenues) – conducts business throughout Asia, Europe and South America.
Valuation
After a strong recovery since February 2009, Staples is fairly valued at close to its normal historical PE ratio of approximately 20. (See Figure 1 above) Therefore, in the short run, both Office Depot and OfficeMax, as seen yesterday, may be better short-term trades. On Wednesday, September 16, 2009, Office Depot was up 6.97%, OfficeMax was up 3.74% and Staples only a mere 0.31%.
However, Staples with strong earnings and cash flow generation and industry leading returns on equity, is in our view, best positioned for the long run. In Figure 8 below, the consensus 5-year forecast growth rate of 14.5% as reported by 18 analysts reporting to First Call indicate an attractive growth potential with a solid 1.6% potentially growing dividend yield.
Fig. 8. SPLS 5yr EPS Forecast (see short video)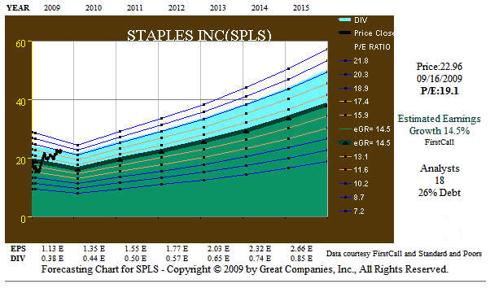 We believe the total long-term return from here is attractive, although not necessarily compelling. Therefore, we rate Staples as a solid long-term hold that we would add to on any short-term price weakness.
Full Disclosure: Long SPLS, WAG, EBAY at time of writing.