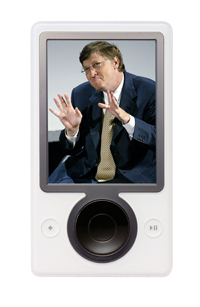 Try as it might, Microsoft's (NASDAQ:MSFT) mobile media player Zune still can't touch Apple's (NASDAQ:AAPL) iPod Touch. And it may not get the opportunity to. Ever.
Microsoft rolled out its latest iteration of its flagship music and media device recently with some decent hardware and software upgrades — including the ability to stream music over the Web to a PC. The Zune can also link to a television. Apple's Touch can do neither.
The Zune should capture more share will the refresh cycle, analysts say, however, it still faces an uphill battle against Apple's iconic iPod, which accounts for a commanding 70% of the overall pure mobile-media player market in North America by some estimates.
RBC's Mike Abramsky says the impact of the Zune is "neutral" to sales of the iPod and therefore he reiterated his Outperform rating on Apple's stock vis-a-vis MSFT.
Moreover, he said in a Sept. 15 note to clients that the new Zune is launching into a declining standalone MP3 market with users shifting MP3 use to Smart phones.
iPhone has a huge, perhaps unassailable, lead in Smartphones and an easy upgrade path from iPod [iTunes, account info, content, apps all transition easily] whereas Zune — at this juncture — remains a standalone strategy into a shrinking market.