Multi-line insurer Allstate (NYSE:ALL) was recently downgraded by Goldman Sachs, from neutral to sell. The analyst cited risk of loss of market share for Auto, low ROE on Homeowners, and uncertainty about the Life operation. The shares naturally gave up a few points on the news, so I thought I would go back over my thinking on Allstate. The shares closed Thursday at 30.33. TTM P/E is meaningless due to heavy write-offs and catastrophe losses in 2008.
5 Year Average EPS – Property and casualty insurance has a tendency to run in cycles: as soon as the companies start to make pretty good money, they compete by reducing prices and expecting to make it up on volume. That doesn't work for long, so they start to lose money, raise prices willy-nilly, and soon return to profitability. Because of this, analysis of profitability and valuation should rely on long term averages and specifically include any bad years with write-offs or restructuring charges. For companies that buy back their own shares, as Allstate does, the proper metric is 5 year average EPS, share count adjusted.
Projecting 2009 to come in at 2.94, 2005 to 2009 comes in at an average EPS of 4.21. The ten year figure is 4.23. The computation is, average five years (or ten) net income, then divide by current shares outstanding. With Allstate trading at 30, the P/E based on this metric is 7.1. Ben Graham counseled conservative investors not to pay more than 15 times five year average EPS. Allstate would be acceptable by that standard: indeed, it makes it under the bar by a good 50%.
Allstate has generally traded in a range around 12 on the 5 year metric, suggesting a target of 50 within the next two years. That would return 30% per year. The downside, if nothing comes along to serve as a catalyst, is that the investor owns undervalued shares. That eventually is self-correcting: retained earnings build up, and if management can't come up with anything better they will buy back the shares.
Issues – Allstate has issues: most companies trading at this kind of a discount have issues.
Catastrophe exposure – Allstate has above average market share in states subject to hurricane losses. In the wake of Katrina, it developed that the company did not have re-insurance on the worst of these exposures, like Louisiana. I was long at the time. I can remember cursing and swearing and going over their 10-K with a fine tooth comb: they didn't actually say they had reinsurance, nor did they come right out and say they didn't have it. It worked out OK, since the losses blew away one quarter, but the company was earning a billion dollars a quarter at the time and it didn't take long for the shares to bounce back. Ed Liddy was CEO. That was before he went on to better things at AIG, where he was paid what he's worth.
The point is that Allstate can pay their catastrophe claims and still make money – it's in the 5 year average EPS.
Investment losses – Like most financials, Allstate has various MBS and CMBS that are questionable as to their ultimate value, the mark to market thing. Like others, the company presents a nonGAAP book value, excluding unrealized net capital gains and losses on fixed rate investments. The information is available in the quarterly supplement on their website, and has been developing favorably.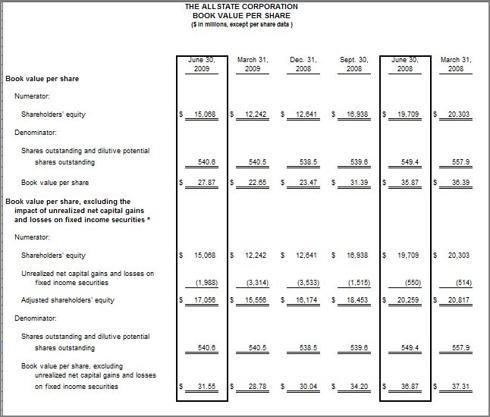 The point is, the huge gap between the two versions of book value has been narrowing, and GAAP book value is increasing. I take that to mean that Mr. Market has been wrong on the value of these securities. In any event, over the past 10 years Allstate has always traded above 1.5 X Book Value per share at some point during the year, suggesting a target in the 45 area.
Life Insurance – Allstate has not had the capital issues companies such as Hartford Financial Group (NYSE:HIG) did. Allstate declined TARP money and did not raise capital by a public offering either.
The property and casualty insurance cycle – included in the 5 or 10 year average EPS. There are good years and bad years, but at a P/E of 6.8 you are buying the average year at a discount.
Financial Strength – from the Website: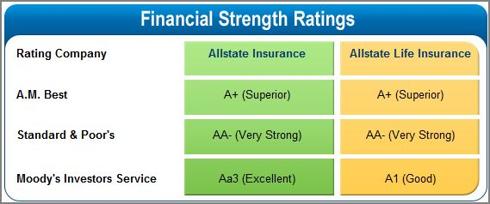 Strategy – Allstate is unlikely to revert to its normal multiples until something arrives as a catalyst. In the meantime, a patient investor can monitor the quarterly results, buying on the dips, and with any luck bring the position up to full size while earnings are steadily accumulating on the bottom line. In due course the company will raise the dividend or announce a share buyback.
Options – This is a good case to use LEAPs as a substitute for owning the shares. A few short-term out of the money calls can be sold in order to cover the time cost of maintaining the position. Applying leverage to a situation that looks to have 30% per year in it anyway, gratifying results are possible.
Disclosure – Long VLSAD, ALL Jan11 20 calls. No position HIG or GS.