Merrimack's (NASDAQ:MACK) proprietary Network Biology Platform has the potential to significantly improve the productivity of drug discovery/development in oncology. The company has a pipeline with six assets targeting multiple opportunities across a variety of cancers. Lead asset MM-398 is the key driver, currently in phase 3 development for pancreatic cancer with data in the second half of 2013. Additionally, MM-121, partnered with Sanofi (NYSE:SNY), is currently in Phase 2 trials for non-small cell lung (NSCLC), breast, and ovarian cancer with expected data in the second half of 2013. Additionally, the company's earlier antibody-based compounds, MM-111/MM-302/MM-151, address blockbuster markets.
Merrimack's shares have suffered substantial losses in the last few weeks due to concurrent underwritten public offerings of 5.75 million shares of common stock at $5 and $125M of 4.50% convertible senior notes due 2020. The recent sell-off may present a speculative buy opportunity with significant upside ahead.
Significant buying activity in Merrimack's shares has been noticed by an institutional investment manager - Tekla Capital Management (NYSE:TCM). TCM has bought 537,600 of Merrimack's shares since the beginning of the year (353,400 shares in the second quarter). TCM is the investment advisor to two closed end healthcare dedicated mutual funds, specifically, H&Q Healthcare Investors (NYSE:HQH) and H&Q Life Sciences Investors (NYSE:HQL).
I have reached out to Dr. Frank Gentile, Senior Vice President of research at TCM and asked him a few questions about his investment in the company. Dr. Gentile's emphasis is on the analysis of private and public companies in the fields of Functional Genomics and Proteomics, Cell and Gene Therapy, Oncology and Cardiovascular Disease. Previously Frank was Vice President, Technology Program Management at Millennium Pharmaceuticals. Prior to joining Millennium, Frank was Vice President of Product Development at Curis. Frank received a B.E. degree in Chemical Engineering from The Cooper Union and a Ph.D. in Chemical Engineering from MIT. He has written over 120 peer reviewed publications and holds 30 US patents in the area of biotechnology.
Ben Yoffe: Dr. Gentile, Tekla Capital Management has been accumulating shares of Merrimack since the beginning of the year. What attracted you to the company?
Dr. Gentile: We invest across a spectrum of healthcare companies including small to mid-cap biotechnology companies. Merrimack is an emerging biotechnology company in the oncology space. On the plus side, Merrimack has a strong scientific and preclinical rationale for their programs and at least one program, MM-398, is a relatively late stage product. On the minus side, MM-398 is attempting to succeed in a very difficult indication, second-line pancreatic cancer, and its other programs, while scientifically interesting, are too early to be called strong development candidates.
Yoffe: I would like to focus on MM-398. The Company expects in the upcoming months top-line data from the Phase III (NAPOLI-1) study of MM-398 in second-line pancreatic cancer, which is currently the key focus for investors. What are your expectations?
Dr. Gentile: I believe MM-398 has a reasonable chance at success. Success in oncology is about a molecule that can destroy cancer cells and the ability to get that molecule to those cells while doing the least possible damage to healthy tissue. MM-398 is a nano-particle containing an approved cancer agent, irrinotecan. The nano-particle formulation is supposed to get that agent to the cancer cells while somewhat sparing healthy cells. However, as I mention, metastatic pancreatic cancer is one of the most difficult indications in oncology to treat and so any expectation of success needs to be somewhat tempered.
Yoffe: In phase 2 trials the drug met its primary endpoint with median survival of 22.4 weeks and 20% of patients surviving more than one year. Based on these results, do you feel more comfortable moving forward with the phase 3 trials results?
Dr. Gentile: A positive Phase II trial should make almost any investor feel more comfortable about success in a Phase III program. However, that needs to be tempered somewhat is certain indications, such as oncology, where Phase II trials are often uncontrolled single arm studies, such as the Phase trial for MM-398, compared to randomized Phase III protocols that are usually required for approval of new agents.
Yoffe: Since MM-398 is a new formulation of irenotecan, a chemotherapeutic drug marketed as Camptosar by Pfizer (NYSE:PFE), can we assume that the risk of unknown or un-expected side effects is actually nonexistent?
Dr. Gentile: A new formulation of an existing agent could potentially have fewer unknown adverse events compared to a new chemical entity. However, it is unclear yet if there will be any unexpected adverse events associated with the use of the nano-particle technology.
Yoffe: How important could MM-398 ultimately become for the company?
Dr. Gentile: MM-398 could become the standard of care for second line disease. As nearly all patients progress on 1st line therapy, MM-398 has the potential of treated a large percentage of pancreatic cancer patients. The full potential will be dependent on a number of factors including the exact magnitude of the benefit and any observed toxicity.
Yoffe: In closing, in addition to the results for MM-398, Merrimack is expected to announce top-line data from over 700 patients in MM-121 Phase 2 clinical trials in breast, ovarian and Non-small-cell lung carcinoma (NSCLC) cancers. Can you share with us your opinion on these trials?
Dr. Gentile: MM-121 is thought to hit a relatively novel target, the Her3 receptor. There are multiple programs in clinical develop that target either Her3 or even Her1, Her2 and Her3 all together. Merrimack's approach is similar to a number of oncology companies, namely trying to test the Her3 hypothesis in cancers than express that target in combination with approved therapy. This seems like a reasonable approach. That said, breast, ovarian and NSCLC are all extremely difficult cancers to treat and it is a crowded space with many agents in clinical development.
My opinion on MACK:
Merrimack's shares have been sold off as much as 45% since the concurrent underwritten public offerings, and are currently trading around 52 weeks low. However, nothing about the company's fundamental story has changed, and the recent weakness may provide an attractive entry point for investors ahead of MM-398 phase III Data.
MACK is significantly under analysts' price targets:
| | | |
| --- | --- | --- |
| Analyst Firm | Rate | Price Target |
| Brean Capital | Buy | $14 |
| J.P. Morgan | Overweight | $11 |
| Oppenheimer | Outperform | $12 |
| Guggenheim | Buy | $13 |
The company has a solid cash position - As of June 31, 2013, the company had $62.1 million in cash and cash equivalents, plus $147.4 million from the concurrent sale of common stock and convertible notes in July 2013. This fact should reduce the fear from near dilution.
Based on interim analyses, the company does not expect MM-121 to meet the primary endpoint for ongoing NSCLC or ovarian cancer Phase II clinical trials. However, I believe these old news are already baked in the current stock price.
MM-398 phase 3 clinical trial provides a decent chance of success based on prior data. If the phase III trial succeeds, it will provide $900M peak sales opportunity for the company according to J.P Morgan analyst, Geoffrey Meacham.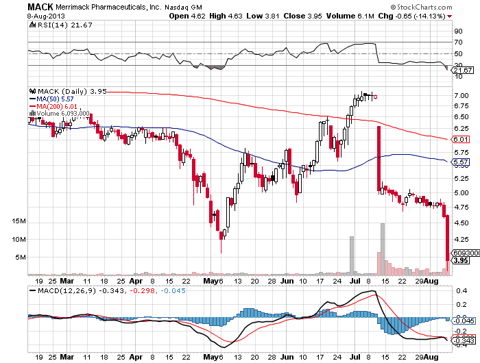 Disclosure: I am long MACK. I wrote this article myself, and it expresses my own opinions. I am not receiving compensation for it (other than from Seeking Alpha). I have no business relationship with any company whose stock is mentioned in this article.