Blockbuster (NYSE: BBI) may have staved off its creditors for now, but it still faces formidable obstacles to its long-term health or even ultimate survival. What's more, its fortunes (or lack of them) do not augur well for the DVD industry as whole.
The positive reaction to the company's announcement of another 960 store closings in coming months suggests the street has not completely written off the business. Fitch Ratings this week affirmed Blockbuster's Issuer Default Rating (IDR) at 'CCC', saying the successful completion of the company's notes offering will alleviate liquidity concerns. Standard & Poor's raised its rating to B- from CCC ,while Moody's put it on review for upgrade.
Janney Montgomery Scott maintained its Buy recommendation on Sep 2, with a fair value estimate of $1.75, noting that "Longer term, BBI should still benefit from kiosk deployments and its five point distribution strategy that still remains in place."
Wedbush Morgan in August downgraded the company to Neutral from Outperform, given the risk of credit default, and lowered its price target to $1.50 from $2.00. BBI closed today at $1.37.
Closing less profitable stores and (hopefully) retaining many of those customers through its NetFlix-like TOTAL ACCESS service and its RedBox-like kiosks licensed through NCR seems like a sensible strategy. NCR plans to add more than 2,500 kiosks internationally this year, and aim to have 10,000 in supermarkets, drugstores and other locations by the end of 2010.
Redbox, formerly owned by McDonald's and now part of Coinstar, (CSTR) is only the biggest of a host of DVD vending companies. DVDPlay, whose kiosks are also red, has been aggressive in California, while MovieCube is big in Canada, the New York Times reports.
Anyone whose business involves selling movies should be enormously concerned – Richard Greenfield, Pali Research.
The challenge is that NetFlix (NFLX) is synonymous with home delivery and RedBox's $1 pricing is hard for Blockbuster to match without foregoing the revenue it needs to maintain its liquidity. Blockbuster has powerful allies in the movie studios who are worried that RedBox's pricing model is wreaking havoc in the DVD market. Still, they may not succeed in forcing higher pricing on RedBox, or it may come too late to help Blockbuster.
Robert Evans, an analyst with Craig Hallum Capital thinks there is a good chance Redbox could settle with the studios and eventually become partners with them.
Closing stores also eliminates the Blockbuster advantage over NetFlix of exchanging mailed DVDs in stores for faster exchanges and free or discounted rentals.
Blockbuster does have partnership with TiVo (TIVO) in the on-demand space, but as 24/7 Wall Street points out, faces formidable competition in Comcast and Time Warner, who have the advantage of controlling distribution.
More broadly, Fitch Ratings lists a number of risks to the DVD market in its just released annual Encylco-Media:
the risk of a permanent shift away from traditional DVD purchases as consumers have built out their library and choose to delay or abandon a Blu-ray library due to the recession is a larger concern.
Fitch believes there could be a timing shift that could occur during the transition from physical to digital product as physical retailers and rentailers pay upfront substantial amounts to the studios, whereas a VOD alternative could result in a material one-time permanent delay on cash received. Fitch expects this transition to be relatively slow and could mirror the transition the music industry experienced.
Piracy represents the biggest concern for Fitch regarding the DVD business. We do not expect piracy to be a major issue for the theatrical window as quality, destination, and social issues present some barriers. However, we believe those same issues are less critical when consumers are deciding on a DVD purchase/rental, especially with fringe movies.
Fitch believes movie studios will have to continue to re-evaluate their theatrical business model and existing revenue sharing and talent agreements in an effort to potentially make that window more profitable.
A more immediate and direct threat involves the price deflation movie studios are dealing with regarding RedBox.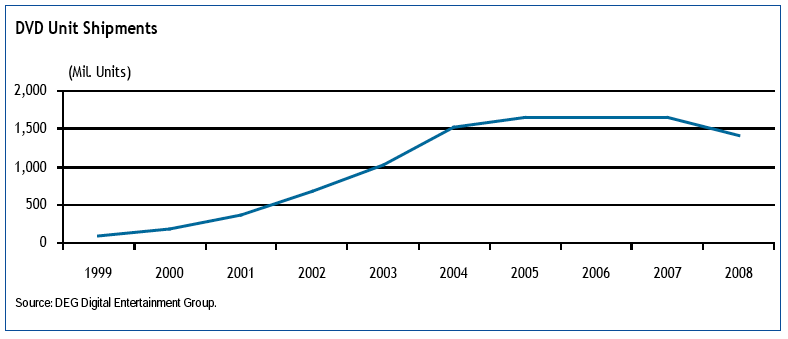 NetFlix and RedBox are enjoying their day in the sun, just as Blockbuster did when it drove the independent video stores out of business. But given the steady march to digital delivery, they will end up in the same dire straits unless they adapt their business models more quickly than Blockbuster has.
J.P. Morgan analyst Imran Khan this week launched coverage of NetFlix with an Overweight rating and $53 price target, Eric Savitz at Barron's Tech Trader Daily reports. The stock closed Thursday at $46.44.
Ultimately, though, Khan sees a shift toward a model focused on streaming. He expects the DVD-by-mail business to enter a decline by the middle of the next decade. "Streaming will drive the long-term success of Netflix," he writes.