Sell EEM, Buy Developed Markets
One of the biggest market trends of the year has been the consistent strength in the SPDR S&P 500 Trust ETF (NYSEARCA:SPY), and marked weakness in the iShares MSCI Emerging Markets Index ETF (NYSEARCA:EEM). In the first seven months of the year, spreads between these developed and developing markets ETFs have been as wide as almost 30% so it remains clear that the bull trends in equities have not been broad-based when looking at things from a global perspective. Year to date, SPY is currently showing gains of more than 21%, while the EEM fund is now showing losses of 10% for the same period. For some investors, this might seem like a buying opportunity. Price-to-earnings valuations in the companies included in the iSHARES MSCI World Index Fund (XWD) are now seen at 13.9, while similar valuations in the iShares MSCI Emerging Markets Index ETF are still below 10.
But while this might put emerging market stocks at an advantage relative to their developed-world counterparts, there are still reasons to be concerned. This earnings season, 59% of the companies in EEM have released results that were lower than analyst expectations. In contrast, nearly 75% of the companies in the S&P 500 have surpassed consensus estimates. The main takeaway here: Expect continued upside in SPY, and prolonged weakness in EEM.
Earnings Disappointments
Earnings disappointments in emerging market stocks have been broad based. All 10 sector groups represented in the iShares MSCI Emerging Markets Index ETF have posted losses. The most important losses have been seen in larger companies and those in the tech sector. But, the losses have been broad-based and there is little reason for optimism at current levels. Key examples of earnings misses can be seen in companies such as Taiwan's TPK Holdings, which supplies Apple AAPL with touch screens. The company now expects third-quarter revenues to fall by at least 15%. The earnings report from Tata Motors (NYSE:TTM) disappointed after its Jaguar Land Rover unit posted weaker sales growth. Perhaps the biggest miss came from AngloGold Ashanti (NYSE:AU), which fell to its lowest levels in more than a decade, after reporting losses for the quarter and suspending its dividend.
On the positive side, GDP growth for 2014 is expected to rise by 5.5%. During this period, forecasts for GDP growth in the U.S. is still expected to come in below 3%. But with little in the way of fundamental reasoning to support equities prices in the developing world, it makes sense to sell funds like the iShares MSCI Emerging Markets Index ETF. From a comparative perspective, the S&P 500 and the SPDR S&P 500 Trust ETF is still positioned to outperform. Those still looking for exposure in emerging markets should at least look to avoid the tech sector, as these companies have been heavily influenced (on the negative side) by the slowdown in worldwide PC demand. Those looking to buy dips in emerging market equities should wait before doing so, as we will need to see improvements in earnings before attempting to call a bottom.
Chart Perspective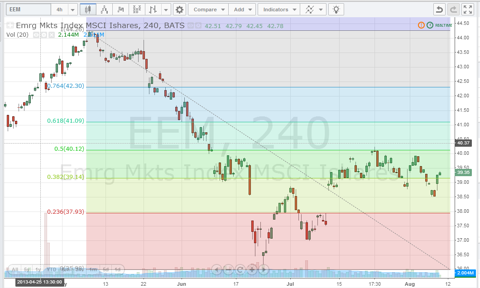 Price activity in EEM is starting to look increasingly bearish after the failure at 50% Fibonacci resistance at 40.20. In addition to this, we are seeing a succession of lower highs on the hourly charts, which points to further downside. Major support rests at 38.50, and a downside break here is likely to accelerate losses.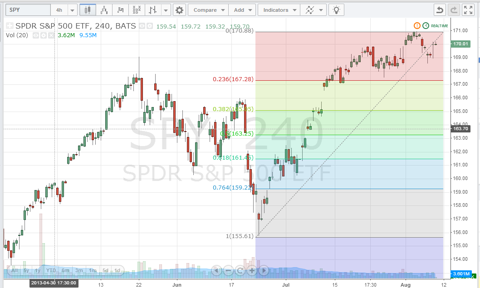 Momentum in SPY remains strong but with prices continuing to trade at elevated levels, it makes more sense to be a buyer on dips rather than upside breaks. First support comes in at 167.90, but much better Fib support rests below at 165.10.
Disclosure: I have no positions in any stocks mentioned, and no plans to initiate any positions within the next 72 hours. I wrote this article myself, and it expresses my own opinions. I am not receiving compensation for it (other than from Seeking Alpha). I have no business relationship with any company whose stock is mentioned in this article.