The consumer retail segment is one of my favorite areas to invest in, as it remains a relatively easy business for investors to evaluate and understand. For the most part, all that is necessary for a successful investment in the retail industry is a consistently strong and unique core product line that has the potential for significant expansion. While there are numerous mid-cap companies that I feel offer this kind of aggressive growth, one of which I own in Under Armour Inc. (NYSE:UA) and another that I'd like to own in Michael Kors Holdings Ltd. (NYSE:KORS), there are surprisingly not many small-cap companies that meet this criteria.
However, one company that has recently come to my attention seems to fit the mold quite well, Francesca's Holdings Corporation (NASDAQ:FRAN). As a specialty retailer with a penchant for creating unusually high demand for its product line, Francesca's Holdings has fostered its image among consumers as an upscale boutique with an independent streak. By introducing new but limited product lines weekly, the company's stores have the rare ability to remain popular and innovative amongst consumers, all while being positioned with few direct competitors outside of local establishments.
When compared to most retail stocks of similar size, Francesca's Holdings offers vastly superior growth prospects at comparable valuation multiples. Currently, FRAN is unloved by the majority of investors and shares are off more than 30% from all-time highs. This presents investors with a rare opportunity to own superior retail growth at bargain pricing.
The Company:
Francesca's Holdings Corporation operates primarily as a specialty, boutique retailer in The United States. The company sells clothing apparel, jewelry and accessories to its core target audience of female shoppers, 18-35 years old. According to the company's website, Francesca's store locations are "designed and merchandised to feel like independently owned, upscale boutiques and provide our customers with an inviting, intimate and differentiated shopping experience."
Originally founded in 1999, the company's first boutique shop was opened in Houston, Texas. In the past 14 years, the company has rapidly expanded its store count to include over 400 locations, as of June 2013, across 45 states in the US. The Texas-based company also operates a popular website, francescas.com, that ships the retailer's limited supply items throughout the continental United States.
The Stock:
Unfortunately, performance for shares of FRAN has been relatively weak since the company's initial public offering of stock a little over two years ago. FRAN has significantly underperformed many of its peers as well as the general indices by a wide margin. The following is a breakdown of the equity's performance since its IPO on July 21, 2011 compared to the S&P 500 (NYSEARCA:SPY) index:
| | | |
| --- | --- | --- |
| Equity/Index | FRAN | SPY |
| Return Since 7/21/11 | -11.3% | 31.33% |
| 1-Yr. Return | -20.2% | 23.84% |
| YTD Return | -5.4% | 19.85% |
(Numbers from YCharts.com, as of 8/07/13, numbers include dividends reinvested where applicable)
On every major comparative basis, FRAN has underperformed the S&P 500 significantly over the last two years, which is especially concerning considering the consumer retail sector as a whole has fared very well in the stated time period. The following is a two-year chart of FRAN (included are 50-day 100-day, 200-day moving averages as well as MACD and slow stochastic indicators):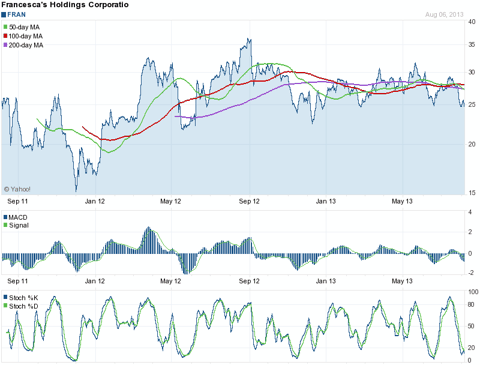 Click to enlarge
(Chart courtesy of Yahoo! Finance, as of 8/06/13)
The two-year chart of FRAN, which begins a few weeks after the company's IPO, is not strong as an overall uptrend has yet to be established. MACD and stochastic indicators show heavy and extended selling pressure amidst relatively weak buying pressure. Also worth noting is that shares of FRAN are currently trading below all major moving average support and as such remain susceptible to further price declines. From a technical perspective, FRAN's chart is very weak and warrants caution going forward.
Growth and Valuation:
For comparative purposes, alongside Francesca's Holdings, I have chosen to include the growth rates of ANN Inc. (NYSE:ANN), owner and operator of Ann Taylor and LOFT brands, and Chico's FAS Inc. (NYSE:CHS). Although Francesca's Holdings manages to separate itself from the majority of companies that target similar consumer groups, ANN and CHS are of similar size, in terms of market capitalization, and operate in similar retail segments and therefore serve as reliable comparisons.
| | | | |
| --- | --- | --- | --- |
| Company* | ANN | CHS | FRAN |
| Revenue Growth (2013) | 6.4% | 5.7% | 26% |
| Revenue Growth (2014) | 6.6% | 10% | 20.9% |
| Revenue Growth (2-Yr. Avg.) | 6.5% | 7.85% | 23.45% |
| EPS Growth (2013) | 5.9% | 5.5% | 23.8% |
| EPS Growth (2014) | 16.4% | 16.5% | 22.3% |
| EPS Growth (2-Yr. Avg.) | 11.15% | 11% | 23.05% |
(Numbers from Yahoo! Finance, as of 8/07/13)
*All three listed companies' current fiscal years end in January 2014
Even though all three companies are projected to grow revenue and earnings per share at solid rates in 2013-2014, FRAN is expected to experience growth in both areas that is more than double that of ANN and CHS on average. Particularly strong in comparison to peers is FRAN's revenue growth, which is projected to be approximately three times that of both ANN and CHS over the next two years.
Considering the vastly superior growth that is currently projected for FRAN, investors might expect the stock to trade at valuation levels that greatly exceeds those of its peers. Fortunately, that is not the case. The following is a breakdown of all three companies' current and future price/earnings ratios:
| | | | |
| --- | --- | --- | --- |
| Company | ANN | CHS | FRAN |
| Trailing P/E | 16.38 | 15.34 | 22.28 |
| Forward P/E | 12.91 | 12.24 | 15.28 |
(Numbers from Yahoo! Finance, as of 8/07/13)
While FRAN is the most expensive out of all listed peers on both a trailing 12-month basis and a future 12-month basis, the stock's valuation appears compelling considering the company's robust growth relative to peers. On a forward-looking basis, FRAN's P/E of 15.28 is not too out of line with ANN's 12.91 and CHS's 12.24 despite the stock being projected to offer nearly triple the revenue growth and more than double the EPS growth of both listed competitors.
Growth Catalysts:
What makes Francesca's Holdings stand out from the majority of large-scale, specialty retail competitors is the company's ability to constantly update its product inventory, which it accomplishes by delivering new items to stores every five days, and the limited availability of the brand's popular wares. With this successful strategy already in place and proven, management has a three-pronged approach to deliver consistent growth going forward.
The three main drivers of growth for the company are expansion via new boutique opening initiatives, growth in the brand's direct-to-consumer channel and various operational improvements. Of paramount importance, and despite investors' seeming disregard for the fact, is that Francesca's Holdings' recent earnings release and conference call seemed to confirm that the company is making significant progress in all three regards.
In terms of new store openings, Francesca's Holdings is expanding at a blistering pace. The company managed to open 56 new boutiques in the first quarter alone, which is equal to 13.86% growth of the total store count and up significantly from Q1 2012, which saw the company open up 44 new locations. Perhaps even more impressive is that management also raised store growth guidance in the most recent earnings call and now expects to open a total of 85 new stores in fiscal 2013 instead of the previously anticipated 80. CEO Neill P. Davis explained, "Several new location opportunities have materialized over the course of the first quarter. And as a result, we're expanding our new boutique-opening target for the full year to 85."
This recently depicted growth in store locations for Francesca's Holdings should give investors confidence that management will be able to make good on their stated goal of reaching 900 total locations for The United States in the future. At the end of 2013, management expects the company's store count to be 445, which would be 49% of the long-term goal of 900 domestic locations.
Moving past 2013, management has already begun to send out letters of intent to open at least an additional 60 locations in fiscal 2014. Considering that growth in store openings is slowing, as 2012 saw 26.85% growth, 2013 is projected to see 23.6% growth and 2014 is tentatively projected to see 13.48%, a very conservative approach would be to estimate 10% growth in store openings after 2014. At this rate, Francesca's Holdings would reach management's goal of 900 locations in six-and-a-half years. Of course, management's willingness to capitalize on burgeoning opportunities, as it has this year by planning to open an extra 5 stores, suggests that the goal of 900 domestic locations could happen much sooner.
Secondly, management at Francesca's Holdings has taken strides to improve the company's online experience in what seems like an attempt to make the website more comparable to the unique boutique store experience and this strategy runs parallel with management's plans to improve operating efficiency. Since the beginning of a major overhaul in late 2012, which focused on providing a cleaner and more easily navigable interface, the site has experienced increased user traffic and conversion rates, which has led to a 23% gain in the company's email address database over the prior quarter.
Additionally, the process is still ongoing and management expects to make further progress in terms of increased customer service, personal shopping and improved data collection. Perhaps the largest potential driver of growth, which has remained essentially unmentioned by management, is the opportunity for expansion of the online business into new geographic markets. Currently, francescas.com does not ship to Alaska, Hawaii or any U.S. territories as well as Post Office boxes or Army Post Office boxes. Most importantly, the company does not ship internationally and this could be a potential massive driver of growth, as the company's unique shopping experience should have little trouble translating well overseas.
In summation, Francesca's Holdings' biggest strength is its brand's ability to remain new and fresh in the minds of its target audience. As long as the company can successfully drive demand for its wares through constant new product introduction and limited supply runs, then the growth that comes from new store openings and broader direct to consumer channels will inevitably follow.
Risks:
A primary concern for investors is a potential slowdown in revenue and earnings per share growth, especially because the company's currently above-average projected growth is what allows it to carry a higher multiple than peers. This was exemplified in Francesca's Holdings' most recent conference call in which the company's reported net revenue of $79 million fell slightly short of the consensus estimate of $79.56 million.
However, more concerning is that management also provided ranges of revenue and EPS guidance for the rest of fiscal 2013 that were again slightly below the average analyst estimates. Management now expects fiscal 2013 EPS to be in a range of $1.27-$1.30, which is down to flat from the average estimate of $1.30, and revenue to be in a range of $365-$370 million, which is down to flat from the average estimate of $370 million. It is worth noting that fiscal 2013 EPS and revenue could still come in at the higher end of the company's range, which would be in-line with Wall Street estimates and would make the stock's sell-off unwarranted.
Perhaps most important is that the company's recent earnings and guidance, as disappointing as they may be to some investors, still show year-over-year growth in terms of both revenue and earnings per share. In the most recently reported quarter, EPS grew an impressive 30% year-over-year while revenue grew 28.83%. Also, management's guidance still calls for yearly EPS growth of 22%-25% and yearly revenue growth of 23.1%-24.8%.
Conclusion:
Francesca's Holdings is a unique retailer that has an edge in the competitive world of women's retail. With an interesting ability to keep company-owned stores fresh and exciting by way of a constantly updated and limited product inventory, the company will most likely be able to capitalize on rising consumer sentiment and spending in the future. Although there is still significant room for growth in domestic markets, including a store count that could stand to double in six years or less, the as of yet untapped international potential for the Francesca's brand likely remains the largest catalyst for the company's future growth.
As a stock, FRAN offers robust growth that outclasses most of its competitors in terms of both revenue and earnings per share, all while trading at only slightly elevated valuation multiples. Despite the company's most recent earnings/guidance coming in slightly below expectations, the fact remains that the stock is still poised to grow aggressively on a year-over-year basis. Although the stock's current downtrend is disappointing, it is also what is providing investors with the rare opportunity to purchase an above-average retailer at average valuation levels.
Disclosure: I am long UA. I wrote this article myself, and it expresses my own opinions. I am not receiving compensation for it (other than from Seeking Alpha). I have no business relationship with any company whose stock is mentioned in this article.