We are beginning to see signs that are making us cautious, but not yet bearish as certain crosses have not occurred. We noticed that the Dow Jones Transports were trading right around support and that attention should be paid to this sector as it is the group which started the recent rally. Although we have set new highs recently the upward movement in the chart has essentially flattened out and we have had a lot more sideways movement and volatility. The 'Chart of the Day' highlights this and as the transports are one of our key indicators we wanted to bring this to readers' attention this morning.
Chart of the Day:
It is not yet time to worry, but the transports certainly have our attention.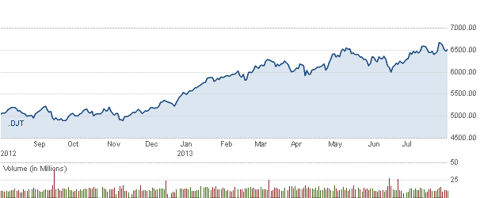 Source: CNBC
We have economic news due out today, and it is as follows:
Wholesale Inventories (10:00 a.m. ET): 0.4%
Asian markets finished mixed today:
All Ordinaries -- down 0.16%
Shanghai Composite -- up 0.36%
Nikkei 225 -- up 0.07%
NZSE 50 -- down 0.17%
Seoul Composite -- down 0.17%
In Europe, markets are mixed this morning:
CAC 40 -- down 0.12%
DAX -- down 0.02%
FTSE 100 -- up 0.34%
OSE -- up 0.19%
Retail
This JC Penney (NYSE:JCP) story gets more interesting by the day and after yesterday's events it appears that Bill Ackman and the JC Penney Board, which he is a member of, may not be on very good terms anymore. In a letter to the board, which was simultaneously released to CNBC, Mr. Ackman expressed his concern regarding the CEO search and demanded that there be a new CEO in place in the next couple of months. Shares moved higher on the news with the stock closing the session at $13.66/share after rising $0.86 (6.72%) with volume surging to 50.3 million shares. This musical chairs of CEOs at JC Penney cannot be good for the planning at the company and replacing these CEOs with their predecessor, who in many cases ran a weak retailer, hardly seems the way to go.
Travel
We were initially worried about the online travel sites this quarter but as more of the companies report their results for the quarter we are discovering that our fretting was for not. Yesterday Orbitz (NYSE:OWW) was a big winner after reporting numbers that beat consensus numbers from the analysts, even though their business did get weaker versus the comps, and the company provided good guidance. Shares rose $3.39 (36.37%) to close at $12.62/share with volume coming in at 10.2 million shares, which is well above the daily three month average.
Orbitz has been a big winner this year, with the latest results look for Priceline to close that gap a bit and potentially outperform through the end of the year.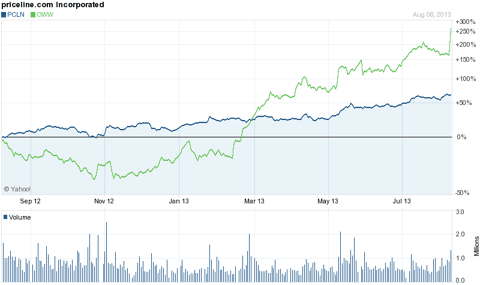 Source: Yahoo Finance
Orbitz set the table for Priceline's (NASDAQ:PCLN) earnings last night which pleased investors and saw the shares increase by 6.45% in after hours trading. As we look at the pre-market trading this morning the shares are quoted at about $994/share and should open up over $60/share. The company beat on revenue estimates and when you adjust their EPS figures for one-time costs they also beat the EPS consensus numbers. Revenues came in at $1.68 billion when $1.65 billion was expected and the company had EPS of $9.70, when adjusted, compared to the $9.38 that analysts were expecting.
Telecom
It appears that T-Mobile (NASDAQ:TMUS) is finally seeing the results of the recent changes they have made in their results as the company announced that they attracted over 1 million new customers for the latest period. This is the first full period where the company had the iPhone offered and this combined with some of their new initiatives appears to be driving results. Outside of the big two in the mobile industry we are seeing the smaller players try to be less like the big boys, as that is a losing game, and revert to the scrappy style which so many smaller companies employ versus the 800 pound gorillas in their industry. It appears that the smaller companies in the mobile telecom industry are employing some original ideas that are beginning to hit the big two on the margin, so it will be worth watching to see if they can pick up traction on these programs and begin to really siphon off subscribers.
Oil & Natural Gas
Recent results from the TMS have propelled Goodrich Petroleum higher. There are more results on deck, so this is a name to watch.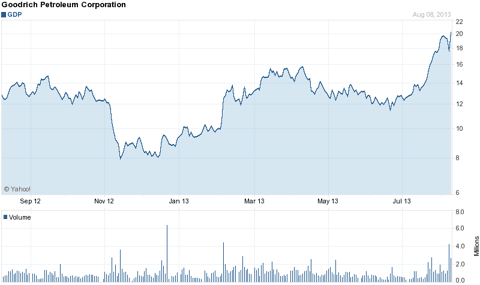 Source: Yahoo Finance
We have discussed Goodrich Petroleum (GDP) in our 'Commodities Today' daily updates and wanted to highlight the name here as the shares hit another 52-week high yesterday after Sanchez Energy announced that they had acquired 40,000 net acres in the Tuscaloosa Marine Shale, or TMS. The acreage is right next to acreage owned by Goodrich and based on the price per acre, which all in is pretty close to $3,000/acre, the move gave investors a lot of confidence in the future of the TMS. Shares finished the session at $20.28/share after rising $2.60 (14.71%) on volume of 2.7 million shares. It is important to note that the shares finished very near the high of the session and the chart pretty much got stronger throughout the day.
Disclosure: I have no positions in any stocks mentioned, and no plans to initiate any positions within the next 72 hours. I wrote this article myself, and it expresses my own opinions. I am not receiving compensation for it (other than from Seeking Alpha). I have no business relationship with any company whose stock is mentioned in this article.