Commodity companies continue to find themselves needing more and more capital to develop assets and this is due in part to low commodity prices, but also to the need to develop these large landholdings at a rapid pace. In the past a company would simply lock up acreage and develop it at its own pace, but with the leases now being signed and the number of landowners involved it is requiring far more capital upfront, especially when your focus is not on traditional oil drilling, for instance, but rather on the shale plays where the production is lower (although there is less risk involved).
We have noticed over the past year or two that for companies with a focus on developing acreage in highly productive liquids areas that these secondaries have not been times to sell shares, but rather opportunities to add to positions on pullbacks. We hope this is not lost on readers as there are opportunities presenting themselves quite often in the sector to add to winning positions.
Chart of the Day:
Not all commodity currencies are created the same, as this chart of the Canadian Dollar and Australian Dollar, both priced in US Dollar terms, indicates. Yes both countries rely heavily upon commodities for exports, but the difference is which commodities they rely on as well as who they rely on as their neighboring big brother economy. Canada relies far more on energy than Australia does but less upon iron ore and coal which is key here. Both are good bets for a rebound in commodities, but if one is to seriously try this trade it seems the conservative approach is via the Canadian Dollar but the true upside rests with the Australian Dollar. Very risky though and we are not saying this is the time to be making that trade, just pointing out an interesting sort of decoupling here.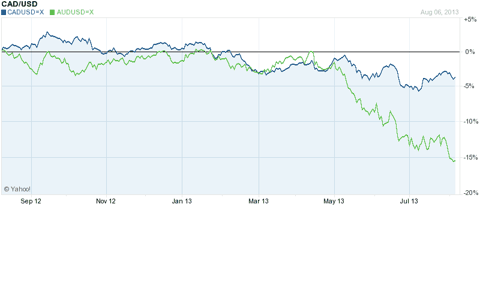 Source: Yahoo Finance
Commodity prices this morning are as follows:
Gold: $1307.30/ounce, down by $2.60/ounce
Silver: $20.245/ounce, up by $0.052/ounce
Oil: $104.34/barrel, up by $0.94/barrel
RBOB Gas: $2.8619/gallon, up by $0.0043/gallon
Natural Gas: $3.292/MMbtu, down by $0.005/MMbtu
Copper: $3.295/pound, up by $0.0245/pound
Platinum: $1494.30/ounce, up by $2.70/ounce
Oil & Natural Gas
Halcon Resources (NYSE:HK) shares took a dive yesterday as investors reacted to the news that the company would be issuing 38 million shares priced at $5.10/share. Investors traded 40.7 million shares as the stock fell $0.64 (10.90%) to close at $5.23/share in reaction. In the short-term the price action was correct, however it is our opinion that long-term this is probably a pretty good buying opportunity as there is a proven management team in place and the stated goal here is to make money buy developing the portfolio and then selling the company. If it requires dilution upfront to get the capital required to develop the new assets the company is trying to bring online, then that is simply the cost of doing business. We would rather it not be the case, but in this instance we have to view the share sale and new debt financing as a plus rather than a negative - long-term of course.
Although the added shares do change the way we have to look at the chart in historical perspective, we are near 52-week lows and it seems prudent that adding to positions here would only make sense as this new capital will be used to quickly advance the company's many projects.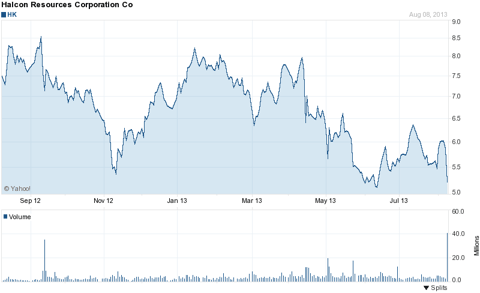 Source: Yahoo Finance
Also of interest this morning is the fact that EV Energy Partners (NASDAQ:EVEP) announced that they have sold a portion of their Utica acreage within a larger package sold by Enervest (press release available here). The partnership will receive $56 million for the 4.345 acres they contributed to the deal which comes out to about $12,900/acre. EV Energy Partners will also retain their royalty on the acreage which is in the sweet spot of the Utica. Results have also been announced, but we want to further read up on the numbers and activities during the quarter before commenting, so we will have more on Monday.
It has been a tough year for EVEP unit holders and although many would have preferred to have seen a larger acreage sale, we view this as a good initial step. The price is fair in relation to recent purchases in the area, if not more than fair, and the company was able to keep their royalty on the acreage which should prove to be highly profitable once the acreage becomes productive.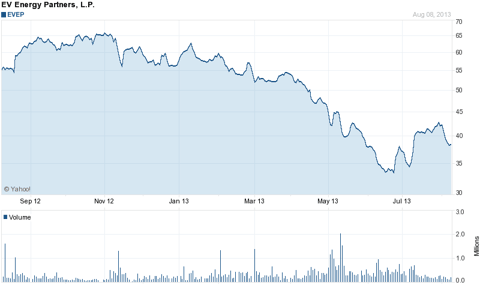 Source: Yahoo Finance
China Trade
The numbers out of China yesterday which showed both imports and exports strengthening gave both copper and coal names a boost yesterday. Alpha Natural Resources (ANR) and Arch Coal (ACI) saw their share prices rise over the levels which we had commented were key to recognizing whether these names were in bear territory or not. With Alpha back over $5/share and Arch having risen over $4/share we see the short-term situation improving, but sadly based off of that economic data that is all that we can say at this time. Long-term one needs to see new coal plants being built and coal consumption here in the US growing as it relates to thermal coal. A global rebound is what will turn metallurgical coal prices around and that is highly dependent upon China and Europe finding solid footing.
It appears that the bottom has already been put in, but we think that the stock price shall be carried by oil initially with copper providing the newsflow for the next step up.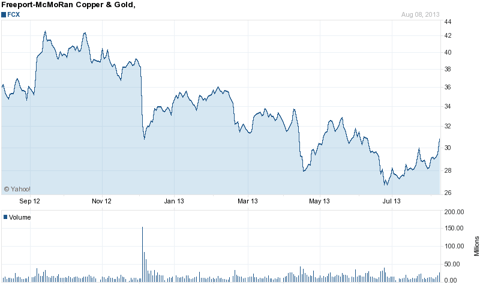 Source: Yahoo Finance
Now if we had to pick a name to bet on right now which we have previously mentioned as a 'China Trade' then it would be Freeport-McMoRan (NYSE:FCX) because of the oil and natural gas exposure they recently took on via their two acquisitions. The stock saw volume spike yesterday as copper prices shot higher and that we can respect. Gold saw its price increase to over $1300/ounce and that too is bullish, but until we get to a period where gold becomes an inflation trade again then the oil is key here. The way we see the turnaround playing out at Freeport is oil shall carry the load originally (which it has been doing) followed by copper kicking in to help down the road and gold shall be the last segment to turnaround as the global economy either heats up or we have some sort of correction. This may not be a popular call in regards to Freeport, but we call them like we see them and at this time that is how we see it.
Disclosure: I am long EVEP, HK. I wrote this article myself, and it expresses my own opinions. I am not receiving compensation for it (other than from Seeking Alpha). I have no business relationship with any company whose stock is mentioned in this article.