Johnson & Johnson (NYSE: JNJ) reports its financial results under three business segments - medical devices & diagnostics, pharmaceutical, and consumer care. In the second quarter earnings conference call, the management of the company gave guidelines for the expected revenue and earnings per share, or EPS, for fiscal year 2013. The company expects to generate revenue of $70 billion in 2013, an increase of approximately $2.8 billion from last year, and EPS of $5.40 to $5.44, an increase of $0.30 from 2012. I believe the company will be able to achieve its revenue and EPS guidance of $70 billion and $5.40, respectively, due to its strong product pipeline. Therefore, in this article I will try to value the company's stock based on its estimated revenue and earnings. Before getting into the valuation, I will focus on the company's product pipeline which will justify my belief that it will be able to achieve its revenue and earnings guidance. .
Product pipeline
Johnson & Johnson is expected to lose patents over some of its blockbuster drugs such as Levaquin, Concreta, Invega, and Aciphex by the end of 2013. These drugs aggregated revenue of $3.33 billion in 2012. Therefore, the expiry of these patents is expected to reduce the company's revenue by nearly $2.3 billion in 2013 due to the generic competition. Under such circumstances, it becomes necessary for the company to develop newer drugs to offset these losses. So, here I have presented some of the drugs which I believe will nullify the decline in the company's revenue due to patents expiration.
Zytiga - This drug is used in the treatment of metastatic prostate cancer. Last year it generated revenue of $962 million. In the beginning of this year, it was further approved for chemotherapy-naive castrate-resistant prostate cancer in the U.S. and Europe. The drug has already generated revenue of approximately $740 million in the first half of 2013 and is expected to generate $600 million in the second half, thereby showing an increase of $378 million on a year-over-year basis.
Xarelto- This drug is developed by Johnson & Johnson in partnership with Bayer AG. Currently, the drug is approved six distinct uses, and is awaiting FDA's approval to be used for the reduction in the risk of secondary cardiovascular events and stent thrombosis in patients with acute coronary syndrome (ACS). It is expected that the annual revenue from this drug will surpass $2 billion once it is approved for prevention of stroke thrombosis in patients with ACS.
Apart from the above-mentioned drugs, J&J has several other drugs in its product pipeline which are awaiting regulatory approval such as Telaprevir in Europe, and TMC 278 and Yondelis in the U.S. These drugs are expected to be launched in the next few years. Therefore, I believe the decline in revenue due to patents expiry will be offset by the launch of these newer drugs and therefore the company will be able to achieve its guidance revenue of $70 billion.
Valuation
I will try to value the company's stock on the basis of price to sales ratio and price to earnings multiple.
Price to sales
Considering the company's revenue guidance of $70 billion, equity shares outstanding of 2.81 billion, and a trailing twelve months (TTM) price to sales ratio of 3.76 -
The stock price should be-
= (70/2.81)*3.76
= $93.66.
Price to earnings
Taking a conservative stand on the company's EPS guidance of $5.40 and a ttm price to earnings multiple of 20.82 -
The company' stock price should be $112.43.
The table below shows a summarized information:
| | |
| --- | --- |
| Particulars | Amount (US$) |
| Revenue | 70 billion |
| Number of Shares outstanding | 2.81 billion |
| Revenue per share | 24.91 |
| Price to sales | 3.76 |
| Expected EPS | 5.4 |
| Price to earnings | 20.82 |
Assumptions used:
I have used the company's revenue and earnings guidance.
The number of shares outstanding is taken on the basis of the company's filing with SEC for the second quarter and on the assumption that no further share issue or repurchase is initiated by the company in the second half of 2013.
I have used the trailing twelve months multiple as compared to the forward multiple because I believe using the forward multiple includes lots of estimations regarding the company's operation in the future, which if not correctly assumed can distort the valuation process. Therefore, I believe the company's stock should be valued based on the multiple it has exhibited in the past, so as to remove the uncertainties.
Stock price comparison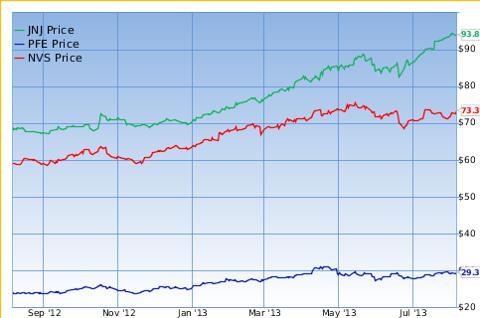 Click to enlarge
Source:Guru Focus.
The chart above shows Johnson & Johnson's stock price performance with its competitors Novartis (NYSE: NVS) and Pfizer (NYSE: PFE) in the past one year. Though, Johnson & Johnson's stock has traded at a price higher than its peers throughout the last one year and amid the buzz that it is overpriced, I believe that there is some more upside potential left for the stock in the remaining 2013.
Conclusion
Looking at the company's strong product pipeline, I believe the company will be able to achieve its guided revenue and earnings in 2013. Though the company will experience headwinds in its revenue due to the patents expiration, the launch of newer products will nullify the decline. Based on my valuation, I believe the company's stock will experience a strong support at $93. Therefore, I recommend investors to consider "buying" the stock even at the current level with a target price estimate of $112 by the end of 2013.
Disclosure: I have no positions in any stocks mentioned, and no plans to initiate any positions within the next 72 hours. I wrote this article myself, and it expresses my own opinions. I am not receiving compensation for it (other than from Seeking Alpha). I have no business relationship with any company whose stock is mentioned in this article.