We are now 8 weeks into channel check numbers on Arena (NASDAQ:ARNA) and getting to a stage where it is tempting to determine a trend line. Personally I would resist that urge for at least another 4 weeks. Understanding the pace is fine as long as you realize that it can increase or decrease as time passes. Launches take time, and what we are looking for is to gauge not only the traction of a new drug launching, but to get an idea of what type of churn we will see. Traction should continue to build, and what we want to see is enough new scripts to offset churn, while continuing growth. There will be additional discussion of this dynamic in the comparison between the launch of Arena and the launch of Vivus' (NASDAQ:VVUS) Qsymia.
This week has been an interesting week for Arena. A virtual tug-of-war has been ongoing. The fundamental story remains the same, but the technicals are getting interesting. I covered the technical aspect in Instablogs on Monday and Tuesday. If you like technicals check them out. It is still my belief that the lack of insurance coverage is the biggest weight on Arena currently. We will see growth, but it will be slower going until insurance coverage really kicks in.
The biggest change in this week's data was an adjustment to my analyst model. In review of the company's Q2 report it became apparent that the average script price was just over $80 net. That will increase as each week passes, but it warranted an adjustment in the analysts' model. More detail is in the bullet points below.
Typically, with this series of articles, I find myself having to offer up a whole list of "qualifications". The reason for these qualifications was to inform readers of what I am tracking and how. Readers can and do have their own models.
The data used is from IMS Healthcare. This company reports numbers each Friday.
I adjust the IMS data up 30% to account for any under-estimates that can arise for a number of reasons.
Another company, Symphony Health, also tracks sales data. It typically comes out later in the day, and after the sales data from IMS has carried its impact on the markets. I track Symphony data (though it is not included in these charts), and I adjust it up by 20%.
The tracking blue and gray paths are my models on how Eisai (OTCPK:ESALY) can arrive at $150 million in gross sales by the end of the year. The $150 million was the subject of continued debate. In May of this year, the Eisai CEO outlined a $200 million target by Eisai's year end of March 31, 2014. On June 7th Lonnel Coates, CEO of Eisai America outlined $150 million by the "end of the year." Coates was at, and spoke during the Eisai shareholder referencing $200 million by March 31st of 2014. Some investors (mostly retail) have argued (after the sales numbers began to roll in) that the $150 million was actually for March 31st of 2014. Essentially, to believe that the $150 million was meant for March you must believe that Eisai told its investors $200 million in mid May and then trimmed the target by 25% three weeks later on launch day. On August 1, 2013 Eisai spoke to the $150 million issue. In response, Eisai stated that the $150 - $200 million is "hopeful aspirations now". There are many ways that such a statement can be taken, but the most certain is that the $150 million sales figure is not likely to happen, but instead something that the company hopes to see happen. More realistically, in my opinion, sales are pacing toward between $60 million and $70 million (gross) by the end of 2013. Analysts like Leerink Swan and Jefferies are likely in the right neighborhood on their respective gross sales expectations. The wild card is what the average script price is and how much revenue Arena can generate per script. The only way the $150 million is attainable at this point is via a hockey stick growth pattern. It is important to understand that gross sales is the sales number prior to discounts and adjustments. The gray and blue lines track Eisai's goals, not Arena's goals.
The charts have an "analysts' expectations" line(depicted in Yellow). This line tracks now tracks to $68 million in gross sales by the end of the year instead of the previous $55 million. The reason for the change is that the average script price is lower than the $125 I had been modeling. With a lower average price, it takes more prescription sales to achieve the desired $10 million in Belviq "royalties" (Arena's percentage of net sales). I now use an average net script price of $100 (down from $125). In the most recent quarter the average was $82. I am adjusting upward because the weight of free trials should improve as the next 6 months pass. The analyst line represents what sales would have to track to get to the $12 price target that they have established.
I have not modeled the Credit Suisse sales expectations. Below are Leerink Swan and Jefferies. Credit Suisse carries a $5 price target on Arena.
The orange line depicts my 30% adjusted IMS sales. It is currently pacing just above the blue hockey stick model and the yellow analysts' model.
I have not stated that the company will track to any particular line. Currently the gray straight-line model to $150 million seems unattainable (though it is still early).
This week the IMS scripts came in at 3,168. As stated, I adjust that number up by 30%. My adjusted IMS script number is 4,118. The chart below is a 12 week blow-up of the larger 30 week chart. As you can see, the current adjusted script pace is just above the yellow analyst line that would, in theory, generate a $12 price target. Scripts are also pacing just above the blue hockey stick model that would pace Arena to $150 million in gross sales by the end of this year.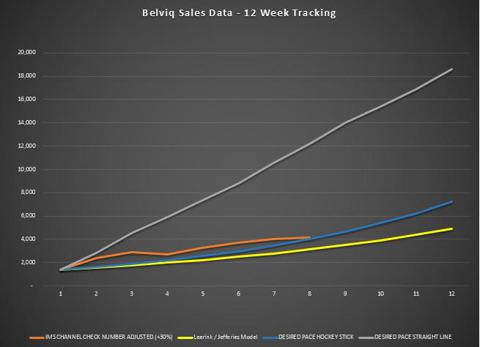 Click to enlarge
The 30 week chart below outlines the overall pace and projected paths. The current pace for script sales is pointing toward $60 to $70 million in gross sales. It would now take roughly $68 million in gross sales to garner Arena the $10+ million analysts are looking for in valuation targets.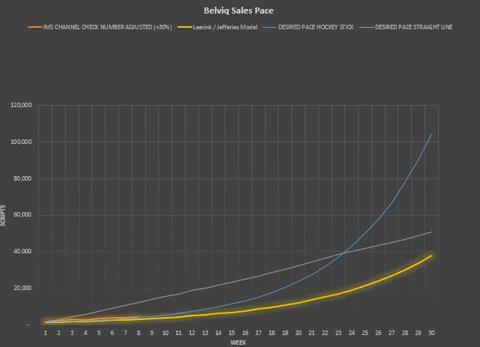 Click to enlarge
In looking at the launch comparisons between Belviq and Qsymia, there are many things to consider. Belviq discounted its drug right away while Vivus did not make such a move until about the 11th week. The free trials that both companies offer do assist in smoothing out the chart patterns. The free trials do count as script sales and thus carry an impact on the average script price. Currently Qsymia averages about $67 per script, while Belviq is at about $82. As time passes (several months) and free scripts carry less weight on a percentage basis, the average script price will increase. The average per script will also increase as insurance coverage becomes more widely available.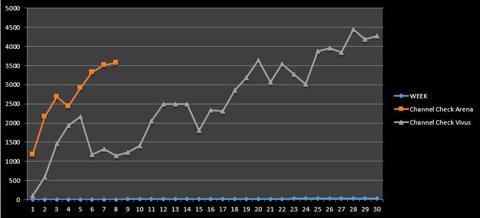 Click to enlarge
As you can see, the launch of Belviq is performing better than the launch of Qsymia. Tracking this is important in that it can give some indication as to where Belviq will be in the weeks ahead. Investors should bear in mind that Qsymia, until very recently, was only available through mail order.
Summary
Sales are continuing to grow, which is good, but the pace is not yet an accelerated one that the street would get too excited about.
Weekly IMS script numbers for Belviq were 3% up. The growth is flattening out a bit
The current pace is still above the analyst line but is in danger of falling below the hockey stick model which represents more of an exponential growth model
Current unadjusted running total on IMS is 18,777
Current running total on 30% adjusted IMS is 24,410
Estimated Gross Sales YTD stands at $4,869,815
Estimated Net Sales YTD stands at $2,441,000
Estimated Arena share YTD stands at $768,915 (bear in mind that Arena is booking sales to wholesalers and this is tracking sales to consumers)
Disclosure: I am long ARNA. I wrote this article myself, and it expresses my own opinions. I am not receiving compensation for it (other than from Seeking Alpha). I have no business relationship with any company whose stock is mentioned in this article.
Additional disclosure: I have no position in Eisai or Vivus.