Cardinal Health (NYSE:CAH) is a compelling value as a dividend growth stock. This is particularly vital for retirees. Annual dividend hikes provides a means to combat inflation and rising living expenses. Long-term shareholders have benefited by a rising share price and an increasing annual dividend. The Cardinal Health management team continues to acquire new business units to sustain earnings growth.
Dividend Growth Rate
The dividend has increased, on average, over the past 5 years by 25.5%. The annual growth rate averages 28% over the past 10 years. Retirees are well served to invest in companies with stock buybacks, successful business models, increasing earnings, and increasing dividends. The below chart highlights a 13.7% yield on cost. This was achieved by dividend reinvestment over the past 21 years.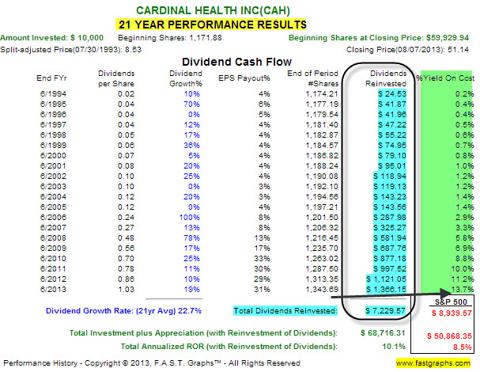 Click to enlarge
Cardinal Health delivers pharmaceuticals and medical-surgical products to hospitals, pharmacies, physician offices and medical care facilities, operates the nation's largest network of nuclear pharmacies, and manufactures and delivers high volume replenishables (gloves, surgical drapes, scrubs, gowns, etc.) to medical industry end users across the globe. The company operates two business segments - pharmaceutical and medical.
The company was formed in 1971, with headquarters in Dublin, Ohio, and went public in 1983. Over the years, Cardinal Health has grown organically and through acquisitions. Cardinal Health's annual revenues exceed $100 billion, of which almost 90% comes from the pharmaceutical segment.
Buy Cardinal Health for its Dividend Supremacy
Cardinal Health is ranked #4 of 54 companies on the S&P 500 Dividend Aristocrats index. To be on the S&P 500 Dividend Aristocrats index, each company must be a component of the S&P 500 index, have increased dividends consecutively for at least the past 25 years, have a market capitalization of at least $3 billion and have high liquidity with trading volume of at least $5 million per day. Companies in the Dividend Aristocrats index are given equal weight, are well diversified across multiple sectors and offer capital growth and dividend income opportunity. The Dividend Aristocrats index is rebalanced every year with companies removed from the index if they did not increase dividends over the past year or were taken off the S&P 500 index.
The table below compares total returns for the Dividend Aristocrats index, the S&P 500 index and Cardinal Health. While Cardinal Health outperformed both indices through 1 year, it beat the S&P 500 but lagged the Dividend Aristocrats index over 3 years because of relatively poor share price performance.

Click to enlarge
On August 7, Cardinal Health announced a quarterly cash dividend of $0.3025 per common share, payable October 15. The most recent dividend is up 10% sequentially and up 27% over the year-ago quarter.
At $0.3025 quarterly, Cardinal Health has an annualized dividend of $1.21 with a dividend yield of 2.40%. This marks Cardinal Health's 30th year of continuous dividend payments - up from $0.0012 (adjusted for stock splits) in 1983 when the company went public to $1.1825 anticipated in calendar 2013 - a whopping 984x increase over 30 years. This rising dividend trend line is a strong sign of management's confidence in the company's future earnings (see graph below).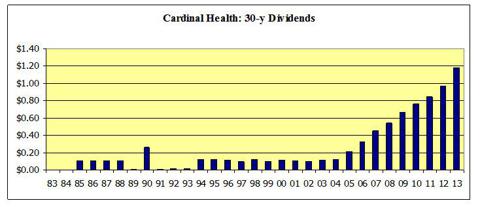 Click to enlarge
Over the past 10 years, dividends are up from $0.115 in 2003 to $1.1825 for calendar 2013, a gain of 93% per year on average. Because Cardinal Health dividends have ramped up significantly of late, it's reasonable to assume dividends could continue to grow at low double-digit rates.
In addition to rewarding shareholders with dividends, the company regularly buys back shares, with $250 million spent on buybacks in Q4 2013.
Solid 12-year Financial Performance
Cardinal Health has a solid history of financial performance with strong growth in earnings, dividends and cash flow over the past 12 years of operation (see 12-year chart below) through multiple business and economic cycles - reflecting strong and capable management, and a solid business model. While performance suffered due to the 2007-2009 financial crises, earnings are surely building back up to pre-crisis levels.

Click to enlarge
Reasonable Valuation
From a valuation standpoint, Cardinal Health has a Price/Earnings ratio of about 14 based on non-GAAP adjusted earnings and a Price/Book ratio of about 3. Its P/E ratio is close to historical lows making this a great time to buy.
Shares are currently near the top of their 52-week range of $36.91 - $51.59 and have delivered a 29% return over the past twelve months but are down 5% over the past five years and offer compelling value at current levels.
As the table below shows, Cardinal Health paid out about 29% of its non-GAAP earnings as dividends and grew dividends by over 100% per year over the past 12 years, through multiple business and economic cycles. At 14, its price-to earnings ratio reflects a fair valuation (P/E below 15 represents fair market value) while its price-to-book ratio of about 3 reflects future growth.

Click to enlarge
Assuming consensus EPS growth of 10% and continued dividend growth, shares could deliver an 11% return over the next 5 years and jump to $78 or more by 2018.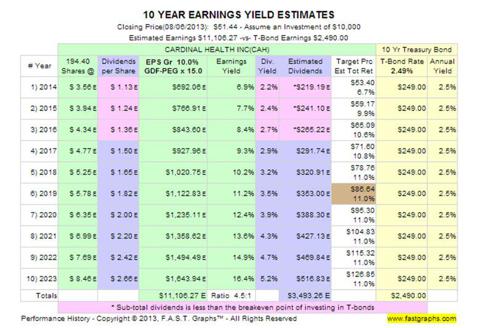 Click to enlarge
Moreover, Cardinal Health has long-term debt of $3.7 billion which is 1.9-times total cash, 14% of total assets and 62% of total equity, well within manageable limits. Therefore, Cardinal Health is an outstanding company from a safety and financial health perspective.
ACA (ObamaCare), Aging Population Will Boost Profits
As a key distributor of pharmaceuticals, Cardinal Health stands to benefit significantly from the Affordable Care Act (ACA) and the growing senior population as millions of Americans get healthcare coverage and boost demand for drugs, medical-surgical products, nuclear pharmacies and other services over the next decade and beyond.
Some Headwinds but Cardinal Will Overcome
Cardinal Health revenues have been under pressure of late with a competitive loss on a large distribution contract to Express Scripts (NASDAQ:ESRX) and an inability to retain its distribution agreement with Walgreen that was subsequently awarded to AmerisourceBergen (NYSE:ABC), which marginally trails Cardinal Health on top-line revenues. However, while those losses impacted revenue, margins on both those lost contracts were slim and Cardinal Health still delivered earnings gains, indicating the diversification and fundamental soundness of the company.
AssuraMed Acquisition Accretive to Earnings, Focuses on Fast Growing Home Health Segment
AssuraMed, Cardinal Health's $2.1 billion acquisition made in 2012, is focused on the fast-growing and higher margin home health market and is expected to add $0.15 per share to the company's bottom line in FY 2014.
Strong Non-GAAP Earnings, Robust Outlook
For its full year ended June 30, Cardinal Health reported a 6% drop in revenues to $101.1 billion and, despite the revenue drop, a 16% increase in non-GAAP diluted EPS to $3.73 - well above financial goals. Looking into 2014, the company expects non-GAAP earnings of $3.45 to $3.60, upwardly revised from earlier estimates.
Summary
Overall, Cardinal Health trades at a reasonable valuation, has excellent growth prospects, solid financial health and is a Dividend Aristocrat with a strong record of dividend growth and share buybacks accompanied by solid earnings growth. Retirees can obtain a blue chip stock with proven annual dividend increases.
Disclosure: I am long CAH, ABC. I wrote this article myself, and it expresses my own opinions. I am not receiving compensation for it (other than from Seeking Alpha). I have no business relationship with any company whose stock is mentioned in this article.