Introduction
Shares of Sears (NASDAQ:SHLD) are down over 10% since my last article about the company in February 2013 and nearly 20% since I first wrote about it on September 5, 2012. For comparison, since September 5, 2012, the S&P 500 Index and shares of competitors Target (NYSE:TGT), Wal-Mart (NYSE:WMT), and Home Depot (NYSE:HD) are up by about 20%, 13%, 6% and 40%, respectively (see graph). It seems like Sears shares may have bottomed out with the major restructurings behind the company. It is likely that it will hold out due to its conservative cost management, access to short-term liquidity and improving housing and economic picture in the U.S. Due to its relatively small size and recent focus on technology, the company's common stock could reach over $100 per share in the next several months. If Sears initiatives discussed in this article play out well, this could contribute to a subsequent increase of value in its assets and brands.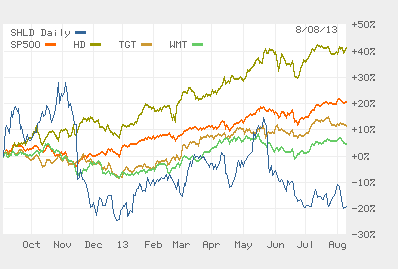 Valuation
Due to having a negative operating margin and undergoing significant restructurings including spin-offs, closure of stores, and the sale of real estate property we cannot value Sears the traditional way you value a retailer such as increases in comparable-store sales and profit margins. The value in Sears common stock is in its assets, which is probably worth more than the company's current $8 billion of enterprise value.
The largest item on Sears' balance sheet is inventory of $7.9 billion. Assuming that the inventory is not very liquid and that sales actually occur with significant discounts, a 60% cut in the value of its inventory seems conservative but right, which leaves $3.2 billion of real inventory value. In addition, Sears has $471 million in cash and $608 million in accounts receivable. Assuming the company can collect 80% of its receivables, this leaves $486 million. So the total real value of Sears' current assets is $4.15 billion.
Sears' current liabilities, as of the latest quarter that ended on May 4, 2013, are $8.8 billion, which leaves a current liability gap of $4.65 billion. Clearly, not a situation a company wants to be in as current liabilities are classified as liabilities due within a year. It is true that many companies fund their operations in the long-term with short-term financing and by not making timely payments to their suppliers.
What is left is the real estate owned by the company, its brands, and its businesses or long-term assets comprised of:
Sears Canada - Sears owns 51% of Sears Canada, which currently has $1.3 billion market capitalization. Assuming Sears sells its part of Sears Canada at a 25% discount due to being a large shareholder, it may be able to generate about $500 million.

Sears Mexico - during 2012, Sears received a $30 million dividend from its interest in Sears Mexico. Assuming an interest rate of 6%, the present value of this perpetuity is another $500 million.

Real estate - Sears operates 2,060 stores in the U.S. of which it owns about 735 stores. Also, Sears owns 12 distribution centers, 2 million square feet of office space in Hoffman Estates, IL, and 86,000 square feet office building in Troy, Michigan. Assuming the average store owned by Sears is 100,000 square feet, it means that Sears owns 73.5 million square feet of stores and 2.1 million of office space or a total of 75.6 million square feet of property in the U.S. Given that land in the U.S. is practically limitless, it makes sense to evaluate the property based on a replacement basis. According to construction estimates, building retail space costs about $122 per square foot, so Sears real estate is worth about $9.2 billion. This excludes 12 distribution centers owned by Sears in the U.S. but it also excludes an average store closing cost of about $1.2 million (or $2.5 billion for all Sears stores).

Brands and U.S. businesses - Sears brands are carried on the balance sheet at $2.9 billion. Its most recognized brands include Lands' End, Craftsman, DieHard and Kenmore. Also, Sears plans to sell its service contracts business for $500+ million. Taking these values without adjustments, this gives an additional $3.4 billion. Below is a table summarizing Sears' liquidation value and adjusted values based on the factors discussed above:
Table: Sears liquidation value (adjusted value based on above analysis)
| | | |
| --- | --- | --- |
| | Book | Adjusted |
| Current assets | $9.4B | $4.15B |
| Long-term assets | $10.0B | $13.6B |
| Total assets | $19.4B | $17.75B |
| Current liabilities | $8.8B | $8.8B |
| Long-term liabilities | $7.7B | $7.7B |
| Total liabilities | $16.5B | $16.5B |
| Liquidation value (assets-liabilities) | $2.9B | $1.25B |
| Current market value | $4.5B | $4.5B |
| Overvalued | $1.6B | $3.25B |
| % overvalued | 35.6% | 72.2% |
New initiatives
As seen from the table above, liquidating Sears is not an option, as its largest shareholder, CEO and chairman, Edward Lampert, will suffer a loss anywhere from 35.6% to 72.2%. During the latest quarter ended May 4, 2013, Sears reported a net loss of $279 million and an operating loss of $247 million. Part of this negative performance is due to the bad weather (a cold and rainy spring) during this period. Going forward, Sears should see improved results from better weather, leaner selling and administrative operations (down by $227 million or 9.3% from the same quarter in 2012), and the following major initiatives:
Shop Your Way membership - allows members exclusive deals, access to new merchandise and ability to earn points for purchases. Currently the membership program accounts for 60% of the company's revenue and members can download an app that provides real time web and in-store shopping assistance.

Transform Lands' End into a global brand - the company plans to nearly double the sales at Lands' End from $3 billion to $5 billion through sharing resources with Sears, opening more independent stores, and further international expansion.

Integrated retail - Sears is one of the few retailers that have fully-integrated retailing offering buy online and take in store, buy in store ship to home, and a unique supply chain by using a number of stores across the country to ship products faster.

Technology based business solutions - Sears offers "fulfilled by Sears" (a turnkey solution for third-party retailers on the Sears web site) and MetaScale (a big data and Hadoop (high-availability distributed object-oriented platform) service provider currently serving companies in the financial and healthcare industries)
These new initiatives show that Sears is not just reducing costs and selling assets for short-term gain but reviving its business and expanding into new areas. For example, the company is focusing on offering more healthcare-related products in its stores (prescriptions, hearing aids and high blood pressure monitors) to meet rising demand from aging baby-boomers. Also, Sears is refreshing its showrooms at Sears Automotive and is targeting the younger generations with exclusive brands by Adam Levine and Nicki Minaj. All this should make Sears more competitive with the larger retailers such as Amazon.com, Wal-Mart and Target while also providing a unique shopping experience. It is much easier and less risky to change a company the size of Sears than a company the size of Target or Wal-Mart.
Conclusion
Despite Sears being owned and run by a hedge fund, it seems like the company's management is trying hard to turn around the company and not to make a quick killing by cutting costs and selling it off. Sears initiatives to grow its brands and to start new services seem a better way than simply selling its assets. Sears could be on the way to becoming a true American success - a company being revived by innovation and ingenuity. A domestic housing recovery and higher employment will also contribute to Sears' future success.
In conclusion, Sears is here to stay and to contribute to society by employing thousands of people, paying taxes, bringing quality products at competitive prices, and offering new services. Given the recent decline in the price of Sears shares and its initiatives, this could be a good time for equity investors to become a part of the Sears story.
Disclosure: I have no positions in any stocks mentioned, and no plans to initiate any positions within the next 72 hours. I wrote this article myself, and it expresses my own opinions. I am not receiving compensation for it (other than from Seeking Alpha). I have no business relationship with any company whose stock is mentioned in this article.