Thursday, the SEC unanimously voted to take the next step towards banning the controversial practice of "flash trading" which has been in place for the last three years. Up until September 1, there were three primary exchanges involved in the practice in which clients were given a fraction of a second advantage for large blocks of stock traded on the specific exchanges. Beginning this month, Nasdaq (NASDAQ:NDAQ) as well as Bats Global Markets have decided to step away from the practice. That leaves Direct Edge, which is owned by Knight Capital Group (NITE), as the lone holdout.
The SEC is seeking to ban the practice because it believes that some investors are disadvantaged because orders are often filled before they are ever displayed to the general public. A client of BATS may have a block of 100,000 shares of a particular stock he wishes to sell at a particular price. The limit order could be shown to other BATS clients for a fraction of a second to see if any computers are willing to buy at the specified limit. If the bid is out there the transaction will be completed. If not, the order will be displayed to the public where anyone else could bid to take the stock at the specified limit.
There is certainly some merit to the discussion over the public not having access to the order. But at the same time, these exchanges are still bound by the "National Best Bid and Offer" or NBBO regulation which requires brokers to guarantee their clients the best available price on a trade. So if this large block of stock was offered to be sold at $80.55 and a buyer existed on the public exchange for $80.56, the exchanges would be required to fill that public bid because it represents the best available price.
Currently, flash trading represents about 2.8% of the US stock volume. So it is difficult to see how this practice creates a significant issue for most public investors. Moreover, this practice actually appears to be a way by which some individual exchanges can use technology to benefit their customers. In a world where stock execution has become a commodity and best execution techniques are required by the SEC and other governing bodies, it actually seems refreshing to see technology rising to meet the liquidity needs of large clients. Keep in mind that many of these flash trading programs may be operated by mutual funds which are owned in IRAs and 401(k)s across the country, or by brokerages and trading operations which are often public companies and owned by individuals by way of stock ownership.
It strikes me as odd in an environment where industry is constrained and unemployment is high, that the regulatory bodies that be would be so intent on cracking down on profitable businesses. These profitable concerns are required in a broad assortment of industries in order to promote employment and pull our economy out of recession. Chemists who develop a cure for diseases should be able to profit from their hard work, and this profit will encourage even more discovery. Physicists who develop fuel efficient technologies should be able to sell their patented technique to manufacturers at a profit. And exchanges who use technology to benefit their clients should be able to operate in this manner and receive revenue from offering better execution.
Rather than seeking to heavily regulate the equity exchanges, I would propose approaching the subject from a disclosure standpoint. Customers who wish to use "dark pools" where orders are shown to a limited number of traders should understand the benefits and detriments to these approaches. Orders which are completed between clients of one exchange should still be reported to the public in a timely manner. But the SEC should not ban the willing agreement of two traders at a certain price simply because the public was not privy to this arrangement.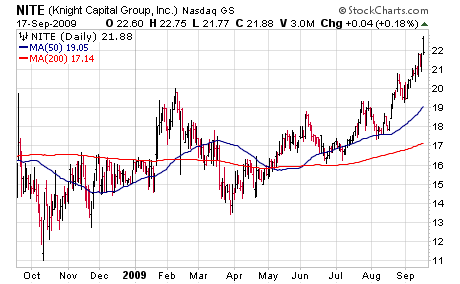 Disclosure: Author owns NITE in the ZachStocks Growth Model