Thursday evening, Tableau (NYSE:DATA) wowed Wall Street by posting a significant Q2 beat. The company also raised guidance for the remainder of the year and hosted a wildly bullish conference call for investors. As summarized on Seeking Alpha, Tableau's revenue came in at $49.9 million, up 71% year-over-year and well ahead of the consensus estimates of $42.7million. License revenue grew to $33.5M (+65.6% Y/Y), beating the Street by $5.5 million.
GAAP net income fell to -$2.6M from $1.1M in Q2, as expenses outpaced top-line growth, but this is to be expected when a fast-growing software company blows out its top-line expectations. Investors understood this, bidding up the shares by some 20% in early Friday trade.
Guidance was equally bullish. Q3 now calls for revenue of $49.5M-51.5M (+57% y/y at the midpoint), crushing the consensus of $46.5M. Similarly, full-year revenue guidance is now $198M-202M (+57 y/y at the midpoint), above the consensus of $187.9M.
The strong performance was foretold in a research piece attributed to Pipeline Data LLC, a division of PoisedToTriple Research. According to its industry research and findings, Tableau's results are likely just a continuation of trends underfoot in the Big Data space. We have been covering these trends on Seeking Alpha since 2011, with research on Datawatch (NASDAQ:DWCH), along with Attunity (NASDAQ:ATTU), and the since-acquired Pervasive Software.
As for what's next, we believe that recent actions foretell the future. Specifically, investors can expect strong financial results to continue rolling in. They can also expect the pace of acquisitions to heat up.
On June 17, Datawatch announced its intention to acquire privately held Panopticon. The little-known Swedish software vendor has drawn comparisons to Qlik Technologies (QLIK) and Tableau. Based on our proprietary research, Panopticon positions DWCH as something more like TIBCO's (TIBX) Spotfire with real-time capabilities.
At present, the majority of customers are not yet buying real-time products. However, as real-time gains traction, we believe customers will favor real-time platforms over non-real time ones. The reason is that real-time platforms kill two birds with one stone. The alternative is to buy separate products, requiring support (and possibly integration) of two platforms.
This is clearly bullish for DWCH's future. It also makes Attunity (ATTU) an intriguing acquisition candidate.
We have previously highlighted ATTU, which specializes in real-time change data capture (NASDAQ:CDC) and replication for Big Data. It is the largest pure play in its segment and possesses strong indirect sales channels (along with a growing direct sales presence). In contrast, DWCH has assembled a highly-experienced direct sales force and is growing its indirect channel. In other words, DWCH and ATTU complement each other nicely in this regard.
In addition to the technological and execution synergies, DWCH/Panopticon and ATTU share another commonality - they are all partnered with QLIK. We believe they represent attractive acquisition candidates for QLIK, especially as it fights to maintain its lead over the red-hot Tableau.
Acquiring ATTU would give DWCH the ability to provide real-time data integration and replication across heterogeneous databases. We also believe it would be highly accretive. The direct and indirect sales channels would be consolidated, while simultaneously enjoying the benefits of an expanded product set. Operating costs would also be consolidated, leading to greater operating margins for the combined entity.
Even with Panopticon, Datawatch is unlikely to become the data discovery market leader as an independent entity (nor do we believe that to be CEO Michael Morrison's end-game). Rather, we see the company evolving into a strategic acquisition target for one of the current market leaders. QLIK would be an obvious choice because of the partnership ties. DATA would also have to be considered a possible suitor. DWCH could also be targeted by a large infrastructure vendor looking to crack QLIK and DATA's stronghold. According to our due diligence, Oracle (ORCL) or IBM would fit the bill.
IBM would be especially fitting. A few years ago, Big Blue acquired DataMirror for its real-time capabilities. Also, much of the DWCH team started out at Applix, which was acquired by Cognos, which was then acquired by IBM. In other words, DWCH has a good idea of what IBM looks for in an acquisition.
Many have argued that DWCH's valuation should gravitate toward that of vendors like DATA and Splunk (SPLK). We disagree (for now). SPLK has demonstrated its ability to deliver beat-and-raise quarters (and we believe DATA will follow suit). DWCH posted positive Q2 results, but needs to string a few more together. Further, we believe the accounting treatment of Panopticon will be a source of near-term confusion for investors.
PoisedToTriple Research recently released the results of a multi-year study that examined the impact of deferred revenue write-offs on the stocks of acquiring IT/software vendors. Upon the closing of its acquisition (likely to occur during Q3), we expect DWCH will be required to write-off a significant portion of Panopticon's deferred revenue. In doing so, Panopticon's reported revenue growth will be negatively impacted for a few quarters. At the same time, its expense structure will remain a drag on DWCH's operating results (excluding any synergies that DWCH can wring from the deal). Net-net, we believe the Panopticon deal will be dilutive in the near-term before becoming accretive in fiscal 2014.
As for acquiring Attunity, ATTU's rising valuation could be the only stumbling block we foresee. Attunity delivered positive results in Q2 and management set expectations for a strong Q3 and Q4. As a result, investors have become more constructive on the stock. Further, after meeting with management, PoisedToTriple Research concluded that Attunity's revenue and EPS may surpass Datawatch's in Q4. Yet, ATTU trades at half of DWCH's valuation.
We see that gap tightening (even as DWCH continues its ascent). If the gap closes completely, ATTU could become less attractive to DWCH. Either way, investors stand to benefit handsomely from shares of ATTU.
Technically, ATTU's chart is on the upswing. It has crossed back above its moving averages (DMAs). If the stock holds up, we can expect a "golden cross" of the 50-DMA above the 200-DMA to occur in the weeks ahead. This typically draws the attention of traders, often leading to further momentum for the shares.
We see technical resistance in the $8.50 area, but a clearance of that threshold could set the stage for a move into the double-digits. Based on our previous articles on the subject, such a move would simply corroborate our fundamental valuation analysis.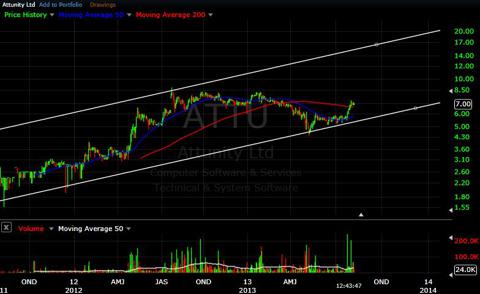 Source: PoisedToTriple and FreeStockCharts
Disclosure: I am long ATTU, DATA, DWCH. I wrote this article myself, and it expresses my own opinions. I am not receiving compensation for it. I have no business relationship with any company whose stock is mentioned in this article.