The Status Quo
The S&P 500 (NYSEARCA:SPY) hit an all-time intra-day and closing record high of 1,709.67 on Friday, August 2. According to a multitude of media this was great news. But is there really any reason for being bullish at all? Did companies release record-breaking earnings? Does the economy show signs of rampant growth, in line with record-high stock market valuations? As it turns out, the story is shaky at best. In times such as these, you want to follow the best informed crowd. This article aims to aggregate the information out there on "the market" and will provide its readers with advice regarding current market conditions.
Unfortunately the S&P 500's all-time high festivity was short lived as the stock market tanked to an intraday low of 1,693.29 on Tuesday, August 6. The Federal Reserve's Quantitative Easing (QE) debate still seems to dictate the general atmosphere of the global stock markets, as we have seen over the course of the past year. Any hick-up by the Fed's chairman on his stance has undecidedly resulted in vicious selloffs as noted earlier this year. Today was no different. Fear of rising interest rates and negative earnings surprises such as those by IBM caused stocks to tank.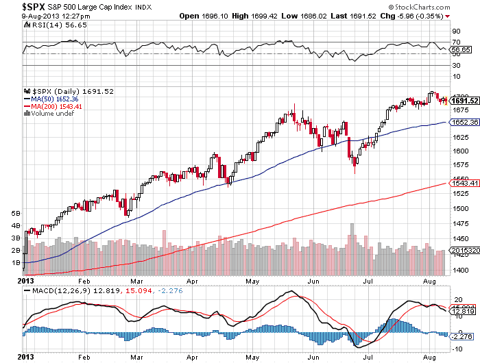 The graph above clearly shows something is definitely going well in the stock market. Often I hear that "it doesn't really matter as long as stocks are rising". I completely disagree. A market should move largely based on its fundamentals. The situation at hand is one where the spread between stock market valuations and the real economy is increasing. As we've seen before this is a recipe for disaster, or as Martin Feldstein of the National Bureau of Economic Research has put it in the Wall Street Journal:
"The danger of mispricing risk is that there is no way out without investors taking losses. And the longer the process continues, the bigger those losses could be. That's why the Fed should start tapering this summer before financial market distortions become even more damaging."
To assess whether the general rise in the stock market is validated by the fundamentals on which it rests we need to consider at least the following factors to get a grasp of what the bigger picture looks like. It's informative to consider (1) company earnings, having completed the largest part of the earnings season, (2) "Smart Money"; what are institutions, high net-worth individuals and hedge funds doing, (3) economic growth by means of economic indicators and (4) what to expect from the Fed in terms of its QE policy.
So when will the Fed start tapering? I am going to steal a definition once used by a Blizzard Entertainment, Inc. representative when dealing with news-hungry fans:
"Soon" does not imply any particular date, time, decade, century, or millennia in the past, present, and certainly not the future. "Soon" shall make no contract or warranty between Blizzard Entertainment and the end user. "Soon" will arrive someday, Blizzard does guarantee that "soon" will be here before the end of time. Maybe. Do not make plans based on "soon" as Blizzard will not be liable for any misuse, use, or even casual glancing at "soon.
The above readily applies to the Fed. Tapering will start "soon". And nobody knows when.
Fundamental Considerations
The last major week of the Q2 earnings season is currently being wrapped up. The bulk of the listed companies have released their earnings and therefore we are able to draw some conclusions. Considering aggregate growth rates, median surprises and beat ratios this season shows no large difference with respect to Q1 earnings. Yes, it has been somewhat better as certain companies have shown terrific figures, but we have to consider the context here. The stock market has run up in a raging-bull like way. As a result, while the "isolated" figures seem not-so-bad, relatively speaking they may actually be worse than the Q1 figures. In addition, the Finance sector has posted very solid numbers in Q2 compared to Q1, which tips the scales in favor of Q2.
For a free Q2 Earnings Trends report check this report by Zacks Research. The majority of companies that have reported earnings have beaten expectations (66.7%) with a median surprise of +2.9%. Total earnings of the S&P 500, based on released earnings, are up +1.6% in Q2 in comparison with +1.7% in Q1. On the revenue side the figures show a somewhat brighter picture as they come in at +1.9% for Q2 compared to +1.6% for Q1. In addition, revenue beats in Q2 were significantly higher at 53.2% compared to 42% in Q1. As I noted earlier, while the figures seem better than expected, there is a caveat. The Finance sector has completely obliterated expectations. Earnings and revenues were beaten by 74.3% and 62.9% respectively, where earnings came in +28% and revenues in at +7.8%. This certainly lifted investor's moods as we can see in Vanguard Financials ETF (NYSEARCA:VFH):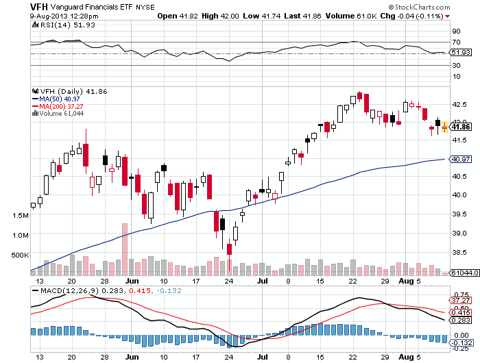 So while earnings are "pretty good" for Q2 it still doesn't seem to warrant record high valuations.
Smart money is bailing. While the sell-side is readily proclaiming 'buying opportunities of a lifetime' the smart money is doing the exact opposite. Leon Black, founder of Apollo Global Management has explained what should be the course of action for any investor in current markets (Mr Black starts speaking around 15:45):
"It's almost biblical: there's a time to reap and there's a time to sow"
"[we are] selling everything that is not nailed down"
"The market is pricey. In our view, priced for perfection
The markets fundamentals are hardly something to positive about, let alone perfection. For those who didn't get the message yet there's a very clear message by Bloomberg as this headline shows. So as the Bloomberg article shows, Fortress Investment Group (NYSE:FIG), Blackstone Group (NYSE:BX) and Apollo Global Management (NYSE:APO) are publicly stating their intention to reap profits and wait and see what happens. Mainly, they state the following reasons: stocks are not cheap. Note that this statement doesn't necessarily imply that stocks are expensive, just that they are definitely not cheap. The fact that stocks aren't cheap implies that existing expectations are at a high level. As we have seen in the past this implies a large downside should firms disappoint at any time in the future. In addition interest rates start to rise, which as we know is bad news on any possible level.
Economic growth isn't that much of a high hope either. The US trade deficit came in better than expected. While this seems like good news there are some considerations in its interpretation. These days any of these economic indicators are a double-edged sword. Exceeding expectations also implies that the Fed may consider tapering "Sooner" than "Soon". For the month of June the US trade deficit fell by 22.4% to $34.2B. As a result, this is the largest percentage contraction since February 2009 and the smallest gap since October 2009. Subsequently the three-month average US trade deficit rounds off to $39.5B, obviously a contraction from the $40.5B figure a month before. This figure is often interpreted as an indicator for economic growth. As such, economists (and investors alike) have interpreted this figure as an increase in the probability of an upward revision of quarterly GDP growth. Thus, this would be a catalyst for the Fed to start tapering "sooner than soon".
The Fed's growth forecasts are off. Unfortunately the Fed's forecasted 2013 GDP figures may be revisited as real GDP has grown by only 1.4% at an annualized rate in the first half of 2013. As such it is questionable whether the Fed's 2.3% to 2.6% real GDP growth projection will be realized. Consequently, Goldman Sachs expects the Fed to downgrade its economic forecasts in September. This is another possible downward catalyst for stock prices which will be driven by rising interest rates and deteriorating fundamentals.
While the Fed has stated that its policy is to be public and open about its monetary policy, its public endeavors have become something resembling a TV series with serious cliff hangers. Every speech by the Fed's chairman Ben Bernanke is almost religiously followed by anyone engaged in the financial markets, ready to press the buy or sell button on any glimpse of an opinion that may change the Fed's view on tapering. Unfortunately economic indicators are still a mixed bag of marbles, such that it still remains unclear what the course of action for the Fed will be the upcoming period.
What is evident though is that there has been a criticism upraise from many angles. First it was mostly a debate of "allowing the economy its own course" or "intervening by lowering interest rates". The amount of people supporting all-out quantitative easing is currently a lot smaller. Many seem to realize that what has started off as a way of stimulating the economy has turned into a continuously increasing "spread" between financial metrics and real economic growth. Exactly what poured us into the 2007-2008 financial crisis is becoming an issue as-is. From the March 2009 lows, the market capitalization of the US stock market has increased by $12.3 trillion, while US GDP has only risen by $2.3 trillion. The takeaway from this is sadly that one must either join the Fed show as it has such a vast impact of stock valuations, or go market neutral.
What should you do?
Evidently many threats are looming. Initiating and/or maintaining a position in the US stock market, which most Seeking Alpha readers are interested in, is a highly risky bet at this point in time. While I don't want to "forecast" the S&P 500 I remain neutral as long as the Fed keeps its stance on refraining from tapering any time soon. Should the Fed decide to communicate clearly that they intend to start tapering in the near future then I'm outspokenly bearish. This may come to a surprise to those who have just read through this whole article, as I initiated by saying that I feel fundamentals should drive stock prices. While I do indeed feel that way, I do realize that many investors in the market don't think that way. Especially due to low stock market volume any reaction based on fear is further amplified due to less sophistication of those who are responsible for the left over volume. Bluntly speaking the recent rise has led to a rampant increase of retail investors, those who react mainly on the premise of emotions rather than logic.
For those who have a (large) part of their capital invested in equity I advise to hedge. In general I advise investors to (partially) hedge their positions, but this market is special. Due to the innate fear-driven directional movement of the stock market violent moves are a definite possibility. As such it is questionable whether traditional ways of hedging, such as going long S&P 500 puts provides enough of a cushion. One very simple, and obvious, solution is to simply buy more puts which can easily be done as the implied option volatility is so low. At the time of writing the S&P 500 Volatility Index (VIX) stands at 13.35.
Another possibility is to take the hedging process a little further and incorporate a strategy which profits from a rise in the implied volatility of S&P 500 options. Since the S&P 500 and the VIX are negatively correlated a long portfolio can be hedged by buying long call VIX (or VIX derivatives) options. There's a plethora of choices available, but I would advise those who are new to hedging through volatility options to steer clear of VIX related derivatives such as ProShares Trust Ultra VIX Short (NYSEARCA:UVXY), as these ETF's do not track volatility but rather trade VIX Futures which reduces their reliability during extreme market conditions. Reliability is of key importance in periods of distress and high volatility in the stock markets.
To put it all in perspective, we may see another bullish run shattering all-time stock market valuations yet again. This is a real possibility, but its probability and magnitude should be compared to that of a general decrease in stock prices. Thereby we aim to maximize the expected value of our investments, instead of just trying to make a bet on where the market is going. All in all this seems the time most professional and well informed market players seem to reduce their holdings, perhaps you should follow them. Be wary, and hedge well.
Disclosure: I have no positions in any stocks mentioned, and no plans to initiate any positions within the next 72 hours. I wrote this article myself, and it expresses my own opinions. I am not receiving compensation for it (other than from Seeking Alpha). I have no business relationship with any company whose stock is mentioned in this article.