Investors loved Tesla's (NASDAQ:TSLA) second-quarter earnings, but the desire to get in on the ground floor of a company that wants to be the biggest automotive company in the world might be blinding their vision. Here are five points from the second quarter earnings that paint a different picture about Tesla:
1. Revenues declined by 29% in Q2 versus Q1, on lower ZEV credit revenue and a lower cost product mix, which was down by 31%
2. ZEV credit revenue went down by 25% to $51 million this quarter and will continue to drop
3. Taking out the ZEV credit revenue from Q1 and Q2 the Gross Margins were 5.3% and 14% respectively, still far away from 25%
4. No talk of R&D investment on the Gen III or any updates on the Gen III
5. Only 3 stores in Asia (1 in China), while they want to double the business from 20k units to 40k units
Revenues are declining as expected, as ZEV credits start disappearing, and due to a lower average sales price of $68,000, which is an alarming 31% decrease from Q1 when the average sale per car was $99,000. This was not supposed to happen this quick, but re-affirms the fact that the typical consumer is going to pay much less than the initial rush of the ultra wealthy that wanted the highest price model. The Gross Margins (without ZEV credits) increased by almost 9%, but are still 11% away from their goal of 25%, which might not be achievable since they are outputting more than ever. The fact that they have been ramping up to these levels (5,150 EVs shipped this quarter) and buying from suppliers at much greater volumes, should signal to investors their current gross margins are most likely at the top end of where they will end up at.
Another troubling fact is that there is no mention of the Gen III. Management said if they continue success, they want to be over 40,000 in sales for the Model S by the end of 2014 before the Model X comes out. If the Model X is a hit as well, let us assume that by 2015 they sell the same amount, so that would put Tesla at 80,000 units per year. Since a lot of analysts, like Dougherty and Co. in this video, are predicting 500 thousand units in 3-5 years, the Gen III will have to do more than both Model S and Model X combined. However, the R&D expenses are focused on the Model X and there was no mention of the Gen III R&D in the report and where they are at on that model. Which is a troubling sign since BMW, Volvo and VW are all coming out with their 30-40,000 electric vehicles in the next year and will have a three year head start in that market (lower range, more affordable EV market) over Tesla.
The last area of concern is the slow expansion into the Asian market. Tesla let investors know that they expect Asia to double the sales of the Model S, but so far they only have 3 stores open in Asian and only 1 in China. Thus sales are most likely to remain in the 20-30,000 range at lower average cost per car until Tesla expands into Asia. This means that with declining ZEV credits, increasing R&D spending, court costs to defend its non dealership selling in every state, might lead to continued future net loss quarters until the Model X comes out and boosts revenues.
So after taking all of these points into account, a new valuation (a rational one) should be made. We will assume ZEV credits ending at the end of 2013 and if miracles continue they will be at 20% gross margins and thus a very high 5.5% net margin, which we will grow as well. So if Tesla can stop losing money from operations and post a net profit, we arrive at the new valuation: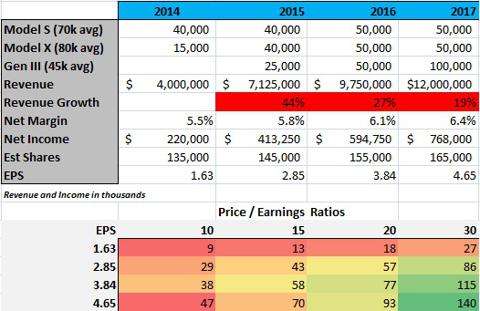 So just like Goldman Sachs predicted they are on pace to do about 200,000 EV sales in 2017 and the revenue growth will decline due to a the majority of the sales coming from the lower cost Gen III model. In fact if growth drops below 20%, then the market will most likely give the stock a P/E ratio similar to the other automotive manufacturers and in all reality it might end up between the 15-20 range, or a price of $81.50 at the midpoint. This is similar to what Goldman Sachs predicts of $84 per share, but currently the market is definitely thinking they will be outputting a lot more than 200 thousand cars in 2017.
In conclusion, the short squeeze and delirium surrounding this stock continues. The automotive market is big and Tesla is doing well increasing their gross margins slightly. But there are a lot of concerns that investors should weigh before deciding an entry point. I believe this is the very pinnacle of an entry point as revenues are falling, operations are still yielding a loss, there is no significant updates on the Gen III, slow entry into Asia and Tesla is unwilling to show the sales demand by letting the investors know how many new orders they are taking in monthly. Even though the market is large and EVs can be the new car of the future, the future might be a lot longer than 5 years, so getting to 300-500,000 units in sales yearly, might take Tesla 5-10 years to achieve. Taking that into account as well as growing competition, investors should be cautious about investing in a company that continues to post losses on declining revenues.
Disclosure: I have no positions in any stocks mentioned, and no plans to initiate any positions within the next 72 hours. I wrote this article myself, and it expresses my own opinions. I am not receiving compensation for it (other than from Seeking Alpha). I have no business relationship with any company whose stock is mentioned in this article.