Corn has been in a free fall for almost a year, having peaked around $700 in September 2012. It has lost over 30% and trades around $473 today, Aug. 8, 2013.
Click to enlarge images.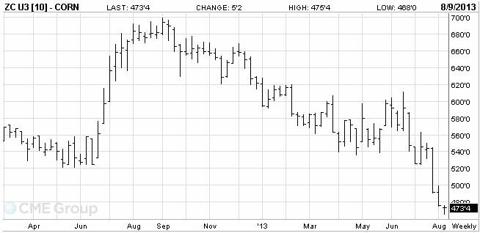 The fall in corn recently accelerated with the breakdown of the potash cartel. While the CEO of Canadian producer Potash Corp. of Saskatchewan, Inc. (NYSE:POT) may downplay the breakdown, cartels are notoriously difficult to maintain, and the markets tend to develop supplies outside the cartel. That is, in fact, what is happening:
Asian farmers, especially in China and India, balked at paying high prices, even as demand for food boomed, turning instead to cheaper, if less effective, alternatives. At the same time, the high prices for potash attracted new investment. Miner BHP Billiton plans the world's largest potash mine in Canada, planning a 2017 expected start for the $14 billion Jansen mine. Other major projects have been proposed, planned or started in England, Argentina and India. Some, inevitably, will now be shelved.
Assuming that the break in the cartel holds, the impact of lower fertilizer prices will be wide reaching. The most obvious impact will be lower earnings for fertilizer companies. Potash producers such as
should all see their earnings reduced if the cartel fails to reform.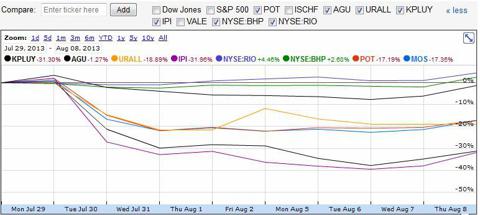 Competing non-Potash fertilizer companies such as
may also see their earnings suffer, but they may also benefit because some are used in conjunction with potash.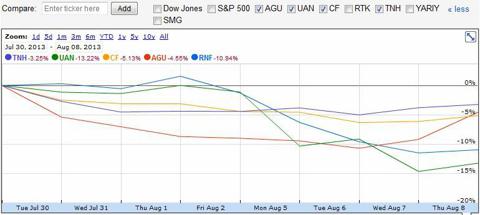 Farm equipment manufactures such as
should all benefit from lower fertilizer prices driving more acreage to be planted.
Food processors such as
should all benefit from lower grain, feed, beef and chicken prices. Excess corn production should lower the cost of ethanol production. This will have multiple implications:
The cost of ethanol production will drop, resulting is a greater supply of ethanol.
The lower cost of ethanol production will take the pressure off D6 Ethanol RINs, lowering their values.
Excess ethanol production will produce more inedibel corn oil, which is a feedstock for biodiesel and renewable diesel firms.
Ethanol based fuels will fall in price, possibly driving sales of E15 and E85 cars and trucks.
The combination of all those factor make it difficult to predict the impact on ethanol, biodiesel, and renewable diesel firms. They will have to balance lower input costs with lower RIN and fuel prices.
Biofuels producers such as
May or may not benefit from lower corn prices, the outcome is yet to be seen.
Other macro impacts:
Food and energy greatly impact the CPI. Lower food and energy prices will lower the rate of inflation.
Lower food and energy prices will increase disposable incomes, possibly resulting in stronger economic growth.
The impact on monetary policy may be mixed as lower inflation is balanced by stronger growth and lower unemployment.
Lower inflation will keep interest rates low even in the face of stronger economic growth. This should result in higher bond prices, stronger earnings and higher equity prices.
In conclusion, the breakup of a fertilizer cartel is the classic supply side economic stimulus case study. Lowering costs allows for greater production without causing inflation. This will cause many beneficial effects throughout the economy, the greatest being of course lower prices for consumers and more jobs for workers. Supply-side economic events have the potential to create "Goldilocks" types of economies where the economy isn't too hot or cold -- it's just right. Similar supply-side-driven economies occurred in the 1980s with the fall in gas prices and inflation, and the 1990s with the introduction of the cost reducing computer, office software, Internet, and the emergence of China as a major supplier to the U.S. The breakup of the fertilizer cartel, if it persists, may be the catalyst for another supply-side economic recovery.

Disclosure: I have no positions in any stocks mentioned, and no plans to initiate any positions within the next 72 hours. I wrote this article myself, and it expresses my own opinions. I am not receiving compensation for it (other than from Seeking Alpha). I have no business relationship with any company whose stock is mentioned in this article.
Disclaimer: This article is not an investment recommendation. Any analysis presented in this article is illustrative in nature, is based on an incomplete set of information and has limitations to its accuracy, and is not meant to be relied upon for investment decisions. Please consult a qualified investment advisor. The information upon which this material is based was obtained from sources believed to be reliable, but has not been independently verified. Therefore, the author cannot guarantee its accuracy. Any opinions or estimates constitute the author's best judgment as of the date of publication, and are subject to change without notice.