Marking the one-year anniversary of the Lehman Brothers demise, risky assets last week again marched higher to the tune of economic data supporting the argument of a global economic recovery. A realization among investors that the economic transition from recession to recovery was gaining momentum, resulted in many global stock markets scaling fresh peaks for the year.
Ben Bernanke, Federal Reserve chairman, on Tuesday said the U.S. recession "is very likely over". However, he remained cautious about the shape of the recovery and said he expected a "moderate" recovery in 2010 with growth "not much faster than the underlying potential growth rate of the economy", i.e. approximately 3%.
"At the moment we don't see (the economy) getting better or worse, but that's better than you could say six months ago," added Warren Buffett. "The terror of last year is gone and that's thanks in part to the government." (Click to enlarge)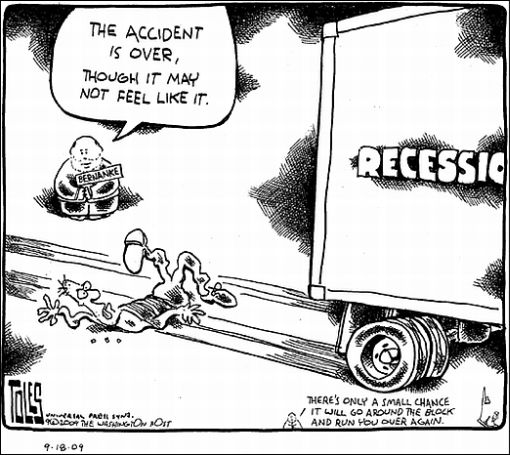 Source: Tom Toles, Slate.com
Not only did the U.S. stock market indices record up-days on every day except Thursday, but all ten economic sectors that make up the S&P 500 also closed the week in the black. Most other stock markets (mature and emerging alike), commodities, oil, precious metals, high-yielding currencies and corporate bonds also put in a stellar performance as a bullish mood prevailed.
The CBOE Volatility Index (VIX), or "fear gauge", traded at about the same level (23.9) as before the Lehman bankruptcy in September last year. Also, government bonds and other safe-haven assets such as the U.S. dollar and Japanese yen were out of favor as investors sought higher returns elsewhere.
As investors started assuming more risk since March, the U.S. Dollar Index headed lower, hitting a one-year low last week and trading in a confirmed downtrend as far as primary trend indicators are concerned. The combination of low interest rates and quantitative easing has made the U.S. dollar an attractive currency for funding carry-trade transactions (i.e. selling low-yielding currencies to finance the purchase of higher-yielding currencies). (Click here for a short technical analysis.)
The declining dollar, central bank purchases, the de-hedging by gold producers and rising inflation expectations served as catalysts for gold bullion's strength, causing the yellow metal to close above the $1,000 level for the sixth consecutive day on Friday. While gold's move grabbed the headlines, platinum (+42.5%) and silver (+50.5%) have actually outperformed gold (+13.9%) significantly since the start of the year.
Click to enlarge: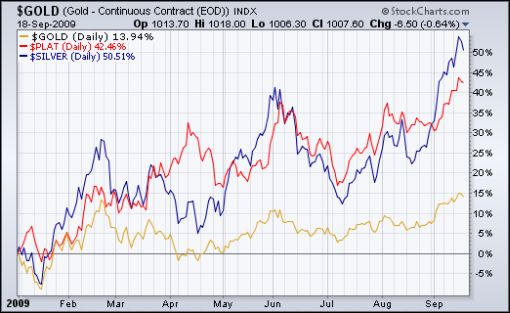 Source: StockCharts.com
The past week's performance of the major asset classes is summarized by the chart below - a set of numbers that indicates an increase in risk appetite.
Click to enlarge: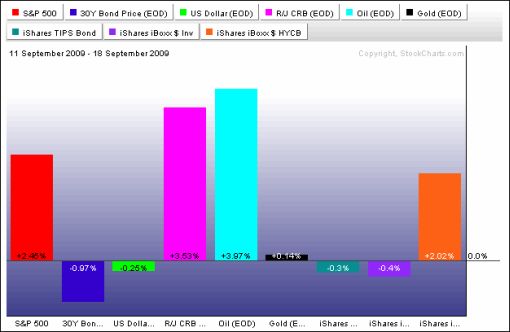 Source: StockCharts.com
A summary of the movements of major global stock markets for the past week, as well as various other measurement periods, is given in the table below.
The MSCI World Index (+1.8%) and MSCI Emerging Markets Index (+2.8%) both made headway last week to take the year-to-date gains to +23.8% and a staggering +62.1% respectively. These indices are still more than 30% down from the 2007 highs, but markets such as Mexico (-8.8%) and Chile (-5.8%) have almost wiped out all their financial crisis losses.
The major U.S. indices extended their gains to two consecutive weeks, marking eight up-weeks during the past ten weeks. The year-to-date gains are as follows: Dow Jones Industrial Index +11.9%, S&P 500 Index +18.3%, Nasdaq Composite Index +35.2% and Russell 2000 Index +23.7%. Interestingly, since the Nasdaq Index was created in 1971, only 1991, 1995 and 2003 have seen bigger year-to-date gains.
While the indices have gained considerably from their lows, they still have to rally by between 6.0% (Russell 2000) and 17.2% (S&P 500) to reach the levels of the Friday (September 12, 2008) before Lehman's collapse.
Click here or on the table below for a larger image.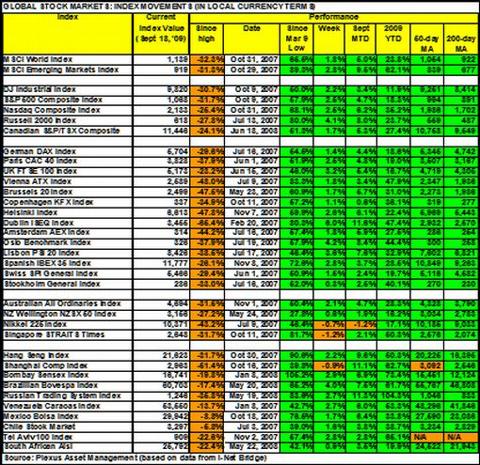 Top performers in the stock markets this week were Hungary (+7.4%), Macedonia (+7.3%), Ireland (+6.1%), Argentina (+5.7%) and Sri Lanka (+5.3%). At the bottom end of the performance rankings, countries included Kenya (-1.6%), Uganda (-1.5%), the Philippines (-1.3%), Singapore (-1.2%) and Slovakia (-1.2%).
Of the 98 stock markets I keep on my radar screen, 81% recorded gains, 13% showed losses and 4% remained unchanged. (Click here to access a complete list of global stock market movements, as supplied by Emerginvest.)
John Nyaradi (Wall Street Sector Selector) reports that as far as exchange-traded funds (ETFs) are concerned, the winners for the week included Market Vectors Solar (NYSEARCA:KWT) (+10.5%), United States Natural Gas (NYSEARCA:UNG) (+9.9%), iShares Cohen & Steers Realty Majors (NYSEARCA:ICF) (+9.6%) and Claymore/MAC Global Solar Energy (NYSEARCA:TAN) (+9.0%).
On the losing side of the slate, ETFs included ProShares Short Financials (NYSEARCA:SEF) (-4.5%), ProShares Short Russell 2000 (NYSEARCA:RWM) (-4.2%), Broadband HOLDRS (NYSE:BDH) (-2.9%) and CurrencyShares British Pound Sterling Trust (NYSEARCA:FXB) (-2.6%).
The cost of buying credit insurance for U.S. and European companies eased sharply during the past two months, as shown by the tighter spreads for both the CDX (North American, investment-grade) Index (down from 118 to 103) and the Markit iTraxx Europe Index (down from 95 to 86).
Also, junk-bond yields continued declining, as shown by the Merrill Lynch U.S. High Yield Index (and also by the good performance of the iShares iBoxx $ High Yield Corporate Bond ETF, HYG). The Index dropped by 63.4% to 798 from its record high of 2,182 on December 15, meaning the spread between high-yield debt and comparable U.S. Treasuries was 798 basis points on Friday. This heralds the return of high-yield spreads to "pre-Lehman" levels (854 basis points on September 12, 2008).
Click to enlarge: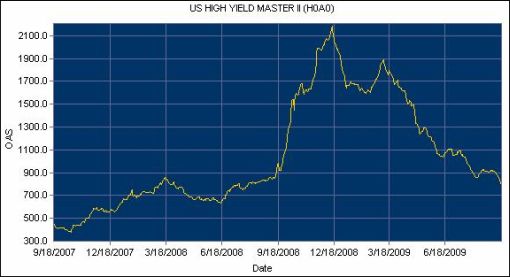 Referring to the Federal Open Market Committee's (FOMC) meeting next week, the quote du jour comes from straight-talking Bill King (The King Report). He said:
Traders and investors must contemplate what course of action the Fed will announce and enact after next week's FOMC if 'the U.S. recession is very likely over'. If quantitative easing (QE), which is due to expire, is renewed, stocks should rally but commodities, gold and inflation plays should rally far more. The dollar should tank. China should go apoplectic. Benito will look foolish for saying 'the recession is very likely over'. Bonds might rally initially but then look out below.

If QE is not renewed, stocks and commodities should tank; the dollar should soar and bonds, after initially declining, should rally. China will be appeased. Benito will have validated his rhetoric with action.
Other news is that the Federal Reserve and the Treasury are considering sweeping rules to regulate pay at banks. According to The New York Times:
The rules depart from the hands-off approach that dominated bank regulation for the last three decades, but are not as strict as proposals from some European leaders.
Also, the U.S. Securities and Exchange Commission passed rules last week to firm up on the supervision of credit ratings agencies following a flood of criticism over their role in the financial crisis.
Next, a tag cloud of all the articles I read during the past week. This is a way of visualizing word frequencies at a glance. Key words such as "bank", "market", "economy", "government", "China" and "gold" featured prominently. "Recession" has become a footnote.
Click to enlarge:

The major moving-average levels for the benchmark U.S. indices, the BRIC countries and South Africa (from where I am writing this post) are given in the table below. With the exception of the Chinese Shanghai Composite Index, which is trading below its 50-day moving average, all the indices are above their respective 50- and 200-day moving averages. The 50-day lines are also in all instances above the 200-day lines.
The August highs and September lows are also given in the table as these levels define a support area for a number of the indices. On the other hand, the next potential upside target for the S&P 500 is about 1,120.
Click here or on the table below for a larger image.

As stock markets continue to reach new highs, long-term mutual fund investors have reversed their strategy this month, selling shares for the first time since March, said Clusterstock. The outflows for the first two weeks of September were bigger than the inflows seen in the last three months combined.
Click to enlarge: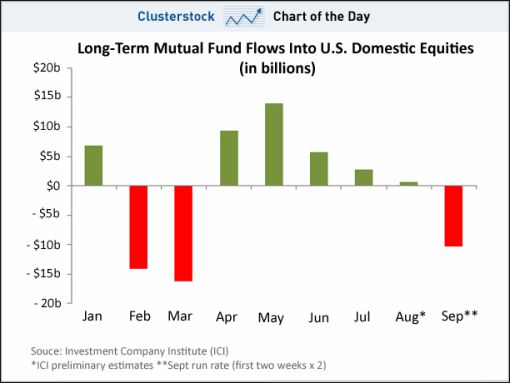 Source: Clusterstock - Business Insider, September 17, 2009.
Bespoke highlights that the S&P 500 has now closed more than 20% above its 200-day moving average for the first time since May 1983. In its report Bespoke said:
This comes just six months after the Index traded the furthest below its 200-day since the Great Depression! Not even during the great bull run of the 90s did the Index get this far above its 200-DMA. This has happened only a handful of times in the history of the S&P 500.
Click to enlarge: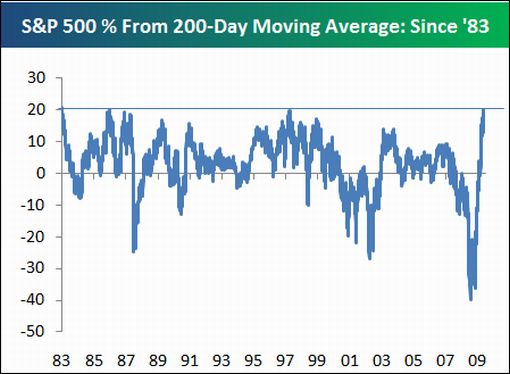 Source: Bespoke, September 16, 2009.
Short-term movement aside, when considering monthly data, three momentum-type oscillators (RSI, MACD and ROC) have reversed course over the past few months for the first time since the sell signals of 2007, and now indicate a positive primary trend.
Click to enlarge: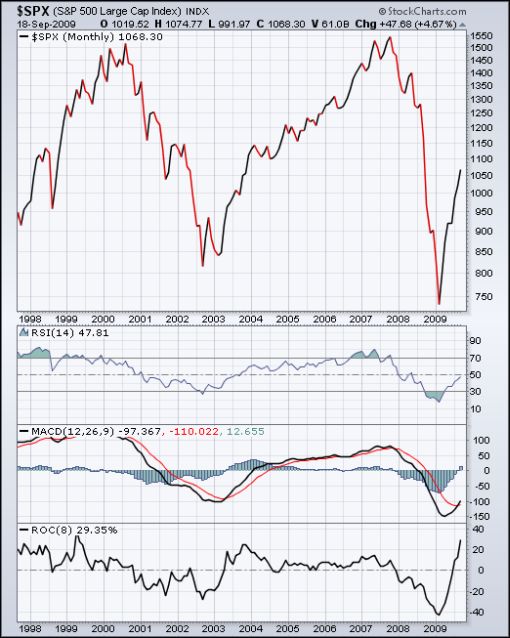 Source: StockCharts.com
Putting matters in perspective from across the pond, David Fuller (Fullermoney) said:
Stock market action continues to confirm a bull market in every respect. Downside risk is probably limited to periodic mean reversions towards the rising 200-day moving averages. Such pullbacks generally offer the best buying opportunities.

The main danger signs to look for will be an eventual tightening of monetary policy and an inverted yield curve. [PduP: The chart below shows that the next inverted yield curve is probably a long way off.] When this next happens, and both tend to be lead indicators, I will focus on introducing trailing stops for all equity positions, actual or mental, and ideally use strength to reduce equity exposure.
Click to enlarge: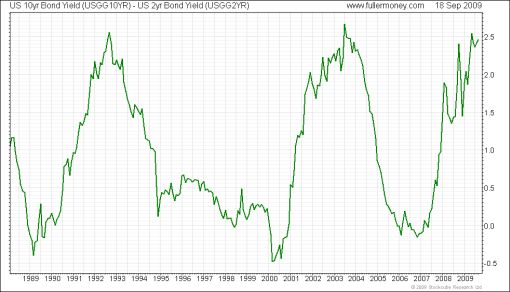 Source: Fullermoney.com
Fuller concluded:
Currently, I maintain that we are still in the second psychological perception stage of the current bull market, characterized by the 'wall of worry'. With any luck, we can look forward to the third and climactic stage of a bull market cycle, in which investors become euphoric.
For more discussion on the direction of financial markets, see my recent posts "Interview with Marc Faber", "Is the rally ending, or does it have more to go?", "Charts: Stocks face 15% correction in October", "Albert Edwards: 'I remain in the bearish camp'", "Bullion - a viable alternative to fiat currencies" and "More U.S. dollar woes ahead". (And do make a point of listening to Donald Coxe's webcast of September 18, which can be accessed from the sidebar of the Investment Postcards site.)
Economy
The global economic recession is over, according to the latest Survey of Business Confidence of the World by Moody's Economy.com.
Survey results during the first week of September improved notably across the entire global economy and most industries. Assessments of current business conditions and expectations regarding the outlook in early 2010 rose sharply.
Click to enlarge: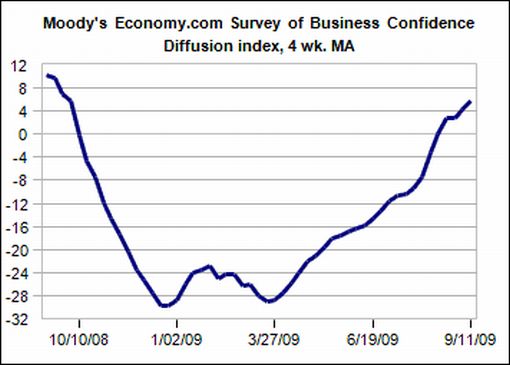 Source: Moody's Economy.com
The Survey's results were confirmed by the Organization for Economic Cooperation and Development's index of leading indicators (covering 29 countries), which rose to 97.8 in July from 96.3 in June, reported The Wall Street Journal. The OECD said the indicators "point to broad economic recovery" and that "clear signals of recovery are now visible in all major seven economies, in particular in France and Italy, as well as in China, India and Russia".
A snapshot of the week's (mostly positive) U.S. economic reports is provided below. (Click on the dates to see Northern Trust's assessment of the various data releases.)
September 18, 2009
•Loan delinquency and charge-off rates
September 17, 2009
•Housing starts - multi-family units led the charge in August
•Jobless claims - initial claims decline, continuing claims advance
September 16, 2009
•The Energy Price Index lifts Consumer Price Index in August
•Cars and many other components account for the strength in factory activity
•Current account narrows in Q2
September 15, 2009
•Autos and non-auto components lift retail sales in August
•Wholesale Price Index movement largely an energy price story
It is noteworthy that industrial production increased 0.8% in August after an upwardly revised 1.0% gain in July. Asha Bangalore (Northern Trust) said:
The Business Cycle Dating Committee of the National Bureau of Economic Research (NBER) uses four variables - industrial production, nonfarm payroll employment, real personal income less transfer payments, and real manufacturing and trade sales - to determine turning points of a business cycle. The important aspect to note is that the trough of industrial production was in June 2009. Therefore, it is quite likely that the NBER will date the end of the Great Recession as June/July 2009 once additional information is available.
Click to enlarge: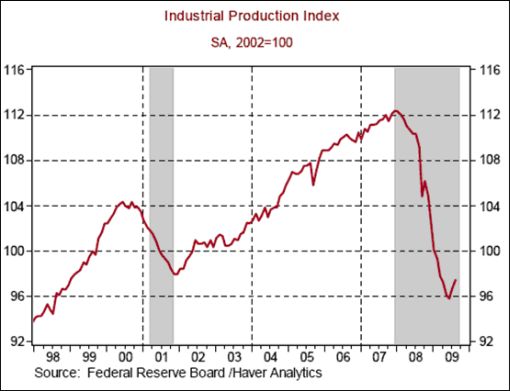 Source: Northern Trust - Daily Global Commentary, September 16, 2009.
Economists surveyed by the The Wall Street Journal are increasingly confident that the U.S. economy is growing again. They predicted that the U.S. will grow at a 3% annual rate in the current quarter - well above the 0.6% forecast they made just three months ago - and will expand at a 2.5% pace in the fourth quarter.
Meanwhile, William White, the highly respected former chief economist at the Bank for International Settlements, warned (via the Financial Times) that government actions to help the economy in the short run may be sowing the seeds for future crises.
Are we going into a W[-shaped recession]? Almost certainly. Are we going into an L? I would not be in the slightest bit surprised.
White said, referring to the risks of a so-called double-dip recession or a protracted stagnation like Japan suffered in the 1990s.
The only thing that would really surprise me is a rapid and sustainable recovery from the position we're in.
Week's economic reports
Click here for the week's economy in pictures, courtesy of Jake of EconomPic Data.
| | | | | | | | |
| --- | --- | --- | --- | --- | --- | --- | --- |
| Date | Time (NYSE:ET) | Statistic | For | Actual | Briefing Forecast | Market Expects | Prior |
| Sep 15 | 8:30 AM | Core PPI | Aug | 0.2% | 0.0% | 0.1% | -0.1% |
| Sep 15 | 8:30 AM | | Aug | 1.7% | 1.0% | 0.8% | -0.9% |
| Sep 15 | 8:30 AM | | Aug | 2.7% | 2.1% | 1.9% | -0.2% |
| Sep 15 | 8:30 AM | Retail Sales ex-auto | Aug | 1.1% | 0.1% | 0.4% | -0.5% |
| Sep 15 | 8:30 AM | Empire Manufacturing | Sep | 18.88 | 13.00 | 15.00 | 12.08 |
| Sep 15 | 10:00 AM | | Jul | -1.0% | -1.2% | -0.9% | -1.4% |
| Sep 16 | 8:30 AM | Core CPI | Aug | 0.1% | 0.0% | 0.1% | 0.1% |
| Sep 16 | 8:30 AM | | Aug | 0.4% | 0.2% | 0.3% | 0.0% |
| Sep 16 | 8:30 AM | Current Account | Q2 | -98.8B | NA | -92.0B | -104.5B |
| Sep 16 | 9:00 AM | Net Long-term TIC Flows | Jul | 15.3B | NA | 60.0B | 90.2B |
| Sep 16 | 9:15 AM | | Aug | 69.6% | 69.6% | 69.0% | 69.0% |
| Sep 16 | 9:15 AM | | Aug | 0.8% | 1.0% | 0.6% | 1.0% |
| Sep 16 | 10:30 AM | Crude Inventories | 09/11 | -4.73M | NA | NA | -5.91M |
| Sep 17 | 8:30 AM | | Aug | 579K | 575K | 583K | 564K |
| Sep 17 | 8:30 AM | | Aug | 598K | 570K | 598K | 589K |
| Sep 17 | 8:30 AM | | 09/12 | 545K | 565K | 557K | 557K |
| Sep 17 | 8:30 AM | Continuing Claims | 09/05 | 6230K | 6000K | 6100K | 6101K |
| Sep 17 | 10:00 AM | Philadelphia Fed | Sep | 14.1 | 10.0 | 8.0 | 4.2 |
Source: Yahoo Finance, September 18, 2009.
Click here for a summary of Wells Fargo Securities' weekly economic and financial commentary.
In addition to the interest rate announcement by the FOMC on Wednesday (September 23), U.S. economic data reports for the week include the following:
Monday, September 21
•Leading economic indicators
Tuesday, September 22
•FHFA U.S. Housing Price Index
Wednesday, September 23
•FOMC rate decision
Thursday, September 24
•Initial jobless claims
•Existing home sales
Friday, September 25
•Durable goods orders
•Michigan Sentiment Index
•New home sales
Markets
The performance chart obtained from the Wall Street Journal Online shows how different global financial markets performed during the past week.
Click to enlarge: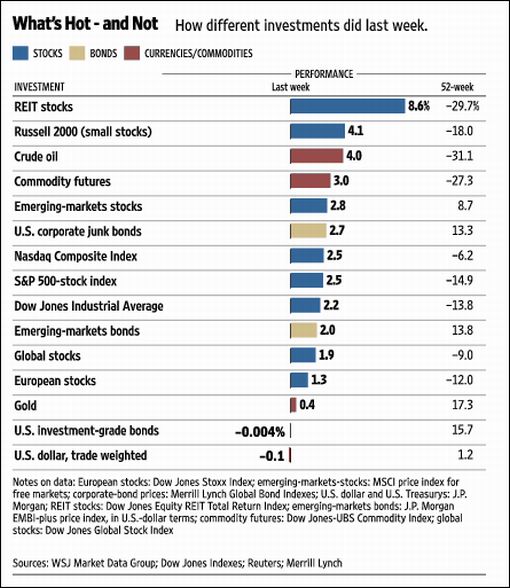 Source: Wall Street Journal Online, September 18, 2009.
"Success is not final, failure is not fatal: it is the courage to continue that counts," said Winston Churchill (hat tip: Charles Kirk - do make a point of visiting his excellent site). And isn't this so true of the investment world where mistakes are the order of the day. Let's hope the news items and quotes from market commentators included in the "Words from the Wise" review will assist readers of Investment Postcards to overcome the inevitable losing trades and focus on the next money-making opportunity.