IBM (NYSE:IBM) is a great company. One of the few that made it through three eras of computing (Mainframe, PC and now Mobile). One that completely transformed itself from a pure hardware player in the 80's and 90's to a large sweet spot that has combined hardware, software and services. There aren't a lot of 'old tech' companies that can claim to have (almost) doubled the return of the S&P since the 2009 market crash. But all that is in the past. Is IBM's run over? Is IBM now a great company and an underperforming stock? I believe so, and present 5 reasons below to sell IBM?
Lousy Earnings. Lousy seems like a strong word at first blush. After all, according to this they beat analyst expectations by a smidgen. And yet (according to the same source) there's spate of analyst downgrades since the earnings announcement on July 17th (and even leading to it). You can understand the analyst's lack of enthusiasm when you look at the excerpt below from their 10-Q. Margins down by 3% from last year, revenue lower, expenses higher.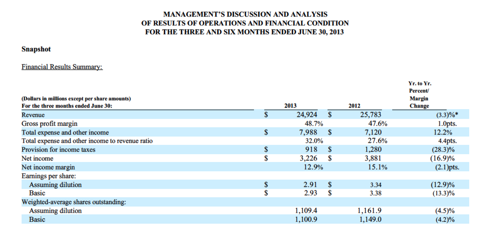 Sector Negativity. IBM is certainly not alone in its earnings malaise. Things have been challenging in the software and services sector with Accenture (NYSE:ACN) and Oracle (NASDAQ:ORCL) also reporting uninspiring numbers. And with US businesses cautious and Europe & Asia worried about a downturn, there aren't any upside catalysts for Software & Services. While IBM is not exclusively a Software & Services company, that is where its highest margin businesses are.
Company Specific Headwinds. In addition to the business and accounting challenges around services, IBM faces the fact that a large (34%) of its revenue still comes from hardware. And its expensive server hardware is being attacked by the alternative of cheap Intel machines organized into low-cost clusters. Forced furloughs to hardware divisions don't happen unless the margin erosion is fairly serious.
Notable Analyst Downgrade. It is unusual for an analyst to post a Sell recommendation against a blue-chip, least of all IBM. And that's exactly what Credit Suisse's Kulbinder Garcha did. In the video he covers many of the things I outlined above, and slaps a $175 (downward) target. Even if one were to discount somebody of Kulbinder's experience as a lone voice in this case, he isn't. IBM was recently downgraded to Hold with $200 price target at Goldman. BMO, Steifel and Jeffreys put a Hold on IBM over the last month (and Hold in analyst-speak is 'be very careful').
Dividend. Many long-term investors ride the growth cycles of large cap companies, because it (dividend) pays them to wait. At 1.9%, IBM's dividend isn't particularly compelling. If 1.9% dividend is good enough for you, why not go with Oracle whose margins and prospects are better, and it has a current yield of 1.5% and a much better dividend growth rate. Or, if you're satisfied with IBM's slow growth, why not go with Microsoft (NASDAQ:MSFT) with a similar growth issue, but with a dividend of 3% and a P/E ratio that is better?
Am I saying that IBM is broken for the long run? Probably not, especially if 'long' means 3-5 years or more to you? It's a good company, a survivor, and will be relevant for a long time. But why take a chance on a stock that has cloudy prospects and doesn't pay you to wait.
Disclosure: I have no positions in any stocks mentioned, and no plans to initiate any positions within the next 72 hours. I wrote this article myself, and it expresses my own opinions. I am not receiving compensation for it (other than from Seeking Alpha). I have no business relationship with any company whose stock is mentioned in this article.