Significant headwinds are mounting against Nvidia's (NASDAQ:NVDA) various revenue streams. Nvidia's operating segments are broken into the categories of GPU sales, Tegra and "Other".
In this article I would like to lay out a few things for Nvidia longs to keep in mind going forward.
Financials From Q4 to Q1
Source: Nvidia IR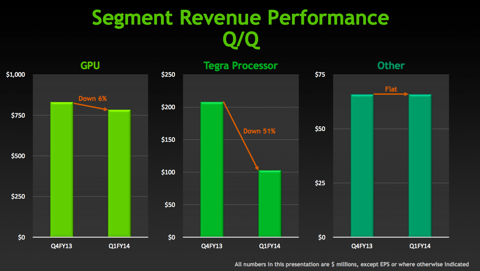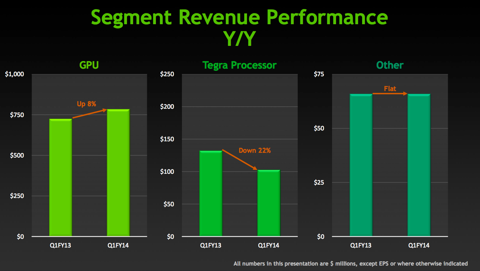 Financials from Q1 to Q2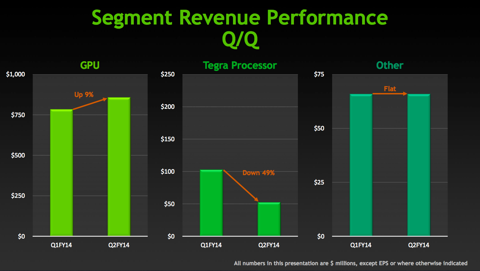 Workstation GPUs
Looking at Nvidia's largest revenue driver, the GPU segment, we can see that revenue has been fairly stable for the past two quarters. Nvidia's Quadro and Tesla line of GPUs have shown strong results recently.
However both Intel (NASDAQ:INTC) and Advanced Micro Devices (NYSE:AMD) are also competing in the HPC sector. AMD is also gaining traction in the workstation cards, reporting record revenues from these cards over the past few quarters, showing that growth in the HPC and workstation classes of cards is high enough to support growth for both AMD and Nvidia.
Source: Top500.org
click to enlarge)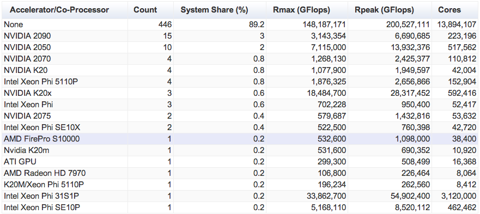 Nvidia is currently featured in greater percentages of the Top500.org supercomputer list as of June 2013. As AMD and Intel both start competing in this space, I recommend anyone long Nvidia do a historical comparison when the list is next updated to see if there are signs of AMD and Intel gaining market share. Significant effort goes into these designs, so Nvidia dropping market share could signal that it is losing the advantage in regards to performance/watt. I consider Intel to be a larger threat in this space as its manufacturing processes at 22nm gives it an inherent edge.
To make use of workstation cards, Nvidia uses a proprietary programming model, CUDA, whereas both AMD and Intel tailor solutions toward the open-standard of OpenCL. Nvidia also supports OpenCL, but show that AMD seems to have an advantage when running OpenCL code.
As OpenCL becomes more widely adopted, this will put added competitive pressure on Nvidia as coders move away from CUDA; AMD's Mr. Roy Taylor echoed similar sentiment during an interview with VR Zone:
I think CUDA is doomed. Our industry doesn't like proprietary standards. PhysX is an utter failure because it's proprietary. Nobody wants it. You don't want it, I don't want it, gamers don't want it. Analysts don't want it. In the early days of our industry, you could get away with it and it worked. We've all had enough of it. They're unhealthy.
Industry adoption of OpenCL and competition from AMD and Intel both pose a challenge to Nvidia going forward.
Consumer GPUs
Looking at desktop GPU sales, at the enthusiast level Nvidia has been competing against AMD's aging 7000 series. AMD should be refreshing its GPU based on a new architecture design in the back half of the year, so Nvidia will see fresh competition.
Although IDC data points to PC sales being down from last year, a research report from Jon Peddie Research states that at the enthusiast level, gamers continue to buy hardware and upgrade 'DIY' systems. This could serve to prop up Nvidia's GPU section.
Given the launches of the GK110 based GTX Titan along with the rest of the mainstream 700 series GPU refresh, steady sales of workstation cards, and little comparable competition from AMD for the time being, Nvidia has shown much less volatility in its largest operating segment.
Considering the release of Intel's new Haswell processors and release of AMD's Kaveri, Nvidia stands to lose traction at the low end of the desktop market as well as sockets in upcoming Haswell notebooks.
Intel has been increasing iGPU graphics performance each generation, and Kaveri will most likely combine AMD's GCN architecture on die with the CPU leading to a strong iGPU solution. As most notebook vendors use Nvidia cards instead of AMD, Intel's increasing graphics performance will likely have more of an overall effect on Nvidia than AMD. The shift to thin and light systems with longer battery life could serve to exacerbate the issue as users opt against notebooks with discrete GPUs in non-gaming designs. Next year when Intel releases 14nm Broadwell powered notebooks, iGPU performance will most likely see a larger performance increase adding to this affect.
Given that Nvidia seems to have a loyal fan base, I do not expect it to lose much market share to AMD, but as AMD has been fixing driver issues some AMD fans could return to the red side, slightly lowering revenues. AMD is typically competitive regarding performance versus price, so this could put added pricing pressure on Nvidia causing a depression in ASPs.
Consoles
AMD has seen a decline of console royalties since the announcement of the new consoles; Nvidia is experiencing the same. However, these revenue streams will be lost as AMD has won the spot in each next-generation console.
Tegra
Regarding Tegra, we see that revenue has been in a steep decline, dropping from $208M in Q4 FY13 to $53M in the most recent quarter. Nvidia has stated the reason is customers ramping down demand for Tegra 3, but I feel part of this is also from competitive pressure from companies such as Qualcomm (NASDAQ:QCOM). Nvidia uses standard ARM cores in CPU designs, whereas Qualcomm uses custom designed Krait cores based on ARM's ISA, which are very competitive. As for one last negative, Intel will be launching its Bay Trail platform in tablets later this year, and we should start seeing smartphones featuring Intel SoCs by the beginning of next year.
One potential positive catalyst will be Nvidia's upcoming Tegra processor, codenamed 'Logan' featuring Kepler graphics IP.
Logan promises to offer graphics performance that will rival a PS3 in mobile devices. Without power consumption numbers, this graphic is only a partial picture, but it does show the potential of 'Logan' provided power consumption remains in check.
Nvidia has stated it will license its GPU technology, which could offset declining Tegra revenues if it is able to garner design wins.
Conclusion
Both AMD and Intel are showing an interest in HPC, which will put competitive pressure on Nvidia's workstation cards.
Intel has increased iGPU performance, which could displace even more notebook GPUs from Nvidia, and AMD is due to refresh its consumer line of GPUs in desktops and notebooks as well as launch Kaveri. The CFO commentary from the prior 2 quarters reveals that notebook revenue has been declining. I have made the case before (look for the paragraph specifically regarding PC sales) that IDC data points to a possible slight increase in PCs in the back half of the year, which could slow or halt the decline of notebook revenues until the launch of Kaveri and Broadwell.
Browsing sites like newegg.com will show that Nvidia currently has many more design wins than AMD in notebooks, and these design wins are in Intel-powered laptops. Notice the number of design wins from Nvidia compared with AMD.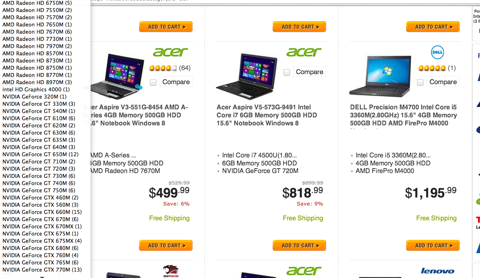 Lower Tegra revenues show that Nvidia is losing traction in the growing mobile market, and will be a cause for concern if the decline does not reverse during the next earnings call. Although Nvidia's 'Logan' will be shipping next year, this will roughly coincide with the launch of Broadwell. Given that Nvidia's largest revenue segment is GPU sales, competition from AMD and possibly further losing traction in notebook GPUs could overshadow any gains seen by Tegra. Lastly, Intel is expected to launch 14nm SoCs next year, putting further competitive pressure in mobile, as Intel's CEO has stated that Intel plans to start making mobile SoCs more a cornerstone of the business.
Despite continued growth in the overall mobile sector, Nvidia Tegra revenue has dropped ~$150M from $208M to $52M over just two quarters.
Nvidia will lose a significant portion of its console royalties as consumers move to the PS4 and Xbox One. In the most recent quarter, Nvidia has stated in the CFO commentary that it saw a decline in this revenue stream.
While I would not personally consider this stock as a short, based on the reasons above I cannot see the long case at this share price either. At the time of submission, Nvidia shares were trading at $14.42.
Disclosure: I am long AMD. I wrote this article myself, and it expresses my own opinions. I am not receiving compensation for it (other than from Seeking Alpha). I have no business relationship with any company whose stock is mentioned in this article.
Additional disclosure: I actively trade my AMD position. I may add or liquidate shares at anytime.