The current issue of the 10x45 Bargain Hunter (pdf file) stock screening report, published on September 19th, includes a table of the Top 45 "Magic Formula" Stocks, based on trailing operating income.
This magic formula screen is based on a methodology advocated by Superinvestor Joel Greenblatt, author of The Little Book That Beats The Market. In a nutshell, the magic formula approach seeks out companies that are both "good" and "cheap."
The former is measured by a company's return on capital employed in running the business, while the latter is determined based on the yield of trailing operating income to enterprise value.
Here are the six companies joining the Top 45 "magic formula" screen results this week:
Accenture (NYSE:ACN) is a global management consulting, technology services and outsourcing juggernaut, with 177,000 employees and $22 billion in annual revenue. The company generates high returns on capital as its main "asset" are its people. With analysts estimating that the company will earn $2.75 in EPS in the fiscal year ending August 31, 2010, the stock is cheap enough to join the magic formula list but not cheap enough to be considered compelling, in our view.
Lihua International (NASDAQ:LIWA) is a Chinese producer of superfine and magnet wire that completed an IPO on September 4th at $4 per share. The stock has rallied to $6.92 as of last Friday. While still relatively cheap based on trailing EBIT to enterprise value, we would like to see it pull back before considering an investment. Click here to view Lihua's IPO prospectus.
McGraw-Hill (MHP) is an information provider in the financial services, education and business information markets through company-owned brands such as Standard & Poor's, McGraw-Hill Education, BusinessWeek and J.D. Power and Associates. Stock performance has been lackluster this year as the broader market has rebounded, due primarily to investor concerns regarding potentially adverse regulatory action, which could lower the long-term franchise value of the S&P credit rating business. With analysts estimating 2010 EPS at $2.55, the shares appear quite cheap for a company of this quality. Click here to view McGraw-Hill presentation at a Goldman Sachs conference on September 15th. Read management's prepared remarks here.

Endo Pharmaceuticals (NASDAQ:ENDP)

is a specialty pharma company providing branded and generic prescription drugs used to treat and manage pain, overactive bladder, prostate cancer and the early onset of puberty in children, or central precocious puberty (NYSE:CPP). Analysts estimate that this growing company will earn $2.88 in EPS in 2010, giving investors an opportunity to buy the shares at less than ten times earnings.
Weight Watchers (NYSE:WTW)

provides weight management services, operating globally through a network of company-owned and franchise operations.

In the first half 2009, revenue declined to $763 million versus $837 million in the first half 2008, impacted by lower consumer spending on dieting programs. Little doubt remains, however, that the company's services will be in demand by consumers for a long time to come, and Weight Watchers has a brand that should help keep the company's market share strong over time. Analysts estimate 2009 EPS at $2.62, implying a valuation of just under ten times earnings.

Sabine Royalty Trust (NYSE:SBR) receives landowner's royalties, overriding royalty interests and similar income from producing and proved undeveloped oil and gas properties in Florida, Louisiana, Mississippi, New Mexico, Oklahoma, and Texas. SBR does not strike us as a "magic formula" stock on a normalized basis, as oil and gas-related companies typically achieve high returns on capital only in favorable commodity pricing environments. As a result, we would pass on the shares in the context of the magic formula screen presented in 10x45 Bargain Hunter.
Top 45 "Magic Formula" Stocks (based on trailing EBIT)
Click here to download pdf version.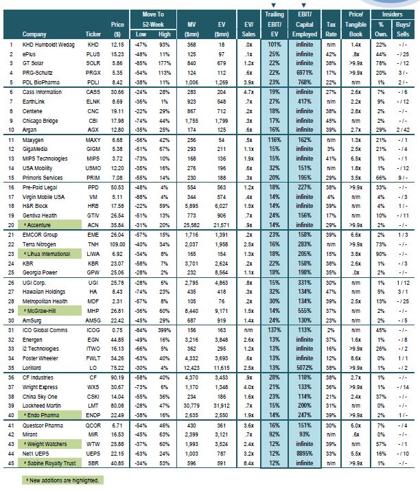 Source: The Manual of Ideas, BeyondProxy LLC.
Disclosure: No positions.