American Electric Power (NYSE:AEP) is one of the largest electric utilities in the U.S., serving over 5 million customers in 11 states. It has almost approximately 18,500 employees, and nearly 38,000 megawatts of generation capacity. It also has the largest transmission network in the country. The company's business activities falls into one of five major areas: regulated utility operations; transmission; power generation; retail market; and, raw material transportation.
However, its utility operations activities are responsible to almost all of the company's income. Therefore, AEP is predominantly a regulated business with some growth prospects in its transmission network expansion.
Its main competitors are other large electric power companies, such as Duke Energy (NYSE:DUK) or Southern Company (NYSE:SO). As usual within the utilities sector (NYSEARCA:IDU) the company offers an attractive dividend yield above 4%, and may be a good opportunity for income investors. American Electric Power has a market capitalization of $22 billion and is listed on the New York Stock Exchange.
AEP generates nearly 66% of its energy using coal power, making it particularly vulnerable to "green" legislation. Electric utility companies are under increasing legislative pressure to adopt cleaner electricity generation methods while maintaining competitive prices. AEP is the company most affected by this shift to cleaner fuel sources, given that Duke Energy's reliance on coal is only about 37%, and Exelon (NYSE:EXC) only uses about 7% of coal to generate electricity. However, the company has begun to diversify its electricity generation base by getting into wind, hydro, solar, biomass, and biodiesel energy. AEP owns over 300 megawatts of wind generating capacity within Texas and 800 megawatts of hydroelectric power from its 17 hydroelectric facilities, but still has too much exposure to coal.
Geographically, the company is 100% exposed to the U.S. By state, Ohio is the most largest market accounting for about 25% of the company's sales. Weak economies in a number of its service states and its predominantly fossil fuel based generation assets have restrict its operational performance recently. In 2012, the company generated almost $15 billion in revenues, a decrease of 1.1% from the previous year. Its operating income declined by 4.5% to $2.65 billion, from close to $2.8 billion in 2011. Over the past few years, AEP has seen its operating margin decline considerably, from 20.5% in 2009 to 17.5% in the past year. The company initiated in 2012 a process to identify where it can be more efficient, which should lead to sustainable cuts in operating costs and a stabilization of its operating margins. Its earnings per share declined by 35% to $2.60 from $4.02 in 2011, due to lower earnings and $0.77 per share of extraordinary income in 2011. For the next couple of years, it targets operating earnings per share growth rate of 4-6%.
The company's second quarter results were recently announced, maintaining its weak performance. Its revenues increased by 0.9% year-on-year [yoy] to $3,582 million, but were below analysts' estimates. Its earnings per share of $0.69 were below the $0.75 per share achieved a year ago, primarily due to decrease in residential, commercial and industrial sales, and rise in fuel cost for electricity generation. Its utility operations saw operating earnings decrease by 14% yoy to $320 million, negatively impacted by higher competition in Ohio. Its financial condition also decreased during the last semester, with long-term debt increasing $200 million to $15.8 billion as of June 30, 2013, and its cash flow from operating activities declining to $1.5 billion compared with $1.7 billion in the year-ago comparable period.
Regarding its dividend, AEP's dividend track record is quite good given that it has paid dividends consecutively since 1910. Its dividend payment frequency is quarterly, with payments in March, June, September, and December. In 2012, its annual dividend per share was $1.88, an increase of only 1.6% from the previous year. However, the company increased its quarterly dividend by 4.3% in April to $0.49 per share, and expects to pay $1.93 per share in 2013 which represents an annual increase of 2.7%.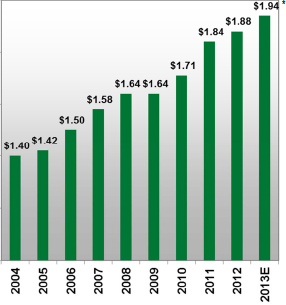 The current dividend payout ratio is 62%, lower than its 72% achieved in 2012. The company's goal is to maintain the payout ratio between 60% to 70%, so dividend growth should come primarily from earnings growth. AEP is currently underway significant efforts to cut costs which could boost earnings in the short-term, but given its mature business its earnings growth should be low over the long-term.
In 2012, the company's cash flow from operating activities amounted to $3.8 billion, which it used to mainly to finance its capital expenditures ($3 billion). For the next couple of years, the company's capital investment is expected to reach $3.6 billion in 2013 and $3.8 billion in 2014 and 2015. This will mean lower cash flows available to distribute, implying higher debt levels for the coming years. Its net-debt-to-EBITDA ratio of 3.86x was relatively high at the end of 2012, and should not decline during the next three years.
Regarding its valuation, historically the company trades at a discount to its large cap electric power utility peers, due to its high earnings exposure to industrial customers and its major presence in Ohio. American Electric Power's current trailing 12-month earnings multiple is 18.3x, which is above its historical range of 8x to 16x trailing earnings. Therefore, the company appears to be overvalued given its low growth expected over the near term and its relatively high earnings multiple.
Conclusion
American Electric Power's high-dividend yield may seem attractive for income investors, especially given its highly-regulated business, which provides some safety over the long-term. However, as I discussed recently in my article Duke Energy is a great income investment, Duke Energy does offer a better value proposition because it has higher growth prospects -- especially in Latin America -- is less reliant on fossil fuels, and has stronger cash flow generation capacity compared to American Electric Power.
Disclosure: I have no positions in any stocks mentioned, and no plans to initiate any positions within the next 72 hours. I wrote this article myself, and it expresses my own opinions. I am not receiving compensation for it (other than from Seeking Alpha). I have no business relationship with any company whose stock is mentioned in this article.