A number of analysts provide price targets, buy or sell recommendations and other salient information free of charge through Yahoo.com. We have been keeping track of these offerings for some time now and have been putting out monthly summary reports of our findings for silver miners. After skipping the July edition of our series for a much needed (and hopefully equally much deserved) vacation we are back on deck with another offering. Comparisons will be made to the data given in our June article, therefore covering a two-month interval this time around.
In response to comments received on previous articles we would like to point out that most companies considered for this article are covered by numerous analysts. Not all of them actually provide data for Yahoo.com and therefore the analyst number documented in our table below is not an indication of the total number of following analysts, but rather the number analysts reported on Yahoo.com.
As in previous articles we are considering the following silver miners in alphabetical order: Coeur Mining (NYSE:CDE), Endeavour Silver (NYSE:EXK), First Majestic Silver (NYSE:AG), Fortuna Silver Mines (NYSE:FSM), Hecla Mining (NYSE:HL), Pan American Silver (NASDAQ:PAAS), Silver Standard (NASDAQ:SSRI), Silvercorp Metals (SVM). And for the present edition we have added SilverCrest Mines (NYSEMKT:SVLC) to our list.
The table below summarizes our data. The first three columns list the company name, ticker symbol and share price at the time of writing. Price targets (low, median and high) are listed in the following three columns. These targets are followed by a column giving the number of analysts providing data to Yahoo.com and the mean recommendation given by these analysts ranging from 1.0 (strong buy) to 5.0 (sell). This concludes the data sourced directly from Yahoo.com.
The following columns are colored in light green and contain data derived from our source data. These data points are given in percentages related to the share price at the time of writing. The column titled "median-price" gives the difference between the share price and the median target price. The column titled "high-low" gives the difference between the high and the low target. The last four columns titled "target change" document the changes in price targets since the May report with the last columns giving the average change over the low, median and high price targets.

Values in column "median-price" can give indication on the potential of a stock. Shares trading significantly below the median price target can be interpreted to have a greater potential than shares trading close to this target. Caution is advised: this way of thinking does not apply for companies that have had significant events moving the share price in recent times since analysts will take their time to update their data accordingly. Data presented in our article on gold miners and their price targets is a point in case.
A diagram visualizing this difference between the medium price target and the current share price is given below. Applying the logic outlined above would indicate the greatest potential for Silvercorp and SilverCrest. At the other end of the spectrum Panamerican Silver is trading very close to the median price target.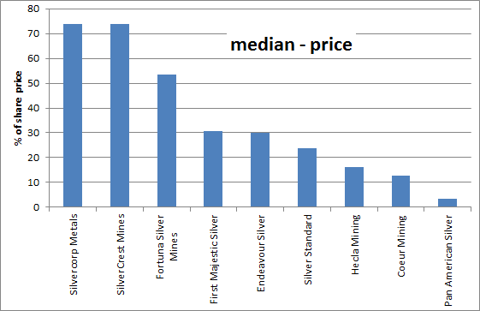 Column "high-low" measures the difference between the high and the low target and represents a measure for the divergence in analyst opinions. The diagram below illustrates our data. Analysts seem to disagree most on Endeavour Silver and Coeur Mining whereas no significant spread in price targets could be observed for Silvercorp and SilverCrest.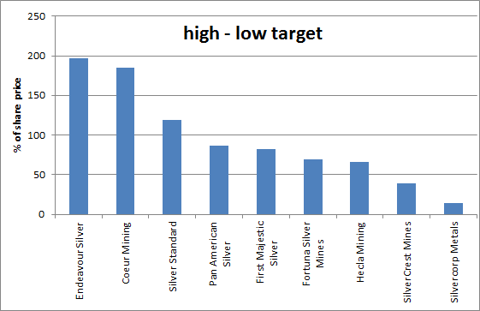 Column "target change average" shows the change in price targets during the past two months. Our findings as tabulated in the table above are illustrated by the next diagram. Fortuna Silver's targets have been very resilient coming in first yet again in this particular ranking, while Endeavour Silver's targets have been cut substantially since our last installment in this series of articles. On average targets have been reduced by a whopping 40.9% in only two months, following an average 16.1% cut in the month before.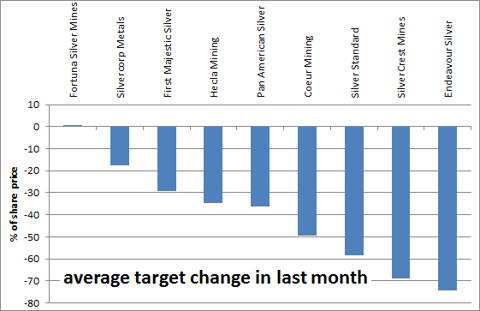 The final diagram illustrates column "Recommendation" from the table above and shows that analysts are still liking First Majestic best, ahead of SilverCrest and Fortuna Silver Mines. The least attractive of the bunch, at least in the analysts' minds, seems to be Coeur Mining.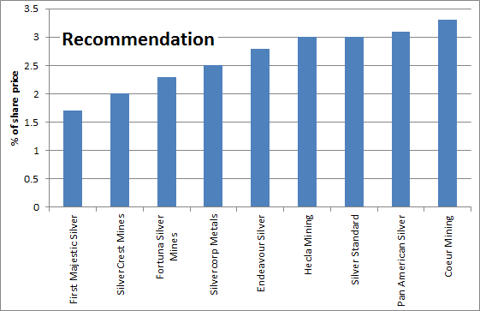 Our pick of the month
None of the companies on our watch list seems to be standing out if we follow the analysts' data. First Majestic, SilverCrest, Silvercorp Metals and Fortuna Silver Mines all have relatively strong targets and have been performing relatively well throughout the ongoing silver price correction. We are not going to pick one over the other here this month. Maybe this is a good time to sit back and wait for a trend to show itself in the silver space?
Disclosure: I am long EXK, SVLC, HL, AG. I wrote this article myself, and it expresses my own opinions. I am not receiving compensation for it (other than from Seeking Alpha). I have no business relationship with any company whose stock is mentioned in this article.