The 13 closed end fund (CEF) types on average were up 2.5% for the week ending 9/18/09. On an aggregate, unweighted basis, the weekly average price increase for 627 CEFs was up 2.3%. The weighted 49 CEFs as of 9/18/09 comprising the Claymore CEF Index registered an average increase of 3.1% for the week. The S&P 500, as measured by the SPDR S&P 500 ETF (NYSEARCA:SPY), registered an increase of 1.9%.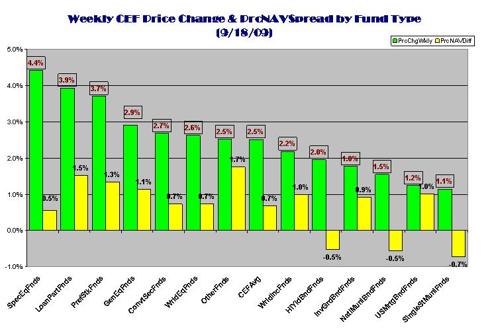 The 627 CEFs' aggregate, unweighted current distribution yield is 7.1% and is trading at a 4.2% discount (7.3% versus 4.4% the previous week, respectively). Year-to-date, CEFs on average have extended their price appreciation to 46.8%. (Click Here for YTD CEF Performance.)
The Eqcome CEF Fear Index continues to project an almost giddiness on the part of CEF investors. The unweighted average price change was up 2.3% versus 0.2% for the related NAV. The CBOE Volatility Index (VIX), which typically moves inversely with the stock market, was down 1.0% as the S&P 500 (SPY) logged in an advance of 1.9%. The VIX traded down on Wednesday to its lowest level in more than a year and finished the week tame.
CEF Weekly Fund Type Performance: This week was an extension of the previous week with investors willing to take on more risk by abandoning fixed income for equities. This was clear as equity-oriented fund types outperformed the average while fixed-income underperformed.
SpecEqFnds again took the fund type leadership spot advancing 4.4%. This is after advancing the same the previous week. Real estate funds, which represent 42% of the SpecEqFnds category, surged 6.8% on top of the 6.3% rebound the previous week. (This was consistent with the real estate ETF (NYSEARCA:VNQ) which surged 8.5% for the same period.) Much of that gain was driven by the proposed merger of the Cohen & Steers' real estate CEFs which advanced an average of 11.1%. RLF, RWF and RPF is proposed to be merged into RQI in the 4Q.
LoanPartFnds advanced 3.9% for the week. This fund type is receiving more attention as investors are looking for ways to protect themselves against inflation. Many of the CEFs in this fund type hold floating rate assets. However, these stocks are not a secret. The 3 senior secured floating loans CEFs (EFR, EVF & EFT) are all trading at sub 7% yields. Interestingly, PrefStkFnds also demonstrated strong performance, up 3.7%. This is in the face of two banks failing this week and taking the total to 94 this year.
Price/NAV Weekly Spreads: The Price/NAV spreads (PrcNAVSprd) moved in the general direction of the price movement, i.e. price changes exceeded related NAV changes and visa versa. Exceptions to this trend were SingleStMuniFnds and NatlMuniBndFnds where NAVs advanced greater than their relative price. This was also true for HiYldBndFnds funds.
CEF Spread Changes: In many cases the best performing CEF in terms of price change is the same one that has experienced the greatest positive change in its PrcNAVSprd. DCA Total Return Fund (NYSE:DCA), a real estate oriented CEF, experienced the greatest positive spread a 7.7% and advanced 10.1% for the week. However, it was Cohen & Steers Advantage Income Realty Fund (RLF) that advanced the greatest with price appreciation at 11.6%. Yet, RLF's PrcNAVSprd was a negative 0.6%. The difference is that DCA invests in real estate debt and preferred stock, while RLF invests in real estate equities.
(A positive spread between the change in price and NAV could be viewed unfavorably subject to other metrics. This is because the stock has advanced greater than its underlying NAV. All things equal, they should move in tandem. The opposite would also be true.)
Rebounding from last week greatest positive PrcNAVSprd (10.0%), Eaton Vance California Municipal Income Trust (NYSEMKT:CEV) logged in a 7.9% negative PrcNAVSprd. CEV ended up second from the bottom in term of price performance, off 3.8%. Nuveen Maryland Dividend Advantage Municipal Fund (NYSEMKT:NFM) occupied the bottom spot. It was off 5.3% and experienced a negative PrcNAVSprd of 7.3%.
Market News: Investors should keep their eyes focused on the US dollar (NYSEARCA:USD). US dollar is playing an important and confounding role in asset class performance. The relaxed US monetary policy has been accompanied by low interest rates and the potential for future inflation. As a result, investors are making different bets on the same data.
The weak USD has caused income investors to seek higher yields in fixed income alternatives to treasuries. (Almost 90% of the mutual fund inflow has gone into bond funds.) Alternatively, the weak USD has driven commodity prices higher on fears of inflation—which longer term should cause bond prices to fall. Finally, as the dollar is considered a save haven, equity investors are interpreting the weak dollar as a more relaxed equity environment sending the stock market higher. They all can't be right. The difference may just be a matter of timing.
The near-term investment environment is a tough call. Economic events will be dominated by a raft of political decisions yet to be formulated. (Click Here for Next Week's Economic Calendar.)
ETFs: (Click Here for ETF YTD sector performance.)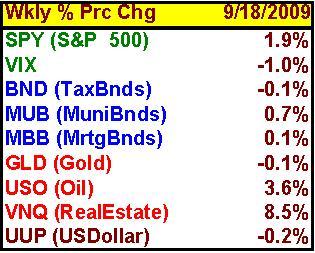 CEF Insider Trading: Insider trading in CEFs picked up steam for filings as of September 15th. The biggest acquisition was 300,000 shares of MCG Capital Corporation (NASDAQ:MCGC). These shares were acquired by Gavin Saitowitz, a Managing Member of Springbok LLC, at an average cost of $3.04 per share for a total cost of $912,000. This brings Mr. Saitowitz indirect ownership to 1,011,551 shares. Springbok, Soundpost Partners, LP and Lyrical Partners, LP, collectively own 9.9% of the shares and constitute a group.
Mr. Saitowitz recently became a director of MCGC. This was a result of an agreement with MCGC and the settlement of pending litigation between Springbok and MCGC. The accord includes a standstill agreement through MCGC's 2010 annual shareholders meeting (June).
MCGC is an internally managed, non-diversified, CEF that elects to be regulated as a Business Development Company (BDC). It focuses on financing and advisory services to U.S. middle market companies. With the capital markets opening up, there may be a greater opportunity for small private equity firms to realize greater value.
There was some small initial insider position established in the month in NPI, KYN and RNP. In each case the insider was BofA which has a 10% position in each. The transactions appeared as "house keeping". The bank was both buying and disposing of stock in the same names. In the case of NPI, Paul Brennen, a vice-president and assistant secretary added 1,000 shares for a total of 3,222.
Dan Neidich, a director of GAM, continued to add to his position accumulating another 500 shares at $23.47 per share for a total of 16,800 shares. (Click Here for Insider Summary.)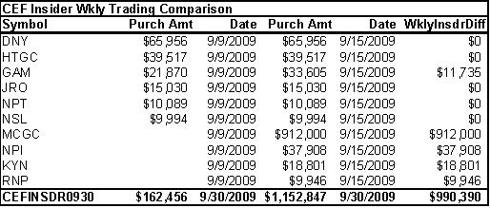 CEF Distribution Announcements This Week: Below is a table of this week's CEF distribution announcements with prospective ex-dividend dates. (The list is not intended to be all inclusive. While reasonable care was taken in its construction, please confirm its accuracy independently prior to making an investment decision based on this table.)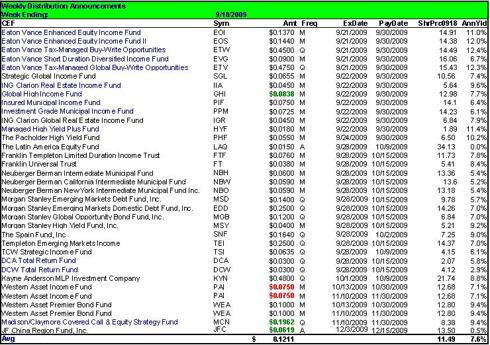 CEF Focus for the Week: One CEF that I've recently run across—on which I may not have the whole story—is BlackRock Broad Investment Grade 2009 Term Trust (BCT). So, I could use some help here in clarification.
It's my understanding this is a trust of investment grade fixed income securities that is scheduled to terminate on or about December 31, 2009. The trust on termination will return $15 per share to its holders. BCT is currently trading at $12.30, a 1% discount to its NAV.
Follow me here. So, if one can buy the stock currently at $12.42 per share and receive $15 per share at the end of this year (2009), then the net gain would be $2.58 per share. This would be a 20.8% annualized return. Since my holding period is only 3 months the return per holding period would be 83%!?
This lands it in the "too good to be true" category. There may be a terminal cost of winding down the Trust or holding costs that might subsume the net payout. If anyone knows anything about this situation please post a comment.
Disclosures: Long SPY, GAM & GLD; I currently do not own BCT.