With the latest short data in for Sirius XM (NASDAQ:SIRI), it appears that nearly 22.5 million shares were covered by those holding short positions since the last reporting period. All in all that totals around $84.6 million worth of shares that were covered on these positions given the closing share price during the period.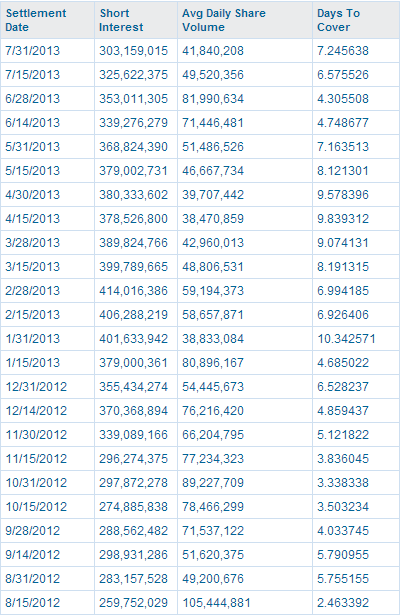 Often those who are bearish on equities point towards short data as a back up for their ideas that a stock's price will decline. "What are the shorts thinking?" can plant seeds of doubt in the minds of longs especially in times when the share price is drifting aimlessly or slightly downwards as Sirius XM has been. The activity has been mild to flat out boring with the share price trading near $3.80 for nearly two weeks now.
For those more seasoned with the market, they will understand that this is just how stocks behave. They go up and down both on news and in the absence of news, and working off those jumps in share price with consolidation sideways is often preferable to huge swings up and down. Those large and small swings representing that tug of war between buyers and sellers is clearly shown in the charts of almost every equity out there. No matter how good or bad the news coming through, one would be hard pressed to find examples of stocks which move in a straight line. The long investor is not so much concerned with the short term back and forth of the game, but rather who ends up in the mud.

Click to enlarge
It's the same for Sirius XM as it is for every other stock out there. And time and again it has been shown that for the long term investor, being long Sirius XM has been the right choice. Shorts have been burned over the long run time and time again, and while being short for very short bursts of time can be a viable strategy on the trade one must understand that by being short you are placing your bets against the odds. As time passes, the chance that shares will go up for Sirius XM has been greater than the chance that shares will go down.
With Sirius XM's impressive Q2 report coming the day before the final trade date of the last short data point, it is interesting to note that it seems the shorts have decreased their positions relative to the last reporting period. Going forward, assuming Sirius XM can be expected to post similar strong performance combined with the supportive effects of its $2 billion buyback plan and my assumption that this plan will be increased in size before the end of 2013, it seems shorting Sirius XM continues to be a dangerous game.
It's a game played by the traders, and the odds are stacked against them. For the longs invested in the fundamentals and the story of the company, it's not a requirement to ask yourself 'Hmmm... what could these shorts be thinking?' with worry and doubt. Rolling one's eyes instead while asking yourself 'what in the world are they thinking?' might be more appropriate.
Disclosure: I am long SIRI. I wrote this article myself, and it expresses my own opinions. I am not receiving compensation for it (other than from Seeking Alpha). I have no business relationship with any company whose stock is mentioned in this article.
Additional disclosure: I am long SIRI January 2014 $2, $2.5, $3 and $3.5 calls.