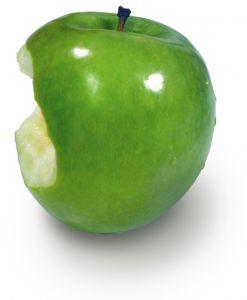 Recently (Thursday, 8/8), The Wall Street Journal had bad news about Apple (NASDAQ:AAPL).
First, their "Marketplace" section's top article (Android Seizes Phone Market) presented Apple's 3-year inability to grow iOS market share even as weaker competitors gave up gobs of it. The winner: Android-based phones, now with a quasi-monopoly of 80% market share, up from 25% three years ago. Apple? Stagnated at 15% to 20%, with the latest results below the bottom end of that range at about 13%.
Google Inc.'s (NASDAQ:GOOG) Android software continues to steamroll the competition in smartphones, posing bigger problems for companies like Apple Inc. and BlackBerry Ltd. (NASDAQ:BBRY)
The importance of this news was highlighted by a large, front-page picture and two key graphs: Smartphone platform market share and profit margins. The profit margin data (Apple = 33%, Samsung = 19%, Windows and BlackBerry = negative) seem to offer a positive offset, as described by the WSJ:
As Google widens lead in phones, Apple harvests cash.

Android now dominates market share, but biggest profits are at Apple.
However, this news presents symptoms of larger problems for Apple, so I have reversed my position on Apple and sold my recently acquired positions, as shown below: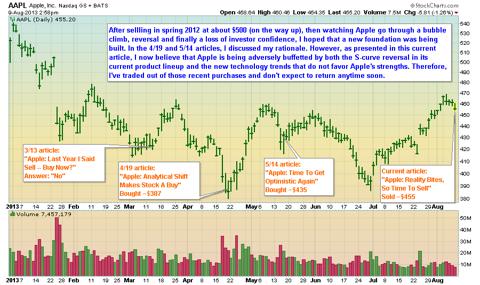 (Stock chart courtesy of StockCharts.com)
Beyond the news, Apple hits technology's infamous S-curve
The articles describe symptoms of a fundamental problem at work that portends lower earnings and profit margins in Apple's future. The problem is the dreaded technology S-curve. As soon as a cutting-edge leader emerges, competitors move in, do a bit of leap-frogging (or, worse, innovation), and the former leader sees sales and market share growth slow and then reverse (Apple's current pattern). Worse, by losing the aura of being the must-have, go-to product creator, the former leader loses pricing power, and profit margins shrink. (Can't happen to Apple? Just think about BlackBerry's former and current position -- along with myriad other technology companies that once reached clear #1 status only to fall flat afterwards. For another example, see end of article.) Then there is the ultimate S-curve driver: Market saturation as potential new buyers shrink in proportion to current owners.
For stock investors, entering the S-curve decline is an important forewarning. Not because the company is now a loser, but because reclaiming leadership and the upward slope requires not only an outstanding new product, but also a growth size (not just rate) to offset the drag from previous products slipping.
But what about those patent case wins? Can't they revitalize Apple's position?
The WSJ had another article that implies the happy circumstance: Apple Notches Fresh Patent Win.
A federal appeals court in Washington handed Apple Inc. another significant patent victory, reviving the iPhone maker's claims against Google Inc.'s Motorola Mobility unit over two significant patents for smartphone touchscreens.

The ruling breathes new life into a case that could ultimately end up keeping Motorola from importing technology used in a number of its Android-powered smartphones.
And that's not all.
Wednesday's ruling came amid a busy week for Apple on the patent front. The Obama administration on Saturday vetoed the ITC's ban on the import and sale of some Apple iPhones and iPads, upending a legal victory for South Korean smartphone rival Samsung Electronics Co.

And on Friday, the company's lawyers will be back at the Federal Circuit to defend a court ruling made last year following a trial in San Jose, Calif., in which a jury ordered Samsung to pay Apple $1.05 billion in damages for infringing a number of smartphone patents.
This seemingly exciting news does not address the destructive S-curve problem. Yes, its narrowly focused ruling perhaps ramps up Motorola Mobility's (with its lowly 1% market share) challenges. However, parent company Google, with deep pockets and the Android system, will undoubtedly overcome them. Already it has a newly released creation of a new Motorola Mobility phone (Moto X) that the WSJ just featured it in two articles:
Moto X Stands Out in Sea of Phone Sameness
And from Walter Mossberg…
This Phone Knows What You're Up To What It Does: Moto X Adjusts to Meetings and Moving Cars, and Its Camera Is Always Ready
That Obama ruling? It allows Apple to sell some older (and lower priced) iPhones. However, those older products are already hampering Apple's revenue and earnings growth, thus helping move Apple into the downward slope of the S-curve (measured in revenues and earnings, not unit sales).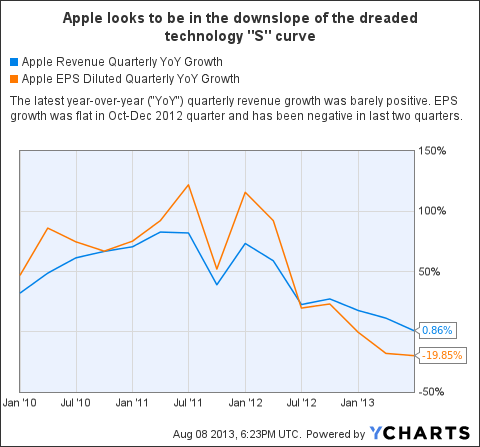 AAPL Revenue Quarterly YoY Growth data by YCharts
That $1+ billion payment? We'll see if that amount holds up in future court appearances -- and when it's finally resolved. Such back-dated payments always seem like free money (100% profit margin) when actually received, but they tend to be irrelevant to a company's future unless the money is needed for survival, such as TiVo (NASDAQ:TIVO). Certainly, it doesn't ramp up growth forecasts or bring in long-term investors.
But couldn't a revolutionary new product (think iTV) turn Apple back up again?
Of course, but don't count on it. There was a perfect WSJ "Pepper and Salt" cartoon that illustrated Apple's problem with investors nowadays. It showed two people at a boardroom table. The one at the table's end (presumably the Chairperson) says to the other (the CEO?), "I'm afraid 'It's a surprise' doesn't cut it as a growth strategy."
So, we're left with what we know. Yet another new iPhone is coming, likely suffering the same problem as the past version: Non-compelling improvements that fail to ignite a buyers' rush. Also, iPad's next versions sound like Apple will be playing catch-up with areas of the tablet industry in both functionality and variety.
Tangible proof of Apple's loss of industry leadership: Chromecast
Google's snazzy and cheap (!) Chromecast makes the initial big step forward that TV viewers (and Apple investors) have been waiting for. Shove Chromecast into an HDMI slot, plug in the power cord and then use your smartphone, tablet or laptop just as you would normally do to find and view videos. By making one additional click, your TV comes to life with the video you've found.
Think what that means to the many viewers who have moved or are moving away from cable/satellite services to the internet: A simple, inexpensive way to watch programs on that large screen, high quality TV. No expensive box or technical hookups to buy, no new remote to learn (and lose) and no new monthly charges.
So, what about getting access to all the shows you want? It's coming and perhaps in an even more desirable way than now envisioned. The industry is in a state of flux with significant changes in the works. We'll likely be reading about more skirmishes like Time Warner Cable's (TWC) battle with CBS (NYSE:CBS). The widespread and growing use of DVRs, on-demand and streaming is just the trend needed to boost independent (i.e., not tied to any particular hardware) services like Netflix (NASDAQ:NFLX), Amazon (NASDAQ:AMZN), Hulu and YouTube as well as direct from broadcasters and producers. Here's the WSJ's description of the situation from Digital Video Rights Are Hurdle in CBS-Time Warner Cable Fight - Online Services Add Tension to Dealings Between Content Owners and Distributors
Under the companies' now-expired TV carriage deal, struck in 2008, CBS had granted Time Warner Cable expansive on-demand rights. For example, the cable operator could automatically have the rights-at no additional cost-to any programming licensed to streaming video players like Netflix Inc. and Amazon.com Inc.

Now CBS wants to roll back those rights to give itself more flexibility to strike lucrative licensing deals with the online video players and new entrants like Intel Corp. that are vying to offer cable TV channels over the Internet, the people say. In CBS's view, the TV world has changed fundamentally since 2008 and the old terms are outdated.

In a sign of how far apart the companies have been, Time Warner Cable wanted at one point the rights, at no incremental cost, to put entire current or past seasons of CBS shows on its video on-demand service, compared with the current offering of just a few recent episodes, a person familiar with the situation said. Those are the type of rights CBS and other TV networks have begun selling to Netflix for large sums.

[CBS said] that Time Warner Cable's aim is to "use those outdated terms to hamstring our ability to do business with Netflix, Amazon, Hulu Plus and other new entrants that pose a new competitive threat" to the cable company.
Note the key point:
Content providers are now in the driver's seat because they can "… strike lucrative licensing deals with the online video players and new entrants like Intel Corp. (NASDAQ:INTC) that are vying to offer cable TV channels over the Internet…" On-demand rights to programming, both current and past, are now in high demand and can be sold for "large sums."
The importance of this new reality is that Apple's supposedly brilliant iTV (AKA Apple TV, version 3) is not a reason to own Apple now. Even a cool looking box (with Apple's required high-price/high-margin) is not going to cut it with consumers unless easy and competitively better access to desirable content is provided.
The vision of iTV's potential is often based on Apple's iPod + iTunes success. The problem with that comparison is that the former happened when the content providers (music producers) were in a depressed period with no real strategy (or even hope) for recovery anytime soon. iPad + iBooks, the first attempt to recreate the past success, was well-timed, but failed for both pricing reasons and heavy competitive pressure, primarily from Amazon. Now we come to today's video content providers. They are in an opposite and envious position, with demand rising. Moreover, there is a broad, competitive, growing conglomeration of both content providers and distributors. This altered universe means Apple, to leap frog all the other, powerful distributors clamoring for the content, must somehow gain access to superior content.
Compare Apple's position to Google's. Google can foster revenue and earnings growth with a cheap Chromecast product because the company owns Google (the leading gateway to internet content), YouTube (a leading source of video entertainment) and Android (the leading operating system for smartphones). Apple, lacking complementary business components, needs a stand-alone, high-end (i.e., high price + high profit) product.
The bottom line
The technology industry continues to move ahead, once again shifting gears and reshaping past trends. Unfortunately, the new, desired developments are transformations of the areas in which Apple succeeded while becoming the #1 tech company. Thus, for Apple investors, it looks like it's time to sell AAPL and invest elsewhere to profit from technology's newest trends.
Example of "S" curve affecting an early innovator: The Pennsylvania Railroad
I know it can be hard to mentally alter that prior image of Apple's magical perfection into one of ho-hum, also-ran. For that reason, I previously wrote a piece about the Pennsylvania Railroad's move from the U.S.'s one-time, top industrial-technology company (Even Leading Companies Can Disappear Into the Sunset). I have found that historical examples often provide better insight because it is easier to sort out the facts and trends from emotions and beliefs. Here are my concluding comments from that article:
No leading company, regardless of size or previous successes, gets a free ride into the future. Without wise management, innovation and underlying industry growth, a leader can easily slip into the also-ran category - or into oblivion. Therefore, don't own a stock simply because of the company's past successes. Own it because it has the potential for future successes.
Disclosure: I have no positions in any stocks mentioned, and no plans to initiate any positions within the next 72 hours. I wrote this article myself, and it expresses my own opinions. I am not receiving compensation for it (other than from Seeking Alpha). I have no business relationship with any company whose stock is mentioned in this article.