A post-earnings announcement pop has lifted Energy Transfer Partners' (NYSE:ETP) units to a new 52-week high. Investors found much to like about continued storyline, and bid up the units, though perhaps the article title exaggerated just a little.
Energy Transfer Partners -- YTD Price and Volume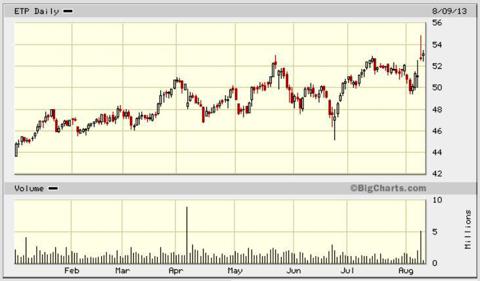 courtesy of bigcharts.com
In this brief, we will summarize the key points and why the tea leaves are looking very good for the longer term.
The Ten-Second Takeaway
There are four major developments that bode well for Energy Transfer investors:
ETP acquired from ETE its 60% interest in Holdco for approximately 49.5 million ETP common units and $1.4 billion in cash, less $68 million of closing adjustments;
ETP continued to simplify its business by disposing assets and AmeriGas equity for cash;
ETP gained momentum on two "blockbuster" projects;
ETP exchanged half its interest in the SXL GP interest and IDRs (Incentive Distribution Rights) for 50.16 million units.
As result of the foregoing, a one-cent increase in the cash distribution is planned for the quarters ending in September and December. Alone, that doesn't shake the heavens and earth. However, I offer the small increase portends bigger and sustained future unitholder distributions in 2014 and beyond.
Here's the breakdown.
Holdco Goes Away
Holdco was born to die. The temporary holding company was created to aggregate, then distribute various assets the Energy Transfer companies had recently acquired, while preserving the integrity of the Energy Transfer MLP organization structure. Having served its purpose, Energy Transfer Partners bought out Energy Transfer Equity's (NYSE:ETE) Holdco interest in exchange for 49.5 million ETP shares. Afterwards, the remaining assets and equity contained therein were off-loaded to the Energy Transfer Partners' portfolio. Well done.
Asset / Equity Sales Simplify the Business and Generate Cash
As planned, additional asset and equity rationalization remain on track. Selected Louis-Dryfus assets received regulatory approval for sale to the Laclede Group. New England Gas is likewise expected to receive approval for sale shortly. These businesses were non-core to Energy Transfer. These sales will net about $1 billion.
In addition, Southern Union Company (a wholly owned subsidiary of Energy Transfer Equity) contributed its interest in Southern Union Gathering Company, LLC to Regency Energy Partners LP (NYSE:RGP), in exchange for cash, Regency common and Class F units. More fringe assets spun off.
Finally, ETP began to sell down its AmeriGas (NYSE:APU) units. The initial sale liquidated 7.5 million units for $346 million, or a net of about $46.13 each. I believe the sale represented about a quarter of the total units held by Energy Transfer Partners. I expect the rest of the shares will be disposed in an orderly manner over the next several quarters, thereby monetizing the approximate $1.3 billion they were valued at upon transfer to Energy Transfer.
The proceeds of these sales will be primarily used to pay down debt and strengthen the balance sheet. So far, the ratings agencies have been pleased: assigning an investment-grade credit rating and a Stable outlook to the company's debt.
Blockbuster Projects Gaining Traction
Energy Transfer is undertaking a number of large capital projects. While they all are expected to contribute to future cash flows, I highlight here the two that I believe have the most explosive potential for a real step-change in the business:
Trunkline Gas to Crude Oil Conversion
When the Trunkline crude oil conversion project was announced, I suggested to readers this was a potential game-changer in the Energy Transfer BD mix. I still believe this is the case. The partnership arrangement with Enbridge (NYSE:ENB) holds vast potential. Here's an excerpt from COO Mackie McCrea via the 2Q earnings conference call about shipper commitment progress to fill the pipeline:
We are continuing to negotiate with shippers to accommodate the shippers requested to deliver barrels to the premium market and so we anticipate that extending to probably the end of September and we are very optimistic that we will fill up that pipeline where the initial market will be, whether it's St. James or another market remains to be seen, but things are going well from a financing perspective.
A map of the project as provided by Energy Transfer at the recent Credit Suisse MLP and Energy Logistics Conference presentation is found below for your reference: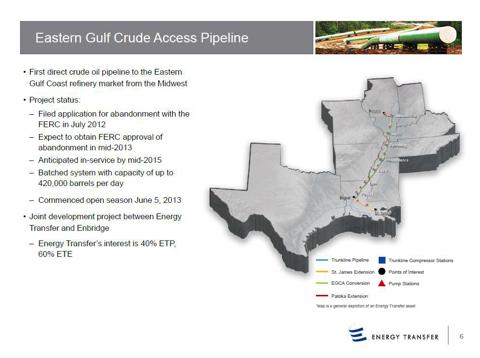 LNG Liquification Project
The other big ticket item forthcoming was an earnings call announcement that regulatory authorization for the movement of 2 BCF a day of natural gas from Lake Charles, LA facilities was expected imminently. The order, which became final on August 8, would permit exports for some 20 years. While the full project timeline is long term (stretching out until 2019), the project promises power cash ramifications and ancillary business opportunities for Energy Transfer.
This project is a fine complement to the previously-announced LPG (Liquefied Petroleum Gas) import/export terminal project to be constructed / expanded on the Texas Gulf Coast. In my last ETP update, I shared with you a combination of Sunoco Logistics (NYSE:SXL), a wholly owned ETP subsidiary, and Lone Star LLC had signed a deal with Shell Oil Company (NYSE:RDS.A) for a long-term, fee-based deal to become the anchor customer. As part of that deal, the "Mariner South" project will integrate SXL's existing Nederland Marine Terminal and pipeline from Mont Belvieu, Texas, to Nederland, Texas, with Lone Star's Mont Belvieu fractionation and storage facilities, creating a world-class LPG export/import operation on the U.S. Gulf Coast.
Friends, Energy Transfer is moving and shaking.
Management Gets Businesses Bucketed Right
While the aforementioned is certainly positive, I contend the biggest news is Energy Transfer Partners will regain approximately 50 million ETP common units held by ETE in exchange for newly issued Class H units. These Class H units will track 50% of the underlying GP (General Partner) interest economics and IDRs of Sunoco Logistics. I include a graphic of the transaction found on the press release for those (like me) who often interpret information best in a visual format: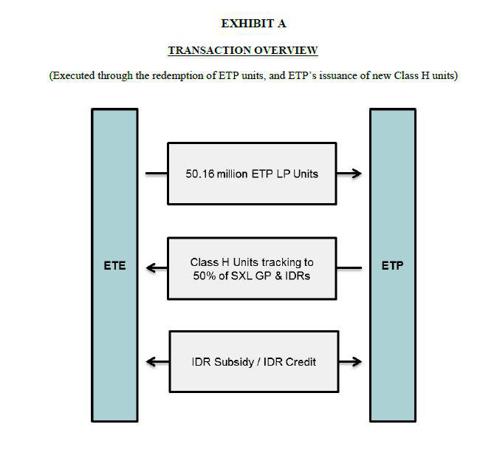 Why is this such a good deal?
First, Energy Transfer management had stated its goal to move hard assets into the ETP, and General Partnership interests to ETE. This is a strong move in that direction.
More importantly for ETP unitholders, it paves the way for current and future distribution increases. The action retires about 13 percent of the current ETP units outstanding in exchange for half its future rights to GP interests and IDRs. This has the effect of spreading out Energy Transfer Partners' Distributable Cash Flow over many fewer units. It will also permit the company to reach the targeted 1.05x DCF / Cash Distribution coverage ratio. The 2013 coverage ratio has hung around 0.95x for the first two quarters, precluding the decision for senior leadership to bump the cash payout. No more.
I predicted ETP unitholders would see a small increase in the cash distribution this year; and while a penny is indeed small, I believe the point is this: it's the first step in a series of increases commensurate with the cash contributions from a host of acquired assets and major capital projects coming down the pike.
Bullish Energy Transfer investors may view these developments very positively.
Summary and Bottom Line
Energy Transfer unitholders have contended with a stagnant cash distribution payout and flattish unit prices for several years. The catalysts for change are in place.
Short term, a roughly 23-percent increase in 2013 unit values, coupled with the 7-percent annualized distribution yield has turned the MLP bridesmaid into bride. Energy Transfer Partners' YTD unit performance has bested titans Enterprise Products Partners (NYSE:EPD) and Kinder Morgan Energy Partners (NYSE:KMP).
ETP unit price versus peers EPD and KMP (year-to-date)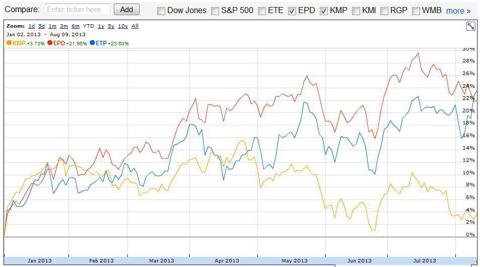 courtesy of google.com/finance
More important, a bevy of new projects and business development opportunities await. I suggest the biggest and best of the bunch include the Trunkline Crude Oil Conversion project, aka the Eastern Gulf Crude Access Pipeline; and the Lake Charles LNG export terminal project in Nederland, Texas. Right alongside these two is the Gulf Coast LPG import/export facility, expected to be online in 2015.
Energy Transfer management continues to fulfill its stated goals and objectives to simplify the business, rationalize assets, maintain the balance sheet, uphold an investment-grade credit rating, and...
Finally raise the cash distribution to unitholders.
Please perform your own careful due diligence before making any investment. Good luck on all your 2013 investments.
Disclosure: I am long ETP. I wrote this article myself, and it expresses my own opinions. I am not receiving compensation for it (other than from Seeking Alpha). I have no business relationship with any company whose stock is mentioned in this article.