Enhanced indexing methodologies have allowed investors to diversify away from market-cap weighted exchange traded funds in many asset categories, even master limited partnerships.
For instance, the Credit Suisse Equal Weight MLP Index ETN (NYSEARCA:MLPN), formerly known as the Credit Suisse MLP Index ETN, is the only equally-weighted fund that tracks oil and natural gas midstream MLPs, according to Credit Suisse.
Specifically, MLPN tries to reflect the performance of the Cushing 30 MLP Index, which equally weights its 30 components on a quarterly basis. Additionally, component stocks are selected based on a formulaic methodology developed by Swank Energy Income Advisors based on companies' balance sheets, cash flows and cash distributions.
MLPN has a 0.85% expense ratio and a 4.62% 12-month yield.
"The MLPN ETN is designed to provide investors with diversified exposure to the midstream MLP segment via an equal-weight approach," said Greg King, head of exchange traded products for Credit Suisse. "Many investors appreciate the emphasis away from larger cap stocks and toward smaller cap stocks, as well as the rebalancing away from outperforming stocks toward underperforming stocks, that equal-weight investing delivers."
Mid- and small-cap stocks have been outperforming large-caps in the current equity rally, which has helped bolster MLPN's returns. MLPN has gained 26.3% year-to-date, whereas the market-cap weighted JPMorgan Alerian MLP Index ETN (NYSEARCA:AMJ) is up 24.7% year-to-date.
Additionally, as an exchange traded note, MLPN does not have to deal with the double taxation bite C-Corporation MLP-related ETFs have to go through. ETNs are debt instruments issued by an underwriting bank.
Credit Suisse Equal Weight MLP Index ETN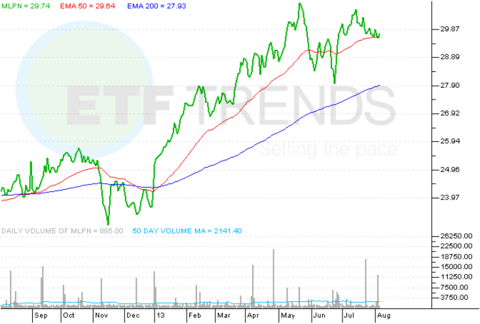 Max Chen contributed to this article.
Disclosure: I have no positions in any stocks mentioned, and no plans to initiate any positions within the next 72 hours. I wrote this article myself, and it expresses my own opinions. I am not receiving compensation for it. I have no business relationship with any company whose stock is mentioned in this article.