Business Summary
China Natural Gas (OTC:CHNG) is a company incorporated in the state of Delaware that, through its subsidiaries, is engaged in the distribution and sale of natural gas and gasoline to commercial, residential and industrial customers in the Xi'an area and the Shaanxi province of the People's Republic of China. It is one of the leading providers of pipeline natural gas for industrial, commercial and residential use and compressed natural gas for vehicular fuel in Xi'an, a fast growing Chinese city supported by a population of approximately 8.5 million , and the first China-based natural gas company publicly traded in the US. The company has three profitable business segments: retail sale of natural gas at company-owned natural gas fueling stations; end user delivery of natural gas services to residential, commercial and industrial customers; and conversion of gasoline-fueled vehicles to hybrid (natural gas/gasoline) powered vehicles. The city of Xi'an has approximately 20,000 Taxis, 5,000 buses and 3,000 special purpose vehicles that are powered by compressed natural gas.
The company also owns and operates a high pressure pipeline network of approximately 120 kilometers in the Xi'an area and is building a local government supported liquefied natural gas processing and distribution plant in Jingbian, Shaanxi province, which is scheduled to be completed in December 2009.
A Buffett-style analysis
1) Industry Prospects
The outlook on the natural gas business in China is very positive; the sector is attracting hundreds of million of dollars of investments; consider for example that in mid-August, PetroChina (NYSE:PTR) announced it had cut a $41 billion liquefied natural gas purchase deal with ExxonMobil (NYSE:XOM). The deal says PetroChina will purchase $41.29 billion worth of LNG from Exxon's stake in the massive Chevron (NYSE:CVX)-operated Gorgon LNG Project in Australia.
The LNG business is still in its infancy and growth prospects are huge, especially with China's commitment toward reducing emissions: natural gas is a much cleaner fuel than oil or coal.
In China, natural gas currently is a minor fuel in the overall energy mix, representing only 5 percent of total primary energy consumption but it is growing at a rate of almost 6 percent per year. (source: International Energy Outlook 2009 – U.S. Department of Energy)
China Natural Gas is well positioned to profit from this trend, thanks to its upcoming LNG terminal in Jingbian, which will operate as a virtual monopoly in the area. Also the company will benefit from a recent joint venture with a Petrochina subsidiary aimed at building new CNG stations along existing pipelines.
2) Management
The company looks well managed; the CEO, Mr. Qinan Ji, has more than twenty years' experience in the energy and petroleum industries in operational, administrative, management and government relation roles. All projects have been delivered as scheduled and planned and the management is using free cash flow to fuel growth. The markets also seem to have faith in the management: the company has recently placed $50 million worth of shares with institutional investors, but the stock dilution has been welcomed with a 24% rise in the stock price, because all the money will be used to accelerate existing projects and sustain new ones, like the construction of new CNG stations and the completion of the LNG terminal.
3) Financials
China Natural Gas has been successfully growing its revenue in the past years: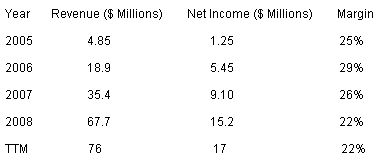 Return on equity is an excellent 25% and the company is trading at just twice book value and at a P/E of around 10.
Highlights from the recent earnings release:
As of June 30, 2009, the Company had $9,701,176 of cash and cash equivalents on hand compared to $29,180,315 of cash and cash equivalents as of June 30, 2008. Net cash provided by operating activities was $14.4 million for the six months ended June 30, 2009 compared to net cash provided by operations of $8.1 million for the six months ended June 30, 2008. The Company paid $10.4 million to the LNG processing plant as a prepayment on equipment as well as an additional investment to construction in progress. Accounts receivable was a modest $1.0 million, and Days Sales Outstanding remained solidly below 10 days.
The Company reaffirms its projection for the full year 2009 of revenue growing 15% to 20% to a range of $78 million to $83 million, from $68 million in 2008. The Company also reaffirms its net income guidance of a range of $17.5 million to $18.5 million, a 15% to 22% growth from $15.2 million in 2008.
Current Long Term Debt to Equity ratio is a safe 54%
All these numbers point to a well manged company with a healthy balance sheet and excellent growth prospects.
4) Valuation
After the shelf offer, the outstanding number of shares will rise to about 21 millions. Assuming FY 2009 net income of $18 million, EPS will stand at $0.86 per share.
A simple discounted cash flow valuation with a very conservative earnings growth of just 15% per year for the next five years and an 11% discount rate, returns a fair value of $19 - $20 per share.
With the stock trading in the $11 - $12 range, we are presented with a 40% margin of safety.
Yet, this is a very conservative valuation and taking into account the industry prospects and China's commitment to reduce emissions, the virtual monopoly with the upcoming government supported LNG plant, the joint venture with Petrochina to build new gas stations and a management that has been able to grow revenue at a double digits rate in the past years, I consider China Natural Gas a hidden gem, and am confident in giving the company a fair value of at least $25 per share.
Bottom line:
I see a big discrepancy between what I consider the company's intrinsic value and its market price due to the fact that, with a market cap of just 170 million dollars, the company is flying well below Wall Street's radar; also worthy of notice, Nasdaq listing has just been approved (June 2009 – it was trading on the OTC board before), so the company is quite unknown to institutional investors – but this is just temporary, and the recent surge in trading volume might suggest that this hidden gem won't stay hidden for long, so individual investors should take advantage of this situation and buy shares before institutions realize how undervalued this company is and start accumulating shares, commanding a higher market price.
Moreover, once the LNG plant will be fully operational, revenue and earnings will take a huge leap forward, because profit margins on LNG are higher than with compressed natural gas, and the company has already inked deals with municipalities and power plants to which it will sell LNG.