Credit Suisse recently downgraded International Business Machines (NYSE:IBM), setting a target price of $175, $13 less than a recent share price in the $188 area. Analyst consensus is $220.70, per FinViz. While affirming that the company will earn at least $20 per share in 2015, Credit Suisse raises concerns about its own specialized definition of Free Cash Flow Conversion.
The argument is flimsy, if not disingenuous and misleading. The downgrade moved the needle on IBM, down 2.5% for August 6, the date it was released. This has created a buying opportunity. Those who recall the trajectory of other tech titans that have come under concerted attack, such as Hewlett-Packard (NYSE:HPQ) and Cisco (NASDAQ:CSCO), can govern themselves accordingly. First they go down, then they go back up.
Examining the Argument
Briefly, Credit Suisse deducts receivable financing when determining free cash flow. The thinking is that the funds are no longer available to shareholders.
Many tech companies, including HPQ and Xerox (NYSE:XRX), provide financing to customers as a source of profit, and as a way to promote sales. The activity is profitable, since these companies enjoy excellent access to credit markets and they can borrow at a lower cost than they lend. If they are conscientious and conservative, they can match the durations: otherwise, they can borrow short and lend long.
The best way to think about is, to use a multiple of seven, and assume that 6/7 of the money loaned to customers is borrowed. So, the necessary reduction of cash flow from receivables financing is 1/7 of the amount financed.
Here's a snippet from IBM's 2012 Annual Report: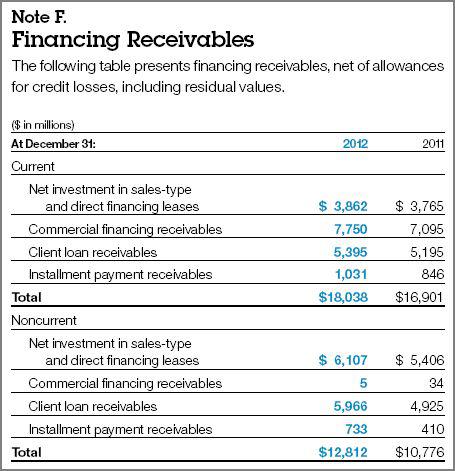 Combining the year over year increase in Current and Noncurrent, they add up to $3,173 million, or $2.84 per share. Applying the 1/7 ratio, it amounts to 40 cents per share, vs. FCF (conventionally defined) of $13.88 per share. I think it's a good investment of my money.
Further, Credit Suisse deducts acquisitions when calculating FCF. Let's think that one through. Money spent on acquisitions buys assets -- some physical, some intangibles such as goodwill. The assets, in turn, provide income. Here's how it looks in the Annual Report: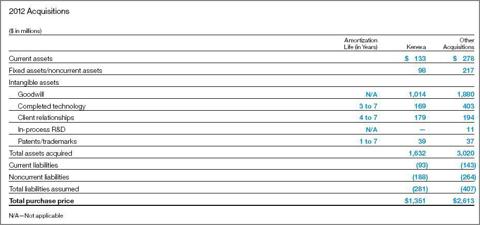 Acquisitions total $3,964 million, or $3.55 per share. Credit Suisse would like investors to believe the money was peed away, since it can't be paid out as dividends or used to buy back shares. However, IBM's ROIC was 31.39% in 2012. So, it has invested my money at 31% rather than paying it to me as a dividend. I can live with that.
Cash Deployment
It's critical to investing success to examine management's cash deployment. To assert that dividends and buybacks are the only desirable use of cash is short-sighted, to say the least. Acquisitions make sense, as do R&D, capex and money lending.
Looking at IBM's balance sheet, long-term debt is less than financing receivables. Remember the 7:1 ratio mentioned above. The company's coverage of fixed charges is over 14:1. If it needs additional cash to deploy for any purpose, it can be borrowed on favorable terms. If share prices decline significantly below fair value, Financial Engineering 101 would be applicable: borrow money and buy back shares.
Other Concerns
Credit Suisse also cites the legacy mainframe and Unix business, competition from the cloud, the diminishing pool of economically viable acquisitions, and the fact that most intelligent divestitures have been done.
In software, it cites the fragmented nature of IBM's offerings, since the top three categories make up less than 50% of revenue. That argument cuts both ways: if one category goes bad, the others may continue to develop favorably.
None of this is new information. IBM has colossal scale and resources. It should be noted that management has been adroit in repositioning ahead of industry trends. For example, IBM exited the PC business in 2004, two years after HPQ acquired Compaq. Equally important, it has been doing acquisitions with a clear view of strategic positioning.
Fool Me Once, Shame on You
Years ago, I read a Credit Suisse report on Advanced Micro Devices (AMD) in which the analyst suggested that the company should trade at a multiple equivalent to its larger competitor Intel (NASDAQ:INTC). There was something in the tone of the report, even in writing, that sort of puzzled me. I bought some, watched it awhile, and sold before I lost a lot of money. I don't disregard their opinions. I have access to their reports through my broker; I read them, and I make my own decisions.
Valuation
Using 4 years actual, plus an estimate for 2013, I project IBM's five year average EPS at $13.12. Applying an historical average multiple of 17.3, I arrive at a price target of $225 by the end of next year. IBM has traded above the 17.3 multiple cited during 9 out of the past 10 years, the exception being 2009.
Hewlett-Packard Scenario
Jim Chanos was out there on network TV offering learned expositions about how HPQ was finagling R&D via acquisitions. With the stock at $17, I expressed the following opinion, here on Seeking Alpha:
The $3.5 billion of restructuring costs, to be incurred over a two year period, reduce earnings by an additional 89 cents per year. The cost reductions arising from restructuring are assumed to be reinvested in the business, generating a 17% return. That adds 29 cents to earnings, starting in 2015, when earnings are estimated at $3.21.

Plugging the above assumptions into a DCF calculator, and discounting at 15%, Hewlett-Packard is worth $24 per share today.

Jeffries has a $14 per share target on HP, and sees 2013 earnings at a Street low $3.58. That results in a P/E of 3.91.
The stock went down as low as $11.35 before recovering to trade above $27.
Cisco Scenario
CEO John Chambers was under heavy attack, and the shares plummeted. The cloud, together with competition in routers and switches, doomed the company to the scrap bin, or so the story went. With the stock at $19, I expressed the following opinion here on Seeking Alpha:
Using 4 years GAAP earnings, plus an estimate of $1.60 for 2013, projected 5 year average EPS works out to $1.32. Applying a historical midpoint multiple of 18.35 on this metric, a target price of $25 emerges, by the end of next year.
Shares have since traded as high as $26.48.
Investment Implications
IBM is unlikely to do anything stupid on the acquisition front, along the lines of Apotheker's clueless prescription of the Autonomy acquisition as the cure for HPQ's woes. I'm investing on the basis IBM is worth $225 per share. Credit Suisse sees 2015 earnings at $20: their $175 target amounts to a P/E of 8.75. A nice entry point, if you can get it.
Given the trajectories traced by CSCO and HPQ, a policy of patient accumulation seems in order, sort of feeling for the bottom.
Disclosure: I am long IBM. I wrote this article myself, and it expresses my own opinions. I am not receiving compensation for it (other than from Seeking Alpha). I have no business relationship with any company whose stock is mentioned in this article.