The stock market continues to chug along. It showed extraordinary resilience in bouncing back strongly from the sharp sell-off in May and June. And it continues to advance to set fresh new all-time highs on any given trading day. But troubling signs continue to build under the market foundation. The longer these trends persist, the greater the probability that the stock market will finally break to the downside.
The U.S. stock market closed at a new high just one week ago on Friday, August 2. And although it has drifted slightly lower in the week since, it is only a spoken phrase from a Fed speaker away from setting a new high. But how well is are markets really doing today?
To answer this question, it is worthwhile to reflect back on how markets have performed since the previous peak on May 22. This, of course, was the day that Ben Bernanke first introduced the idea that the Fed may begin scaling back asset purchases as part of their QE3 stimulus program in the coming months. Investment markets across the board including the U.S. stock market immediately tumbled. After bottoming on June 24, U.S. stocks roared back to life to reach new highs. But how has the rest of the investment market universe faired, many of which are categories that are highly correlated to the U.S. stock market? The answer: not well at all.
The U.S. stock market has been the clear leader across the equity landscape. For example, the large cap S&P 500 Index (NYSEARCA:SPY) has gained over +2% since its previous May 22 peak. U.S. small caps (NYSEARCA:IWM) have fared even better in tacking on nearly +7% over its previous highs. But results outside of the U.S. have been far more subdued. Developed international stocks (NYSEARCA:EFA) are only now just breaking above their May 22 levels while emerging market stocks (NYSEARCA:EEM) including China (NYSEARCA:FXI) remain down -7% and -6%, respectively, over this same time period.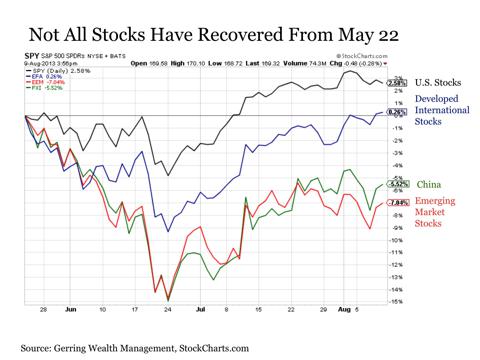 The more notable story in this regard comes from outside the traditional stock market. A variety of asset classes, many of which have traditionally been highly correlated to the U.S. stock market, remain solidly below their May 22 levels. Moreover, after initially rallying in early July, many have been fading back lower over the last three weeks. Leading among these are REITs (NYSEARCA:VNQ), which are now down nearly -9% since May 22. After having nearly reclaimed breakeven on July 22, high yield bonds (NYSEARCA:HYG) have also rolled back over and are now down over -2% over this same time period. Sticking with fixed income, preferred stocks (NYSEARCA:PFF) have fared even worse with aggregate prices that are not only -5% lower than May 22 levels but have experienced virtually no bounce from the late June lows. Emerging market debt (NYSEARCA:EMB) also continues to struggle, now trading nearly -7% lower over this same time period.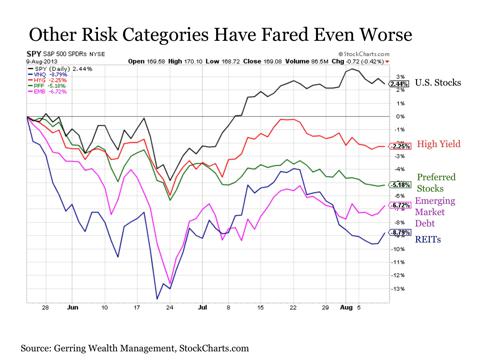 Performance across the commodities market has been just as stunted. Gold (NYSEARCA:GLD) suddenly roared back to life in July with a decisive break above its 20-day moving average, only to stall at stiff resistance in the form of its 50-day moving average. At present, it remains locked in its long-term downtrend despite a sharp rally over the last few days and is still down nearly -4% since May 22. Silver (NYSEARCA:SLV) has fared even worse over this time period, having fallen by over -8%. Although copper (NYSEARCA:JJC) has come back to life over the last two weeks, it remains more than -2% below its already depressed levels from late May. Staying within the industrial commodities complex, nickel (NYSEARCA:JJN) has fared even worse, having traded down -6% over this time period, while aluminum (NYSEARCA:JJU) is also still down over -2%. As for agriculture (NYSEARCA:JJA) prices, they actually held up reasonably well at first but are now down over -9% for the summer.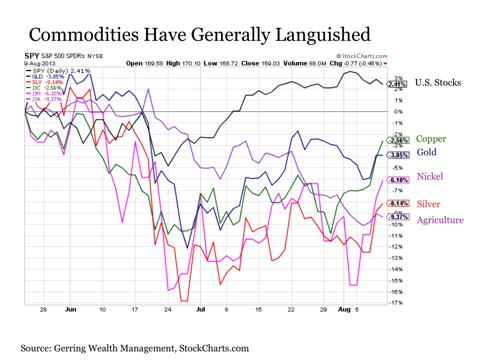 The investment grade bond market has also shown little signs of life since May 22. Many of these categories had already been in decline since the beginning of May, but have fared far worse than stocks in the months since. The worst performing market has been long-term U.S. Treasuries (NYSEARCA:TLT), which never experienced any sustained bounce along the way in continuing to drift lower. Overall, this category is now down nearly -7% over this time period. Municipal bonds (NYSEARCA:MUB) have also struggled over this time period. Following an immediate bounce in late June, they have been fading ever since and are now down nearly -6%. And even those high quality bond markets that have bounced somewhat since late June such as investment grade bonds (NYSEARCA:LQD) and U.S. TIPS (NYSEARCA:TIP) are down over -3.5% from the May 22 inflection point.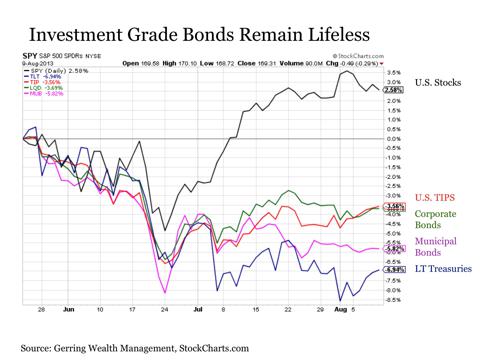 So for all of the talk in the media about the markets recovering to reach new highs, this has not necessarily been the case. Yes, it is true about the U.S. stock market to which everyone seems to pay attention, but that's about it, as virtually every other major asset class remains solidly down over this same time period. What is perhaps even more important to note is that many of these categories were already underperforming stocks by a healthy margin leading up to this May 22 inflection point, suggesting that U.S. stocks have widened further what was already an unusual performance gap.
So why exactly should stock investors care if all of these other categories have not fully recovered to their May 22 levels with many having rolled back over since late July? Who cares as long as stocks are rising, right? Not necessarily. The fact that virtually everything else continues to struggle suggests that stocks are not rising on firm footing. Instead, it may be signaling that a major correction may be imminent in stocks as they are forced to catch up to the downside with the reality that all of the other major asset classes are reflecting. Of course, it could be argued that stocks are right and every other major category is wrong. But when it comes to investment markets, it is generally not prudent to side with the outlier signal while ignoring the majority.
A closer examination of REITs highlights the importance of monitoring other major asset classes in this regard. It was not long ago that U.S. stocks and REITs were moving in total lockstep with one another. And by May 22, both categories were up nearly +20% for 2013 and outperforming the rest of investment markets by a wide margin. But then lightning struck in the form of Ben Bernanke talking, and suddenly both stocks and REITs were sent reeling. Over the course of the next month, REITs nearly lost all of their year-to-date gains before finally finding their footing and bouncing higher. Over the same period, stocks declined, but not by nearly as much. And since that time they have traveled decidedly different paths. While both surged from their late June lows, REITs have rolled over sharply since July 22 while stocks continued to climb.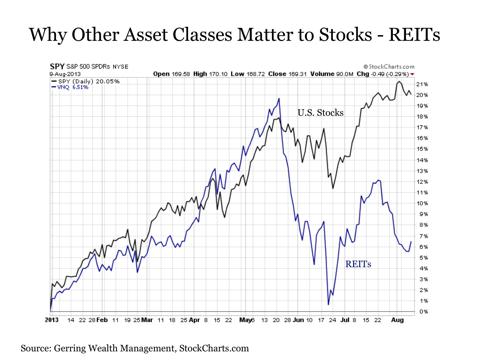 Eventually, this relationship between stocks and REITs will likely reconverge, but who will be right in the end? Perhaps it will be stocks, implying significant upside for REITs. Then again, it may very well be REITs, implying considerable downside for stocks. Unfortunately, odds favor REITs being right in the end, for they were among the last remaining asset classes that are highly correlated with U.S. stocks that were matching their move higher. With REITs along with Japanese stocks having fallen off the path to the downside, U.S. stocks are now essentially all alone in their move higher. This should be disconcerting to the stock investor.
So what is an investor to do in such an environment with so many major asset classes trending lower. Cash remains a reasonable allocation at the moment, as it is remains worthwhile to wait while many of these major investment categories finish flushing out to the downside. As for stocks, maintaining a carefully managed allocation does make sense as long as the technical uptrend remains in tact. Thus, relatively small positions to segments such as U.S. small caps (NYSEARCA:IJR), U.S. large caps (NYSEARCA:VOO), industrials (NYSEARCA:XLI) and financials (NYSEARCA:XLF) have appeal at the moment, but any such allocations should be held with a very short-term time horizon in mind and kept on extremely close watch for action, for any technical breakdown would signal that it is time to immediately move to the sidelines.
It will be interesting to see how markets fare as we head toward the fall, which has historically provided some of the most eventful times for investment markets. Hopefully the U.S. stock market will prove correct and all of these other major asset classes will simply need to catch up to the upside. Unfortunately, the majority of categories across investment markets suggests that this may not be the case in the end.
This post is for information purposes only. There are risks involved with investing including loss of principal. Gerring Wealth Management (GWM) makes no explicit or implicit guarantee with respect to performance or the outcome of any investment or projections made by GWM. There is no guarantee that the goals of the strategies discussed by GWM will be met.
Disclosure: I am long IJR, VOO, XLF, XLI. I wrote this article myself, and it expresses my own opinions. I am not receiving compensation for it (other than from Seeking Alpha). I have no business relationship with any company whose stock is mentioned in this article.