September is the weakest month of the year for the market, but the S&P 500 continues to ignore that well-worn seasonal pattern, steadily marching to new highs.
I've remained bullish in recent months and continue to look for the S&P 500 to trade to 1,200 by year's end. But I've also been among those looking for at least a short, shallow pullback this month after a nearly unprecedented rally off the March lows.
Such a 5 to 10 percent pullback remains possible in coming weeks, though it's increasingly unlikely. If we do see a correction, look at it as a gift, a last-chance buying opportunity before a year-end run-up.
Institutional investors and fund managers caught underinvested for much of the summer rally continue to jump on every short-term dip in the averages, chasing performance and fearing they're going to miss out on the move.
Meanwhile, I continue to be amazed at just how bearish the retail mood is right now. Few individual investors I speak to have any conviction in the rally over the past six months or in the potential for even a cyclical recovery in the US economy. It's tough to imagine a major top in the market with the mood still so downbeat.
Undoubtedly, the US, alongside many other developed economies, faces a number of important headwinds in coming years. I've written extensively about these challenges in recent issues of PFW; the list includes massive government borrowing that will ultimately mean higher interest rates and a still-sluggish US consumer focused on paying down debt.
These factors will ultimately mean the coming economic recovery will be shorter and less impressive than those of recent memory.
Nonetheless, it's increasingly unrealistic to deny that we're seeing an improvement in the US economy and a reacceleration of growth in the developing world. In addition, there's a growing stock of irrefutable evidence that the corporate credit market is once again functioning and is, in fact, offering relatively easy access to credit compared to most periods in history save the height of the credit bubble in late 2006 and early 2007.
The stock market is a discounting mechanism and a leading indicator. The market began to anticipate these improvements in economic and credit conditions in March, months before we began to see tangible evidence of that improvement in economic data and corporate earnings.
In the weeks before the Lehman Brothers collapse a little over a year ago, the S&P 500 was trading in the 1,200-to-1,300 region; I'm looking for the broader market to return to at least the low end of that range by year's end.
I suspect the US recession drew to a close in July. Once a month in PFW I analyze the Conference Board's Leading Economic Index (LEI) and its constituent indicators for a read on how the economy is faring.
LEI has a good track record of calling recessions, and it's been acting as it normally would ahead of a return to growth. However, I often hear from investors who distrust even time-honored indicators such as LEI; the indicator is in fact based on data released by the government that is subject to large revisions.
Certainly LEI and other government data isn't the only sign of a turn. Another interesting indicator to follow when evaluating economic conditions is the weekly railcar loadings data released by the Association of American Railroads (AAR). The AAR is an industry body for the freight rail companies and collects its loadings data directly from the big railroads such as Union Pacific (NYSE: UNP), Norfolk Southern (NYSE: NSC), CSX (NYSE: CSX) and Burlington Northern Santa Fe (NYSE: BNI).
Basically, this data tells us the quantity of goods and commodities being shipped over America's freight railroads. Investors with a more technical bent will recognize that railcar loadings data is the approximate fundamental equivalent of the venerable Dow Theory invented by Charles Dow.
Dow would look for the Dow Jones Industrial Average and the Dow Jones Railroad Average (the Dow Jones Transportation Average) to both break higher to confirm a new bull market.
Similarly, if the economy is truly expanding we should see that growth confirmed in the form of rising railcar loadings. The chart below shows average weekly loadings for both 2007 and 2008.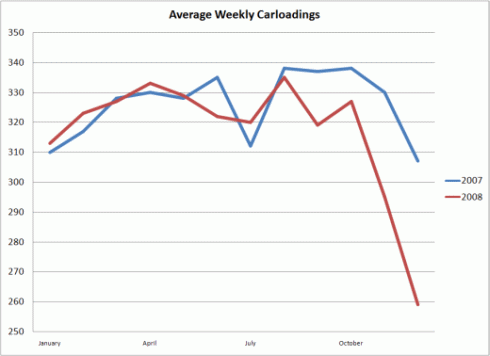 Source: Association of American Railroads
There is somewhat of a seasonal pattern in railcar loadings data; they tend to drop off somewhat at the end of the year and into midsummer. Much of this is due to freight movement patterns around holidays and seasonal moves in certain commodities such as agricultural commodities and coal.
But there's nothing normal about the massive fall-off in freight-car loadings that occurred at the end of 2008. The pattern through August looks normal, and similar to 2007, but loadings data weakens in September and October, a period when you would normally expect to see a bounce. And after October, freight traffic simply goes into freefall because of the combination of a rapidly weakening economy and ultra-tight credit conditions.
Let's take a look at freight loadings for 2009.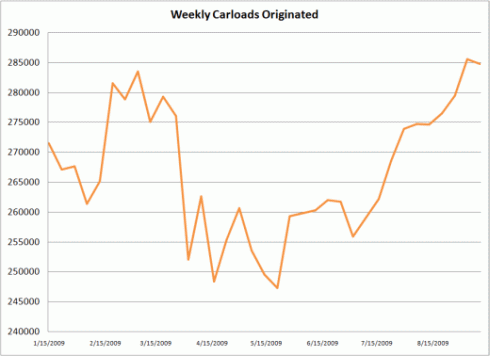 Weekly railcar loadings data is more volatile and contains more outliers than the average weekly data in the preceding chart. To smooth out this volatility, I eliminated a few outliers from the series, including the data covering January 1, the data covering July 4 and data for the Labor Day and Memorial Day holidays. These weeks always show a big drop in loadings that distorts the overall picture.
There are a few points to note about this chart. First, total railcar loadings are down notably from 2007 and early 2008 (pre-Lehman) levels. In the last week of August, for example, total loadings were down a little over 16 percent compared to last year; for the entire month loadings were off 16.4 percent. Every single one of the commodity groups AAR reports were down year-over-year.
But the pattern in weekly data is much more encouraging than those figures suggest. Note that weekly loadings data collapsed this year into April and May, a period when loadings should actually be strengthening based on historical seasonal norms This break with history indicates that there was no sign of an increase in economic activity at that time.
But since late June and early July, the pattern has been one of steady improvement. The most recent data shows loadings hitting the highest levels since December 2008. And the data continues to improve steadily; railcar loadings in the final two weeks of August were stronger than the first two weeks of the month, and excluding data for Labor Day that strength has carried through into September.
If the AAR data continues to strengthen at the pace it's established in recent weeks, it's not unreasonable to expect we'll begin to see loadings at more normal levels above 300,000 by early October. This type of recovery is consistent with a meaningful improvement in the US economy this summer.
Don't assume that this improvement is all one-off impacts because of specific freight cargoes such as an increase in loadings due to "cash for clunkers." Auto loadings did see a nice improvement, but the strength was more broad-based than and included hard-hit commodity groups like chemicals and lumber.
Investors who remain jittery ahead of a potential correction should consider taking some profits off the table in big winners. As I noted last week, it's important to maintain your sell discipline in strong markets.