Google (NASDAQ:GOOG) is one of those companies where investor opinion is extremely polarized. The experimental nature of many of Google's products, combined with the company's marketing reach and massive war chest, often lead to passionate arguments about the disruptive potential of those products rather than an objective analysis of the data.
In this article, I will attempt to take a more dispassionate look at the growth of Google's top line growth to gain a broader perspective of the company's prospects for growth in the near to mid term.
Google is its Websites. Below are Google's revenues by operating segment, broken down by quarter. For all the buzz about the new Nexus 7 or Google Play, Google's signature websites still account for 62.87% of all revenue.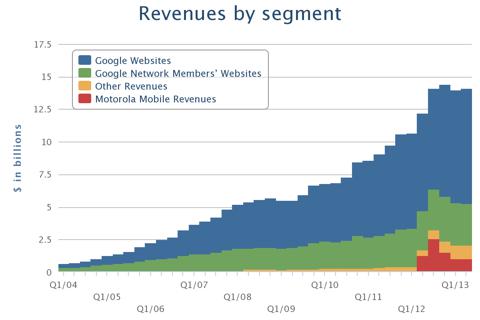 Google's capital expenditures are rising in-line with revenues. One balance sheet item that's often overlooked by analysts of cutting edge technology companies (until they get in trouble) is CAPEX, despite the fact that IT spending rose to $3.6 trillion last year, and Silicon Valley replaces its IT infrastructure faster than any other industry.
Google's sunk costs on property, plant and equipment have risen steadily since the company first went public in 2005, though this growth has remained roughly in-line with revenues. (Note: The chart below does not account for accumulated amortization and depreciation deductions.)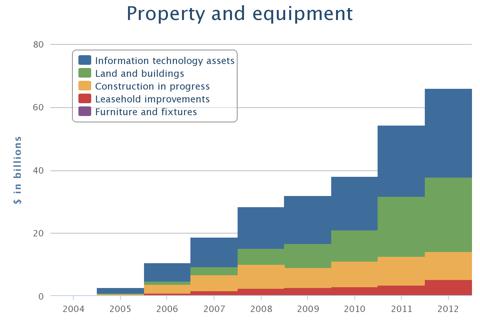 Mixed messages. Earnings per share are in a solid uptrend, while both gross and net margins have declined. These diverging trends can be viewed from either a glass half full or glass half empty perspective.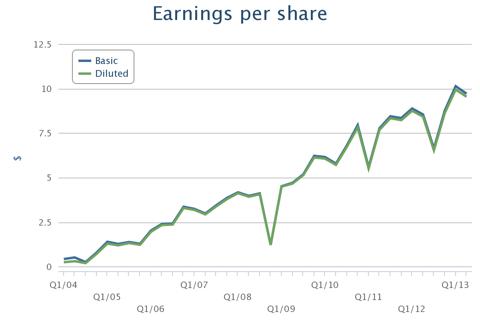 Half-full: Google management is shareholder-friendly.
Half-empty: Barring either a new, high-margin hit product or a large-scale buyback program this year, declining net margins will begin impact EPS growth as early as 2014.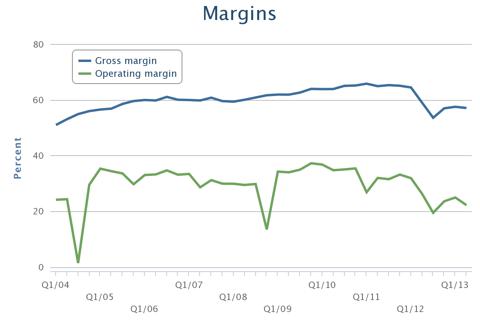 Google has a Treasure Trove, too. Apple's (NASDAQ:AAPL) overseas war chest was the subject of intense investor scrutiny back in February, after Greenlight's David Einhorn issued a public appeal to Apple investors arguing that the company's piggy bank should be made available to shareholders. Less well-known is the fact that Google's cash hoard recently topped $54 billion, most of it kept overseas.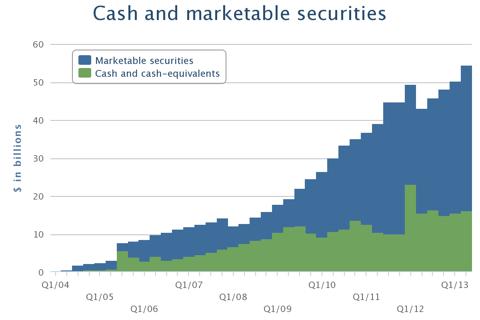 Google also spends much more than Apple does by market cap on R&D -- in both nominal terms...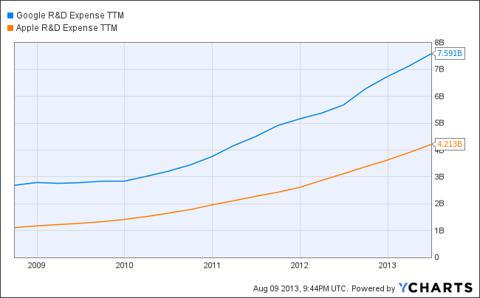 ...and % growth (TTM).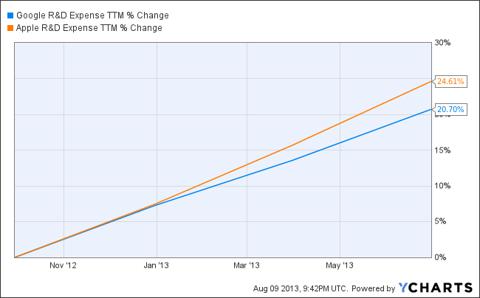 Conclusion
Google is usually presented as either a paradigm-shift oriented company like Apple, or as a hold-the-fort Silicon Valley blue chip, a la Microsoft.
But in fact, Mountain View has its own unique approach: A fixation on organic, R&D driven growth that marches roughly in line with revenues. Last year, R&D and revenue began to diverge: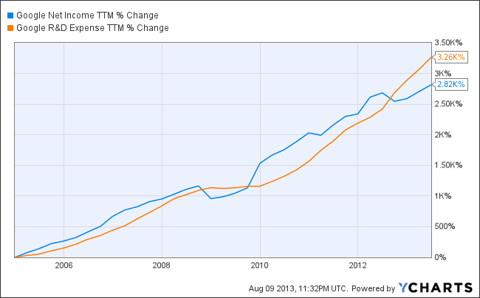 This divergence is largely due to the company's difficulties in adjusting its advertising model to mobile, but it's also due to increased R&D spend. Given the historically close alignment between R&D spend and top line revenue growth, this divergence is likely to be reconciled in the near future due to new product releases. Investors should expect a major, and potentially unannounced, product push in the fall of this year.
Disclosure: I have no positions in any stocks mentioned, and no plans to initiate any positions within the next 72 hours. I wrote this article myself, and it expresses my own opinions. I am not receiving compensation for it (other than from Seeking Alpha). I have no business relationship with any company whose stock is mentioned in this article.