Herman Miller Inc. (NASDAQ:MLHR) recently reported fiscal first-quarter results. The company's GAAP net income plunged nearly 75% year over year to $8.4 million, or 14 cents per share, as the economic slump led to lackluster sales performance. Excluding charges related to restructuring and debt-buyback, earnings per share came in at 22 cents, 3 cents ahead of the Zacks Consensus Estimate.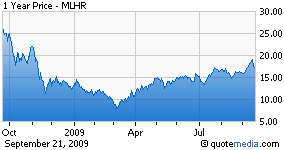 Herman Miller is engaged in the research, design, manufacture and distribution of office furniture systems, products and related services. Most of these systems and products are designed to be used together. The company's primary products include furniture systems, seating, storage and material handling solutions, freestanding furniture and case goods. The company has manufacturing facilities in the U.S., China, Italy and the U.K., supported by a dealer network spanning across 40 countries.

The Zeeland, MI-based company said that net sales declined 32.4% year over year to $324.0 million as its North American segment slumped 31.9% to $269.7 million, while non-North American division slipped 40.4% to $41.8 million. Herman Miller's net sales included about $15.3 million from healthcare furnisher Nemschoff Inc., which the company acquired in June this year. The company also said that orders during the quarter dipped by nearly 40% year over year to $322.1 million, while backlog reduced by 28.6% to $237.3 million.

Gross margin declined by 70 basis points (bps) to 33.2%, primarily due to sluggish volumes partially offset by lower commodity prices and cost savings from restructuring efforts. Total operating expenses, as a percentage of sales, increased 590 bps year over year to 28%, primarily due to the consolidation of Nemschoff's results coupled with a charge related to its debt repurchase program. Accordingly, operating income plunged 75.1% year over year to $14.1 million, while operating margin dipped by 750 bps to 4.4%.

Herman Miller ended the quarter with cash and equivalents of $100.3 million, significantly down from $192.9 million in the year-ago quarter, primarily due to outflows related to debt repayment ($79.5 million) and the Nemschoff acquisition ($37 million). The company also deployed $5.8 million towards capital expenditure and $1.2 million towards dividend payment.

In July of this year, rival Steelcase Inc. (NYSE:SCS) reported a surprise fiscal first-quarter adjusted profit of 2 cents per share, beating the Zacks Consensus Estimate for a 14-cents loss. The company negotiated a tough quarter as sales declined 33% year over year to $545.6 million. Another rival, Knoll Inc. (NYSE:KNL) posted second-quarter earnings of 21 cents per share in the same month, which edged past the Zacks Consensus Estimate by a penny. The company recorded a nearly 31% year-over-year contraction in sales to $202.2 million.

Meanwhile, Herman Miller stated that market demand appeared to have stabilized and the rate of decline in order levels has slowed over the last 2 quarters. Management also said that fiscal second-quarter gross margin is likely to be at or slightly below first-quarter levels due to increased pricing pressures. The Zacks Consensus Estimate on the company's earnings for the fiscal year ending May 2010 is currently pegged at 85 cents per share, which has moved up a penny over the past month as 2 of 4 covering analysts raised expectations.