Intermodal container lessor TAL International (NYSE:TAL) posted strong second quarter results, thanks to high utilization rates and favorable container scrapping revenues. Revenue jumped 15% year-over-year to $172 million, easily exceeding consensus estimates. Earnings per share increased 7% year-over-year to $1.07 per share, roughly in-line with consensus expectations.
TAL International greatly benefited from strong utilization rates in the second quarter, which averaged 97.5%. Though this figure was down slightly compared to the first quarter figure of 97.7%, TAL's long-term leasing strategy has minimized downside risk in the currently difficult intermodal environment. CEO Brian Sondey detailed the strategy on the second quarter conference call, saying:
"…we've always had a leasing strategy of really seeking long duration in our leases and seeking tight logistical control, which primarily means getting a large majority of the containers dropped off back in to Asia and we have been willing to pay for those things through lower lease rates. You know, that in very strong markets like we've seen over the last few years can limit our peak performance, but it does really provide great support when market conditions are more normal or difficult."
In other words, TAL's containers aren't sitting idle, but are consistently being put back into service. We certainly prefer this revenue smoothing strategy, even if the firm's upside is limited in strong markets. The firm also continues to structure its debt duration to match its lease duration, allowing TAL to earn a consistent spread (reducing the impact that interest rate movements may have on the bottom line).
With operating and financing risk mostly mitigated (and accelerated depreciation pushing cash taxes out well into the future), the firm increased its quarterly dividend 3% to $0.68 per share. Still, we're not enthused by the quality of its dividend. Capital spending continues to overwhelm operating cash flow, and the firm is currently sitting on roughly $2.7 billion in net debt. By extension, TAL doesn't rank very highly on our Dividend Cushion, which emphasizes these financial parameters. We think the current elevated dividend is only possible thanks largely to the lack of cash taxes paid and financing activities.
Going forward, TAL's guidance wasn't great. Pre-tax operating income is expected to be flat sequentially during the third quarter, and management believes the price of used containers may fall. Lease rates have been under pressure as lessors cut prices of idling inventory, but Sondey seems to think lease rates could recover, saying:
"We'll have to see what happens, lease rates for new transactions again, they are always very tightly connected, the new container prices and interest rates. If those things move back up that would have a supporting effect of lease rates heading into the second half of the year. I'm also hopeful that perhaps as leasing companies have taken some opportunities to perhaps trim their inventories or factory units over the last few months that perhaps will take some of the pressure off of the lease rates at the margin."
Our Take
TAL is one of the oldest and largest intermodal container leasing companies, controlling roughly 13% of the entire market (with over 2 trillion TEU of containers). We like its extensive global operating infrastructure and strong customer relationships (China Shipping, Maersk, Evergreen, to name a few), which ultimately contributes to the firm's elevated utilization rates.
However, shares look fairly valued at the time of this writing. TAL's strong operating cash flow performance is more than offset by the capital-intensive nature of its business, and its huge net debt position leaves much to be desired (with respect to financial health). And while TAL's lackluster guidance for the second half of 2013 isn't a huge worry (especially since any increase in economic activity would be a huge positive for lease rates), we aren't interested in adding shares to the portfolio of our Dividend Growth Newsletter at this time. We tend to prefer high-yielding firms with more robust free cash flow (operating cash flow less capital expenditures) and net cash (or minimal net debt) positions in our Dividend Growth portfolio.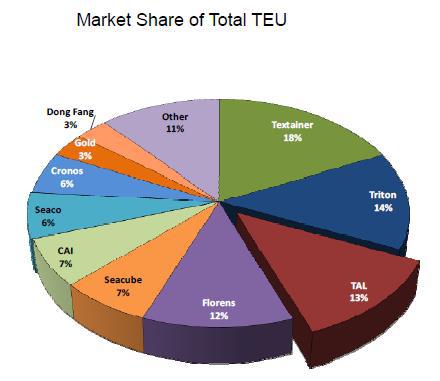 Image Source: TAL
Disclosure: I have no positions in any stocks mentioned, and no plans to initiate any positions within the next 72 hours. I wrote this article myself, and it expresses my own opinions. I am not receiving compensation for it (other than from Seeking Alpha). I have no business relationship with any company whose stock is mentioned in this article.