Genuine Parts (NYSE:GPC) is a few weeks away from finishing its third quarter and will be reporting those results shortly after. I believe the stock looks very attractive, particulary if you are looking out to fourth quarter, for the following reasons: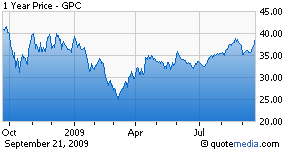 1. GPC will benefit from a recovery in the US industrial base.
Genuine Parts receives a third of its revenue from businesses tied directly to the highly cyclical industrial side of the economy. Industrial economic indicators such as ISM survey and Industrial Production reports have suggested a bottoming in this side of the economy could be in the works. Historically, I believe GPC's industrial sales have had a high correlation with these statistics (r-squared=0.89 since 1999).
2. Canadian Dollar rally. A fall in the Canadian Dollar was responsible for an approximate 2% drag on total revenue in fourth quarter of last year and first quarter of this year. However, the Canadian Dollar has been appreciating steadily since this spring. Assuming a stable rate going forward, the drag in third quarter from the Canadian Dollar would be about half the previous drag and in fourth quarter the exchange rate would actually provide a modest boost to revenues.
3. Auto parts showing steady improvement. After a decline of 6.3% and 6.6% in fourth quarter of last year and first quarter of this year, the automotive parts distribution division (NAPA) showed improvement each month of second quarter and management suggested that should continue into the second half of this year. These +6% declines were not only the largest quarterly sales declines in this division for over ten years (as far as my model goes back), they were only two of three that occurred during this entire time. These declines have set up some easy comparisons for the company, which combined with positive external factors (improving exchange rates, stabilizing industry sales) and internal factors (sharper price points on targeted items, new leadership) should result in a return to growing sales in fourth quarter.
4. Earnings should start growing (year-over-year) by fourth quarter. Stabilized revenue trends and lower expenses should get earnings growing again. Fourth quarter of last year had several expenses not likely to reoccur in fourth quarter this year, including charges for pension, bad debt and costs related to a 5% reduction in its workforce.
5. 2009 earnings forecasts look conservative. The analyst consensus forecast for 2009 EPS is $2.40, slightly above the midpoint of company guidance for $2.25-$2.50. While no one has a crystal ball in this environment, guidance came in July after management had seen the worst of the current downfall. I suspect the company was prudently conservative in its guidance, including revenues where management predicted moderately improving trends each quarter only for the relatively stable auto parts business.
6. Analysts look to be "sand bagging" numbers for fourth quarter. Analysts are forecasting a sequential decline in earnings to $0.56 in fourth quarter of this year from $0.65 in third quarter. However, a look at history shows earnings are not seasonally lower in fourth quarter, with last year and 2001 (another year that ended with a downturn) the only years in past decade to show more than a $0.02 sequential EPS decline from third to fourth quarter. This seems even less likely if you believe the economy is starting to come out of a recession, implying at least modestly improving results each quarter.
7. Reliable 4.5% dividend yield.
Solid, steady cash flow and a 53-year track record of raising dividends give confidence you will get paid while you wait for this recovery to accelerate.
Disclosure: Long GPC