Last week we covered the rapidly declining COMEX gold inventories and found that registered gold hit a new low even as eligible gold inventories rose for the first time in a number of weeks. This week COMEX data shows that registered inventories plunged and eligible gold rose modestly.
This is something that should be very relevant to investors who own physical gold and the gold ETFs (GLD, PHYS, GDX, and CEF) because any abnormal inventory declines may signify extraordinary events behind the scenes that would ultimately affect the gold price.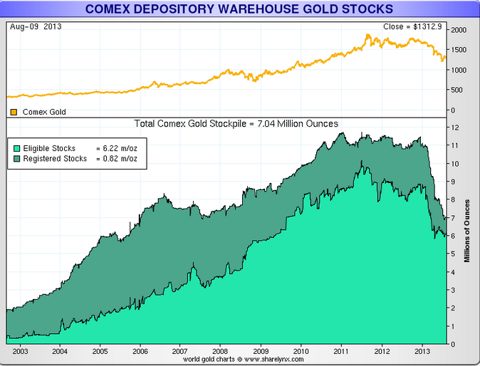 Click to enlarge
Source: http://www.sharelynx.com
As you can see on the chart above, both registered and eligible gold stocks have been declining significantly since the beginning of 2013, though they seem to have begun to stabilize. We will take a closer look at these numbers but let us first explain the COMEX a little more for investors who are unfamiliar with it.
Introduction to COMEX Warehousing
COMEX is an exchange that offers metal warehousing and storage options for its clients. The list of their silver warehouses can be found here and their gold warehouses can be found here. In the case of silver and gold, the metal is stored at these official warehouses on behalf of banks and their clients and can be used to settle futures contracts, transferred between clients, or withdrawn from the warehouse. This offers large holders of precious metals a convenient way to store their metal with minimal storage fees - very convenient indeed if you hold large amounts of gold or silver and you don't want to store them in your basement.
Silver and gold stored in these warehouses can fall into two categories: Eligible and Registered.
Eligible metals are those that conform to the exchange's requirements of size (1000 ounce bars for silver and 100 ounce bars for gold), purity, and refined by an exchange approved refiner. Eligible metals are stored at COMEX warehouses on behalf of banks or private parties, but are not available for delivery for a futures contract.
Registered metals are similar to eligible metals except that these metals are also available for delivery to settle a futures contract. COMEX issues a daily report on gold, silver, copper, platinum, and palladium stocks, which lists all the metal that is currently stored in COMEX warehouses and how much eligible and registered metal is present.
This information allows investors insight into how much metal is currently backing COMEX futures contracts, what large gold and silver owners are doing with their metals, and how many clients are requesting delivery of their metals. There is a lot more to glean from this information but for the purpose of this article we will focus on the gold drawdown.
An Increase in Eligible Gold, but Registered Gold Plummeted Last Week
Before we look at the numbers, we have to give a plug to the folks at http://www.troyozgold.com who provided important data that helped to contribute to this article. Their site is free to use and provides investors with terrific information about COMEX inventories, ETF inventories, and a lot of other data about everything related to the gold and silver markets - investors should check it out.
Let us now take a deeper look at the gold draw-downs being seen in the COMEX warehouses.

Click to enlarge
As you can see in the table above, we have been seeing consistent declines in gold inventories for the last six months. Last week we actually had an increase in total gold held at COMEX warehouses for the second week in a row, though the increase was a rather small 18,477 ounces.
Now, let us take a look at registered gold stocks.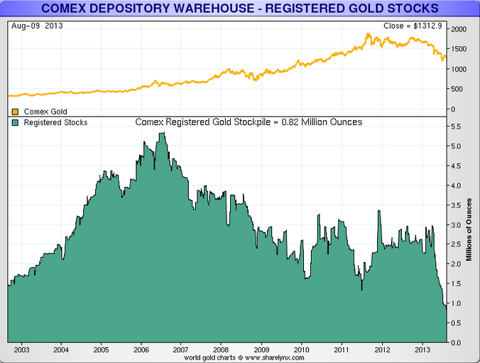 Click to enlarge
Even though this was the second week in a row that we saw an increase in eligible gold, we saw registered stocks plummet by 117,000 ounces. This was a significant drop because it represents over 10% of all registered gold stocks - a huge drop in inventories over a one week period.
Most of the action last week was not direct withdrawing of gold from COMEX, but rather, entities converting their registered gold to eligible gold. This is interesting because essentially what it means is that clients do not want to allow their gold to be used to settle contracts - they want to hold on to it and not exchange it for paper or promissory gold.
As we have mentioned before, we do not know why gold is leaving the COMEX - but we do know it is still leaving in ever increasing quantities. The steep and sustained nature of this decline suggests that it is not a haphazard event - multiple players are withdrawing their gold in large amounts and there must be a significant reason why they are doing it.
What does this Mean for Gold Investors
As we mentioned last week, this is extremely bullish for investors in physical gold and the gold ETFs (GLD, CEF, and PHYS). We do not think that there will be a default on COMEX deliveries (we have discussed why in a previous article), but low gold inventories is still a very bullish thing. Low inventories, just like with any other hard asset, are a sign of tightness in the physical gold market and this is almost always a bullish sign.
There are a number of bullish catalysts for gold in the future ranging from the return of the European financial crisis, a drop in US financial markets, or even the Fed losing control of the bond market. This may be part of the reason why we are seeing investors remove their gold from COMEX - there are way too many future positives for gold that make selling at these prices a bad deal for gold holders.
Investors interested in taking advantage of this scenario should consider buying physical gold and the gold ETFs (GLD, CEF, and PHYS). They can also buy the gold-focused miners such as Randgold (NASDAQ:GOLD), Goldcorp (NYSE:GG), and Alamos Gold (NYSE:AGI).
The gold price has stabilized, inventories are low, miners are cutting gold production, the media has declared the end of the gold market, and hedge funds are heavily short gold - yet all the fundamentals for gold are still in place. For us it seems like there isn't a better time to buy the metal of kings.
Disclosure: I am long SGOL, GG, AGI, GOLD. I wrote this article myself, and it expresses my own opinions. I am not receiving compensation for it (other than from Seeking Alpha). I have no business relationship with any company whose stock is mentioned in this article.